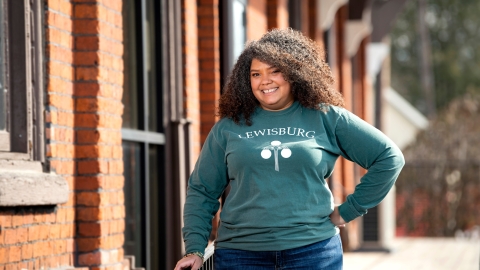 Kendy Alvarez '06, English
March 25, 2022
Anyone who's lived in Lewisburg, Pa., long enough has likely encountered Kendy Alvarez '06. From organizing the annual ice festival and holiday light display to serving on the leadership boards for the local Rotary Club and chamber of commerce, Alvarez is nearly as much of a fixture of the borough as its iconic three-globe lamp posts and historic Victorian homes.
"It had been a running joke among my family and friends that I was the 'unofficial mayor,' " says Alvarez who immigrated to the area from Trinidad at age 5. "They'd kid that if you need something, just call Kendy — she'll make it happen."
After a short stint attending community college in Florida, Alvarez returned to Lewisburg to finish her degree in English at Bucknell while working at the University bookstore. Almost immediately, "I started seeking out ways to make actionable change in this place I love," she says.
She began with enthusiastic engagement in the Lewisburg Area Chamber of Commerce's young professionals committee, which strives to make central Pennsylvania a better place to live, work and play. Most recently, she served as president of Bucknell's Black Alumni Association.
"I just enjoy building community, and I want anyone who chooses to live here to have this sense of belonging, this sense of place," says Alvarez, who has won the local chili cook-off two years in a row. "It's important to me to take advantage of any opportunities to be embedded and to give back to the community."
Now, Alvarez's status as Lewisburg's go-to resident is no longer unofficial. After securing both the Democrat and Republican nominations, she ran unopposed in the 2021 mayoral race. In January, she was sworn in as the new Lewisburg borough mayor, succeeding fellow Bucknell alumna Judy Wagner M'71 (who was Alvarez's middle school guidance counselor). Alvarez is Lewisburg's second woman and first woman of color to hold the position and is among the youngest to lead a Susquehanna Valley town.
"There are so many things that make Lewisburg this perfect Hallmark movie kind of place, but there are also plenty of ways that we can do things better," she says. "I think a big part of that is getting new blood involved and engaged, so that's what I strive to do."
One of Alvarez's priorities is re-establishing a Town and Gown committee to strengthen the relationship between Lewisburg and Bucknell. Ensuring that communication is open and consistent is essential to everyone's success, she says.
"So many aspects of downtown — from the Small Business Development Center to the Bucknell Bookstore — have come about because people recognized the intersectionality of the town and the University," Alvarez says. "Both have to work together to truly thrive."