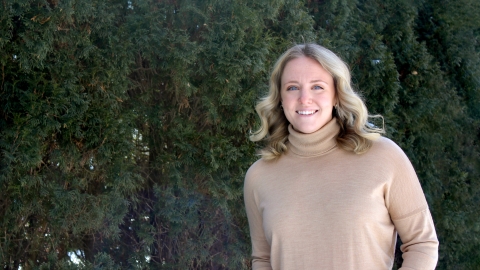 Leanne Archer '16, Markets, Innovation & Design
February 17, 2021
Every course I took in the Freeman College of Management gave me the great opportunity to work in a team setting. Now, I'm working cross-functionally every day, whether it's with packaging, finance or workshopping creative aspects of branding. That's one of the main things I learned at Bucknell.
From dominating the water as a Bucknell swimmer to developing marketing strategies for big-name brands, agility has always been the name of the game for Leanne Archer '16. But when she began a new job managing the launch of Dove's moisturizing hand sanitizer mid-pandemic, maneuvering quickly and creatively took on a whole new meaning.
"The market for a product like this is crazier than it's ever been before, so tackling this release has required an unprecedented amount of imagination and flexibility — especially doing it all remotely," says Archer, an associate brand manager for Unilever.
The markets, innovation & design (MIDE) major hasn't visited her office or met her colleagues in person since taking the job in August. Instead, she's in her upstate New York home office managing the Dove brand's new product, which includes developing plans for national media advertising and stocking the sanitizer in superstores such as Target.
"It's an ever-changing challenge now that locations are so saturated with sanitizers, so we really have to sell what makes this product the one consumers will be looking for," Archer says. "The classes I took in college definitely prepared me well for collaborating cross-functionally on the packaging, financing and creative marketing of new goods."
She points to courses taught by Professor Douglas Allen, MIDE, who was Archer's adviser and sparked her interest in heritage brands. Those classes also helped her build a robust toolkit she's frequently used in collaborative brand management roles, from overseeing supply chains to evaluating consumer feedback.
After graduating, Archer became a marketing specialist and strategist for household names such as Gillette, Crest and Oral-B Kids — exciting career experiences she discussed with students in the Freeman College of Management's virtual alumni speaker series.
"I wanted to encourage students to take advantage of all they can now, because the more you broaden your horizons, the better prepared you'll be for a future career," she says. "I'm still learning myself, but it's always great to give students advice that can hopefully help them on their journey."