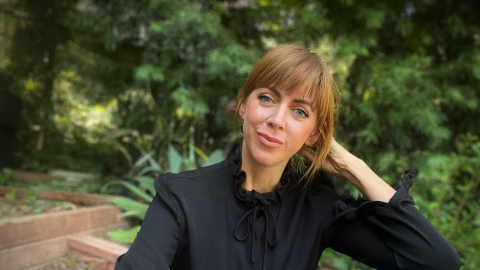 Suzanne Méjean Pinney '03, Art History
August 24, 2022
Under bright bright lights and with bated breath, Suzanne Méjean Pinney '03 watched the envelopes unfold. She had only prepared one speech, but ended up on stage gripping accolades twice in one night as her work was recognized at the Television Academy's 2022 Los Angeles Area Emmy Awards.
A creative filmmaker who has worn many hats, Méjean Pinney served as producer and lead editor for a series titled California Graphic Design 1960s – Present. Comprising five short episodes, the series aired as part of local news network KCET's Emmy-winning Artbound series, which takes a deep dive into the lives, creative process and work of artists, activists and innovators making an impact in Southern California and beyond. Her efforts won her the top prize in two categories — the entire series on Graphic Design won best informational series (more than 50% remote) while the first episode, Corita Kent: The Pop Art Nun, brought home the prize for best arts programming.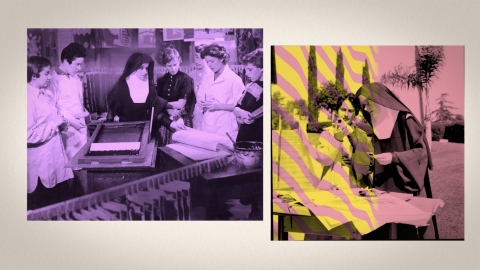 The series was the first project Méjean Pinney edited for KCET since pre-pandemic times. Having worked as a freelance producer, editor and director for the station for 10 years, she was contacted to step in after the production had been tabled due to the onset of COVID-19. "The station reached out and said, 'We have a project that needs some reformatting and vision. Can you take a look?' "
She found herself with material on five prolific, Southern California-based graphic artists whose work set the stage for political and social activism. In addition to Sister Corita Kent, the series also features Black Panther artist Emory Douglas, The Endless Summer film poster creator John Van Hammersveld, activists Melanie Cervantes and Jesus Barraza of Dignidad Rebelde, and artist Ernesto Yerena Montejano, whose work is focused on justice initiatives for Latinx and Indigenous people.
In her review of the raw footage, she realized there was "enough within each story to be its own little gem touching on a different aspect of California graphic design and its many applications; from art to activism, from commercial to political."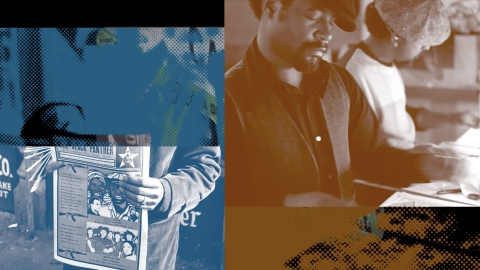 As she developed each of the five episodes, she featured the work of each artist by employing their design aesthetics as a visual language for telling their stories. "We took inspiration from each artist's creative process," she said. "So in the case of Emory Douglas, we used the same rubdown Letratone patterns that Emory used for texture as part of our animated transitions between artwork, interviews or B-roll. For Sister Corita, I took the silk screening process and used that idea of layering, both visually and conceptually, which informs the architecture of her story as well as the motion graphics used for presenting her work."
Where She Started
Méjean Pinney's love of storytelling through film was born at Bucknell. An art history major with a minor in studio art, she focused heavily on photography and gained mentorship from Professor Christiane Andersson, art history, and then-newly-appointed Professor Tulu Bayar, studio art, who encouraged her studio work. Upon presenting her final project — a sculptural photography installation — Bayar turned to her and said, "you should check out the International Center of Photography."
"I really didn't know what I wanted to do at that point," said Méjean Pinney. "But Tulu saw in me what I hadn't seen yet."
After interviewing at various museums and art houses (including The Met), she took Bayar's advice and headed to the International Center of Photography (ICP) in New York City. "I was really fortunate to have such strong mentors at Bucknell. It led me into that year of finishing," she says. "One more year focused on the practice of photography. I went and started working in the darkroom." When the opportunity presented itself, she joined the ICP Certificate Program, and then applied to graduate school at CalArts.
There, through an artist's residency program, she became interested in the uses of portraiture — specifically in the experience of military families and deployment. When she presented her thesis — documenting families who participated in the "Flat Daddy" program, an effort to create life-size cutouts of deployed family members — her mentor, Alan Sekula's response was, "This is not just a photo essay. This is a documentary film."
Méjean Pinney joined the Film School MFA program and spent the following summer driving through 38 states, interviewing close to 40 families while photographing and filming their daily lives with their life-sized photo stand-in for the deployed family member.
With 100 hours of film and only introductory knowledge of what to do with it, she spent the rest of her time in graduate school building her first documentary, "a film about absence" called, Still Here, "and I just fell in love with the process — editing unscripted, nonfiction documentaries and telling real stories that connect people."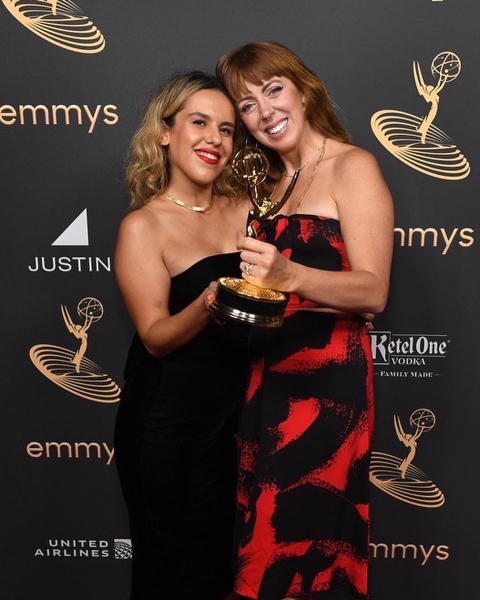 Suzanne's post-graduate work and connections eventually led to consistent freelance work with KCET, and now to her full-time role there. As she celebrates the success of her most recent project, she's already knee-deep in the next — an environmental manifesto called Stop Saving the Planet, based on the book of the same title by Jenny Price, debuting in October.
Beyond that, she knows there are more stories to tell. "I've worked on a lot of different projects: narrative, music, beauty. But my gut instinct, which I've felt from the beginning, always leads me to documentaries. People, environment, arts and culture — that's it. Telling those stories. That's what I really love."