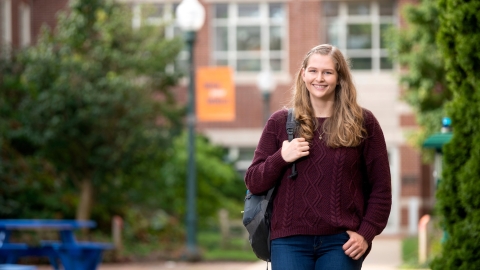 Emily Scholfield '22, Biology and Philosophy
October 30, 2020
Studying philosophy at Bucknell has allowed me to look at science in a new way, understand why it's worth trusting and work to help other people understand that too.
From projections about climate change to budding research on the novel coronavirus, new scientific information is constantly being published, posted and shared. But when it comes to trusting what we read, students like Emily Scholfield '22 know that understanding the science is only half the battle.
"Having confidence in its reliability is a challenge all on its own. That's because in science, we really can't know anything for sure," says Scholfield, who's fusing her passions for critical thought and science to help others navigate the dynamic and sometimes confusing landscape.
While it's tempting to believe that science is definite, "the reality is that it's always evolving with new methodologies and results," says the biology and philosophy double major. "Exploring the philosophy of science allows us to admit that. It also helps us discover the best ways to consume and understand developments."
Scholfield fell in love with philosophy in high school, where she participated enthusiastically in the philosophy club while also pursuing an interest in biology. But the Hummelstown, Pa., native wasn't quite sure how to combine both disciplines into a single academic focus until she arrived at Bucknell for Admitted Students Day. There, she struck up a conversation with Professor Matthew Slater, philosophy, whose courses and research focus on enhancing public understanding of science.
"I knew immediately that there was a place for me at Bucknell because here was this professor who was doing the exact thing I was interested in," Scholfield says. "Knowing from before day one that there was a mentor I could learn from made me feel at home."
Since her first year, she's partnered with Slater on in-depth research as a Presidential Fellow. To evaluate how science is often communicated to the public, Scholfield performed a content analysis of articles in prominent news outlets such as The New York Times and The Washington Post. Many of them, she found, merely covered the results of studies rather than outlined the methodology, which can leave readers mystified. Giving insight into how conclusions are reached instead, Scholfield says, can bolster readers' faith in scientific claims.
America's public isn't the only audience Scholfield's invested in — she's also committed to enhancing the scientific literacy of her fellow Bucknellians as well. As a teaching assistant for Slater's Philosophy of Science class, Scholfield is lending a hand in shaping the course's topics, weaving in modern issues around falsified data and the increasing difficulty of replicating studies.
"It's cool that I get to offer a student perspective on each piece of this class, especially as a double major in both disciplines," Scholfield says. "The goal is to create a really well-rounded course that will teach both science majors and non-science majors about the importance of how we think about the field."
"The ability to follow this avenue of educational opportunity at Bucknell has been so exciting for me because I know that I don't just want to be a scientist," she adds. "I want to do something that will impact the way people think about the world, the issues that are going on within it and the science that's being done to address them."