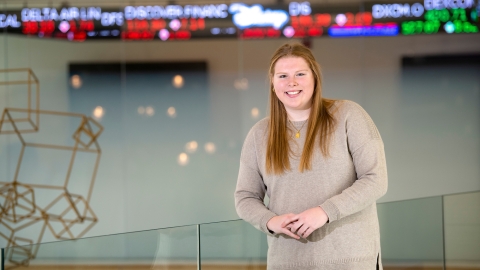 Emma Shaffer '23, Markets, Innovation & Design
March 4, 2022
As the daughter of two Bucknell student-athletes (Kirsten '92, basketball, and Robert '91, football), Emma Shaffer '23 has Bucknell in her blood.
She heard stories about life in the orange and blue throughout her childhood.
"They talked about, not even the athletics really, but just the academics," Shaffer says. "They compared it to the Ivy Leagues, like everyone else does."
Despite being raised in a Bucknell household, Shaffer hadn't visited the campus until she was recruited by Bucknell's basketball team in her junior year.
Shaffer, who grew up near Cincinnati, has been a standout basketball player since at least the sixth grade, when she led her team to an Amateur Athletic Union national championship. As her squad defeated teams from as far away as Alaska, college coaches took notice.
Bucknell began courting Shaffer, eventually inviting her to campus for an official visit. Shaffer liked what she saw, Bucknell made an offer and Shaffer accepted about a month later.
Like her parents, Shaffer wasn't just intrigued by the chance to play high-level Division I sports in an impressive arena. She was drawn to Bucknell's academic opportunities, too, knowing they would prepare her for an array of high-paying careers once her time on the court ended.
"When I was touring all the colleges, I asked myself, 'What would it be like to be a normal student here?'" Shaffer says. "With Bucknell, I found the academics to be top-notch and the campus to be beautiful."
Shaffer applied to Bucknell's Freeman College of Management, which recently was ranked No. 17 in the Poets&Quants list of the Best Undergraduate Business Schools of 2022.
"I knew I wanted to be a business major for a really long time — my dad had an influence on that," Shaffer says. "But I didn't know what management major I wanted until I started taking classes."
At Bucknell, successful applicants into the Freeman College arrive as undeclared management students — an intentional move that gives first-year students two semesters to explore the various management majors.
Through courses like MGMT 100 (Exploring Management) and MGMT 101 (Introduction to Organization and Management), Shaffer uncovered an affinity for the markets, innovation & design major.
In one of her management courses, Shaffer and her classmates worked together to help a local nonprofit. They chose Think Sunbury, which supports small businesses in the town of Sunbury, about 20 minutes from campus.
"It was like a mini-company — we had a CEO and accounting division and everything," Shaffer says. "We met with the head of the nonprofit, and she told us what she wanted on the website — the basic guidelines.
"I liked getting that mock view of what working in a company is like. It was more lifelike, having that real-world feedback. And I'd never made a website before."
It was a massive undertaking — especially when, two weeks in, the team had to start completely over after initially building the website on a platform that wasn't meeting the project's needs.
"We had to conquer and divide once that happened — and do a lot of work outside of class," Shaffer says.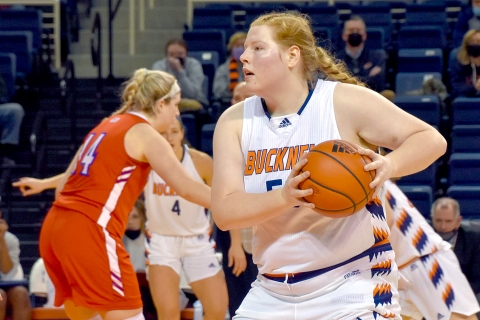 Extra classwork means even less time in Shaffer's already-packed schedule. Each week requires Tetris-like time management, balancing classes, student sessions and meetings of the Women in Finance club with the demands of an elite basketball player — games, practice, weight room time, scouting sessions, treatment and travel.
"I just do most of my homework on the weekends — working ahead so I have time for my other commitments," Shaffer says. "On the bus or during free time at the hotel, we're always working ahead."
Shaffer's studies extend beyond academics. She also watches replays of herself on ESPN+, which broadcasts almost every Bucknell basketball game.
"I focus in on myself and learn what I can do differently in each situation," she says. "Could I pass the ball to a different side of the floor or box out better — I just try to focus on how I could get better."
Continuous improvement has defined Shaffer's life as a Bucknell student-athlete — a powerful reminder that both on and off the court, she's preparing herself for success.