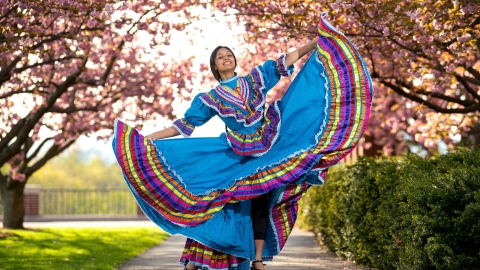 Gabby Diaz '25, Education and Political Science
May 26, 2022
I didn't anticipate being able to connect with my culture in the way I have at Bucknell. A big reason for that is the people I've met on this campus.
In the center of an empty, spotlit ballroom floor, a lone dancer twirls in time with syncopated Latin music. As she spins with her skirt in hand — her feet hitting the floor in rhythm — the rainbow-striped ruffles of her Jalisco dress rise and fall in a beautiful display of color.
The dancer is Gabby Diaz '25, a first-year student who performed this traditional folklórico dance before a captivated audience at Bucknell's Latine Alliance for Community and Opportunity for Students (LACOS) gala this spring.
Pioneered in the 1950s, folklórico is a highly choreographed dance style that incorporates elements of ballet and emphasizes the local folk culture of communities across the Americas — from Mexico to Honduras to Costa Rica.
"The type of folklórico I performed is called Xuc (pronounced "suk"), which comes from El Salvador," Diaz says. "It's all about footwork and making sure that the steps correlate with the rhythm."
It's an art Diaz had little exposure to growing up in her hometown of Rockville, Md., where she "didn't get the chance to be embedded in an El Salvadorian community." She knew she wanted that to change when she got to Bucknell, and it didn't take long for her to find belonging.
During first-year Orientation, Diaz was introduced to LACOS by club members she met in her first few days on campus. One of Bucknell's more than 200 student organizations, LACOS invites students to explore Latin ethnic identities and develop cultural awareness through education, service and the arts.
"When we talk to people about our club at the annual Student Activities Fair, the first thing we say is that LACOS is a home away from home," says Diaz, who recently served as the group's outreach liaison. "Not only are you connecting with people from your own culture, but you're also building relationships with students from other backgrounds and allies who might not identify as Latinx. Our activities are all about finding ways to empower each other and making everyone feel confident and seen."
One of those activities is the annual LACOS gala, which brings Bucknell students, faculty and staff together to celebrate a range of cultures through food, poetry, music and dance. The event presented the perfect avenue for Diaz to tap into an aspect of her identity that she had long waited to explore.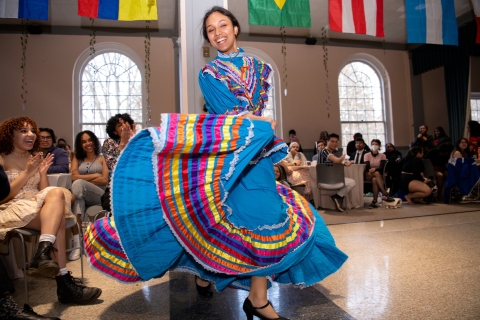 She spent three weeks studying folklórico, using YouTube videos as a guide as she choreographed her own solo — in addition to conducting historical research on the origins and significance of the dance. When it came to choosing a song, Diaz landed on "El Carnaval de San Miguel," with special encouragement from her mother.
"As soon as I suggested it, my mom instantly recognized the song as one she knows off the top of her head. So that was really cool," Diaz says.
The song also aligned with the theme of this year's gala: Carnaval.
"Carnaval is a huge celebration in Latin countries, and we wanted to choose a theme that would encompass as many nations as possible," Diaz explains. "It's easy for an organization like ours to get hyperfocused on Central America, but it's important that Caribbean and South American peoples have representation in the Latinx community as well."
To that end, the gala featured an array of foods from countries like Colombia and Puerto Rico, as well as group instruction in Afro-Brazilian Samba dancing.
For Diaz, equity and inclusion efforts like these don't end at extracurriculars — they form the foundation of her academic pursuits as well. Diaz plans to double-major in education and political science, drawing upon two of the passions she discovered while in high school.
"I was very involved in student advocacy and felt that a lot of the issues I was facing as a high school student had education-based solutions," Diaz says. "I think understanding how politics and education intersect is really important, especially when it comes to issues like immigration and access. I hope to one day use what I learn here to give a voice to the undocumented."
In the meantime, Diaz is looking forward to possibly choreographing a group folklórico dance for next year's LACOS gala, inviting more students to partake in this delightful cultural tradition while at Bucknell.
"I remember looking into the audience and seeing all these familiar faces just watching me in awe," Diaz says. "I was able to help others connect with my roots in a way that I wasn't able to for a long time, and that was a really proud moment for me."