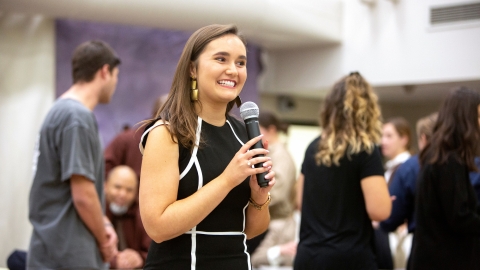 Mackenzie Gross '21, Theatre and Comparative Humanities
February 21, 2020
The fact that at Bucknell, an undergraduate student can co-teach a class and direct a play at a prison and not be laughed at, is just the most incredible thing to me. I am so lucky to be at a place where my passions are not only supported but encouraged.
It takes a bold, visionary mind to reimagine a 65-year-old staple of eighth grade English class in a way nobody has tried before. 
It takes someone like Mackenzie Gross '21. 
The theatre and comparative humanities double-major from Poolesville, Md., directed a first-of-its-kind staging of Twelve Angry Men inside SCI Coal Township, a prison located about 45 minutes southeast of Bucknell.
The 12 jurors were played by six Bucknell students and six "inside students" — prisoners at SCI Coal Township. 
Each week throughout the fall semester, the 12 cast members gathered at the prison to rehearse the play and — just as important — discuss the significance of a piece published before any of them was born.
The performance was at the end of the fall semester, but Gross' journey began a semester earlier in a Bucknell class called Sociology 239: Deviance and Identity, taught by Professor Carl Milofsky. 
In that class, students traveled to SCI Coal Township every other week to talk with the prisoners. There, Gross met some of the men who would later take center stage.
"I was thinking, wow, what an amazing opportunity it would be to tell these men's stories," Gross says. 
Gross didn't want her journey to end when the spring semester was over, so she devised a plan and presented it to Milofsky: What about a fall class at the prison where the syllabus was shaped around a semester-ending performance of a classic play about the judicial system?
To Gross' "absolute shock and delight," Milofsky said yes. He entrusted Gross to teach the class with him. Gross wrote the syllabus and a weekly rundown of goals for each week: how many scenes they'd need to block, when the actors needed to be off script, when read-throughs would happen.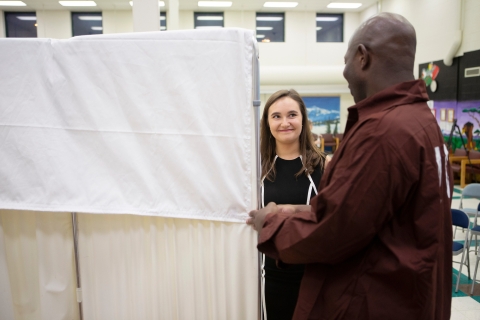 It's no understatement to call Gross' staging of Twelve Angry Men a once-in-a-lifetime event. Only one performance was open to people outside the prison. It was the first time in the prison's history that a play had been performed inside.
After the performance, the cast took turns telling the audience about their journey from script to stage. One prisoner said he was so determined to perfect his performance that he read the play more than 200 times. 
From talking to the men, Gross understands the source of that passion. 
"They said, 'This is the one thing that I can look forward to every day,'" Gross says. "For two-and-a-half months, this was a safe space where they could be themselves and they were respected and their opinions were cared about."