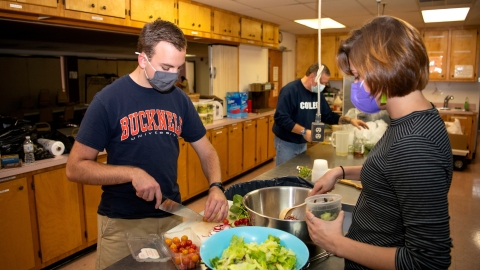 Paul Danenberg '23, Finance
July 18, 2021
I didn't believe it when people said it could happen, but I knew at first sight that Bucknell was right for me. Following that feeling has been one of my greatest decisions so far.
He can't quite describe it, but the moment Paul Danenberg '23 drove onto Bucknell's campus as a prospective student, he got an undeniable feeling.
"I parked in the visitor lot and just said, 'This is it,' " he recalls. "Somehow, I just got the vibe that this is where I wanted to be."
Since joining Bucknell as an Early Decision admit, Danenberg has discovered just how right that intuition was — from finding the perfect major for exploring his business interests within the Freeman College of Management to seizing a one-of-a-kind opportunity to pursue his homegrown passion for community engagement while in college.
Before Bucknell, the Chatham, N.J., native ran the outreach arm of his high school's chapter of Key Club International, an organization that helps students develop leadership skills and strong character values through service. Danenberg's focus: providing nutritious and delicious meals for those in need.
"Food insecurity is an issue that really draws me because it's prevalent in the areas that you'd least expect," he says. "I wanted to dedicate myself to combatting that in any way I could."
So with the help of his classmates, Danenberg launched a yearly meal preparation program to aid families in his own backyard. The students raised money throughout the year through bake sales, car washes and even bagging groceries at supermarkets, then transformed their profits into pre-packaged, just-add-water meals that were distributed by a local community service organization. In its first year, the program produced 20,000 meals from $10,000; by the third year, that number tripled to 60,000 meals.
Danenberg's excitement about community enrichment stood out in his application to Bucknell. When he received his admissions letter, the offer came with an invitation to join the first cohort of the University's Community Engagement Scholars. Having distinguished themselves as public-service leaders in their home communities, these Bucknellians immerse themselves in hands-on civic engagement projects both on and off campus — in addition to receiving an annual $20,000 scholarship.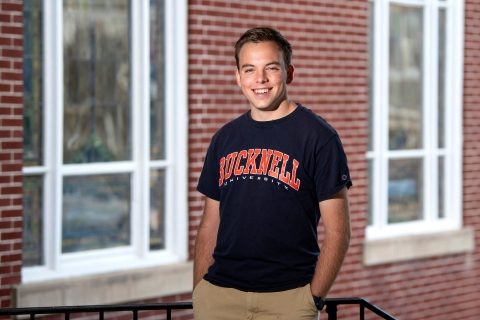 In his first year as a scholar, Danenberg tutored and organized recreational activities for children from Lewisburg's affordable housing sites through a Bucknell-sponsored mentorship program.
"It was awesome to bond with these kids and see them so excited to spend time with us every week," Dannenberg says. "A big part of that service, too, was challenging and combating implicit biases to best serve these diverse communities, which is so important when getting involved."
That experience — coupled with his time as a statistics peer tutor within Bucknell's Teaching & Learning Center — helped ready Dannenberg for his most recent partnership with North Central Secure Treatment Unit, a residential facility for girls and young women in Danville, Pa. This spring, the finance major and his fellow Community Engagement Scholars held weekly, virtual tutoring sessions to prepare North Central residents for the General Educational Development (GED) test.
For Danenberg, those hours-long meetings were more than a chance to encourage "these extremely smart individuals to utilize their knowledge and fulfill their vast potential."
They were also moments for fostering understanding and connection.
"I dedicated the first 10 or so minutes to get to know the people I was tutoring," says Danenberg, who guided his students through in-depth practice testing in math, science, social studies and language arts. "Making the most of our time with those who don't often experience outside connection was really important.
"People in these centers can be overlooked because of assumptions others make. It's great to use the tools I've gained from my previous service and tutoring experience to empower them in building their futures."