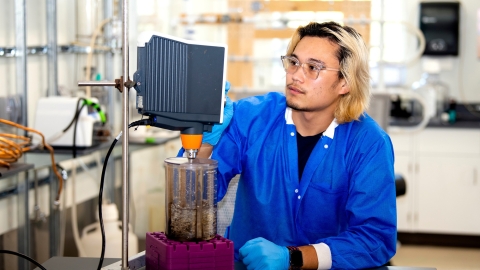 Ryan Iwata '22, Environmental Engineering
October 4, 2021
Taking leaps, no matter how big, often leads to some of the best experiences. I often think about how, in five years, I'll be able to say that Bucknell was one of those life-changing opportunities.
When choosing between the comfort of the familiar or the thrill of a new adventure, Ryan Iwata '22 believes the greater the risk, the greater the reward.
"I always like to think back to the moments where I took advantage of the riskier opportunity and it ended up changing my life for the better," says the environmental engineering major. "Taking those leaps, no matter how big, often leads to some of the best experiences."
For Iwata, one of those big and highly rewarding leaps was enrolling in North Hollywood High School's zoo magnet program, in which he did husbandry work at the Los Angeles Zoo and traveled to Kenya on a research trip. There, he observed the powerful role of environmental engineering in developing nations. 
Another and even greater bound was deciding to spend his college years nearly 2,500 miles from home to pursue his growing interest in engineering at Bucknell.
"One of the key criteria when I was searching for colleges was that they all had to be at least three hours from home," Iwata says. "Going all the way to Bucknell from California was a chance to live somewhere totally new but to also grow personally and intellectually."
Though his college journey has taken him across the country, Iwata is maintaining ties to his West Coast roots through hands-on research with the Orange County Sanitation District. In collaboration with Professor Matthew Higgins, civil & environmental engineering, Iwata is working to enhance the production of renewable energy from organic waste by experimenting with a waste product called sludge.
As its name suggests, sludge contains solids that end up in the wastewater and stormwater that flows into treatment facilities from sewage systems. Those solids include everything that we flush down our drains every day, from household food products to medical and industrial chemicals.
To neutralize sludge's known and unknown hazards before it's added to landfills, the viscous mixture of liquids and solids is treated via a multistep process that destroys pathogens while also producing methane, which can be captured and used as fuel. This step is where Iwata's work factors in. Using an innovative high-temperature heating process, Iwata is testing whether mixing additional food scraps with sludge will increase the amount of methane created.
"A key part of that is figuring out what combination of sludge and food waste works best in a hotter environment, because different combinations react uniquely," he explains.
If successful, the study could introduce a new method of using food waste to produce renewable energy.
Iwata began running tests in summer 2021 using batch reactors in Bucknell's Breakiron Engineering Building, where he worked as the sole student researcher on the project. While he admits that "staring at a bucket of organic waste all day" might not seem all that glamorous, the way Iwata's professor has welcomed and respected his questions, opinions and ideas has been invaluable to his learning.
"I love having the trust of my professor to do the work," he says. "And even more than that, it's great to know that he's interested in how I think about the conundrums of this project."
Iwata's favorite part of his research is the last step of the treatment process, when water is extracted from the sludge and then purified before being returned to local waterways. Discovering methods to make that water even cleaner is what fascinates him most — and also links back to his upbringing.
"Where I grew up, a lot of the water in public sinks and other outlets is recycled. So it's an especially interesting subject to me," Iwata says. "One of the main jobs you can do in the environmental engineering field is water resources management, and I really enjoy thinking up ideas of how to make that a lot more efficient."
After graduating, Iwata hopes he'll return to Africa to work on water accessibility and treatment initiatives through the Peace Corps or a graduate school program. But no matter where his path leads, he knows that attending Bucknell will be one of the decisions that got him there.
"I often think about how, in five years, I'll be able to say that Bucknell was one of those life-changing opportunities," he says. "I'm really excited to see where I go from here."