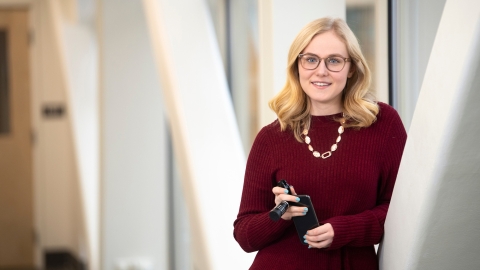 2019 BizPitch Winner Designs Product to Help Visually Impaired 'Simply See'
December 20, 2019
Growing up, Rebecca Rosenberg '20 always had her nose in a book — but not because she loved to read. That's how close her eyes needed to be to see the words in her elementary school textbooks.
As an infant, Rosenberg was diagnosed with oculocutaneous albinism, a genetic condition that causes involuntary eye movements and reduced sharpness. It's an impairment that glasses don't completely correct and that the majority of vision assistance technologies don't address.
"On one end of the spectrum are people who are blind or nearly blind, and on the other are people who just need glasses. But there's this whole section of people in the middle who still need help even with glasses," says the biomedical engineering major, who holds her phone inches from her nose just to read text messages.
Rosenberg knew there had to be a solution for people with vision problems like hers. So she designed ReBokeh, a vision assistance system for smartphones that won first place in this year's BizPitch competition. The Shark Tank style event, sponsored by Bucknell's Small Business Development Center, awards students with funding to launch their own enterprises.
ReBokeh combines an image adjustment app and external lenses to turn smartphones into vision assistance tools. The app will allow the user to make adjustments to a live image and save those settings for future use. Attachable lenses streamline the smartphone's camera capabilities to enhance image quality.
"I was thinking, 'What fits into people's lives already that can be leveraged to help them?' Well, the smartphone in your pocket is a powerful little thing," Rosenberg says. "That's what I was going for with ReBokeh — sleek, affordable and streamlined."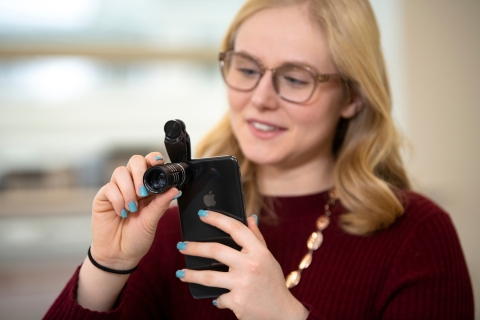 Necessity Yields Innovation
Rosenberg was in high school when she noticed the need for simple solutions for the visually impaired. Most of the tools she'd been offered growing up — bulky document cameras and screen readers — catered to people who were nearly blind. None of them were conducive to a classroom environment.
"I just kept waiting for the technology to get better and to be offered something that was actually going to help me," says the New Jersey native. "For several years, I sat on the thought that there was this gap where something could be done."
At Bucknell, Rosenberg found the resources to act. At the end of her junior year, she received the Reed-Garman Award for Engineering Entrepreneurship. The monetary award provides students with funding to develop entrepreneurial projects the summer between their junior and senior year.
From June to August, Rosenberg partnered with faculty and the Small Business Development Center to create a full mock-up for the ReBokeh app and prototype an attachment system for a camera lens. When her mentors recognized the novelty of the product and the power of her story, they encouraged Rosenberg to submit the idea to BizPitch.
"I was shocked to win," she says. "BizPitch was something that I had watched happen from the time I was a first-year. To be sitting there as a senior having started my own company was almost like an out-of-body experience."
For her innovative design, Rosenberg won $3,000 to invest in ReBokeh. She plans to use the money to develop the software for the app component. She's also taking steps to patent the attachment system she created and is seeking out manufacturers to produce the lenses.
This will all take time, more time than the biomedical engineer has in her last year at Bucknell. "But this whole experience has made me feel like I've found what I'm supposed to do moving forward," Rosenberg says. "That's to create a world where everyone can simply see."