Banks Publishes Book on Sadie Alexander, First Black American to Earn Economics Ph.D.
June 3, 2021
Bucknell economics professor Nina Banks made a startling discovery while doing archival research in 2003 on Sadie T.M. Alexander, the first Black American to receive a Ph.D. in economics. She found that Alexander continued to practice economics to promote economic justice for Black Americans, even after racial and gender discrimination prohibited her from finding employment in the economics field upon earning her degree in 1921.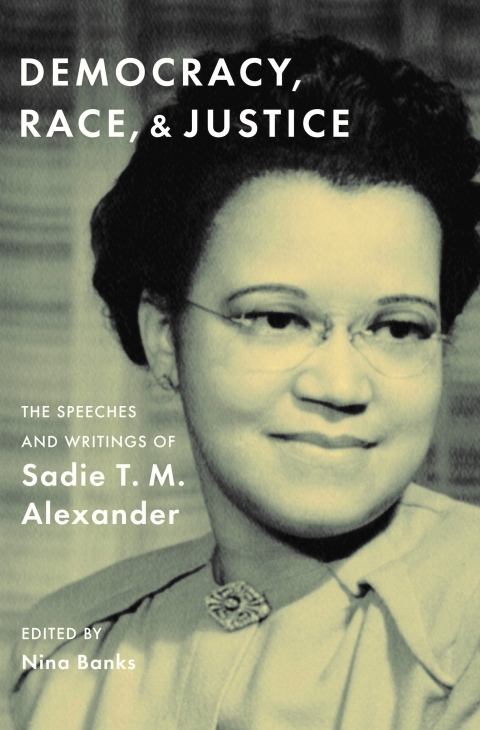 Alexander went on to become an attorney, and no economists were aware of her continued economic contributions until Banks' research revealed Alexander's writings and speeches. Now with research assistance from Bucknell student Lily Shorney '22, a Presidential Fellow and psychology and women's & gender studies major, Banks has edited a new book titled Democracy, Race, and Justice: The Speeches and Writings of Sadie T.M. Alexander (Yale University Press). The book will be released June 15 on the 100th anniversary of Alexander receiving her economics Ph.D. from the University of Pennsylvania.
"Alexander's public addresses left a record of her economic thought and an economic history of African Americans," says Banks, who is president of the National Economic Association. "They gave voice to the Black communities' hopes, fears and frustrations about their economic condition throughout the 20th century."
The book — a recovery of Alexander's economic thought — provides a comprehensive account of her thought-provoking speeches and writings on the relationship between democracy, race and justice. Banks' introductions bring fresh insight into the events and ideologies that underpinned Alexander's outlook and activism.
"Racial discrimination undermined Alexander's life as well as the collective memory of her work and breadth of economic thought. But the speeches that she left behind attest to her brilliance and prescient observations about our current political economy," Banks says.
Alexander believed that unemployment was the primary economic problem the nation faced, according to Banks. Full employment policies, she believed, would alleviate the problems of marginal work, income inequality and inadequate wages.
Banks' economics research has found that the legacy of those problems persists today, particularly in a lack of worker protections and benefits. Black Americans continue to be overrepresented in low-paying occupations without employer-provided retirement plans, health insurance, paid sick and maternity leave, and paid vacations. Prior to the pandemic, nearly 40% of Black workers lacked paid sick leave and only 43% had employer-sponsored retirement plans, compared to 50% of white workers, she reports.
"Recessions worsen racial inequities," says Banks, who is an affiliated faculty member in women's & gender studies and in Africana Studies. "Black men have always been hardest hit with job losses and longer durations of unemployment. In the pandemic-led recession — dubbed the 'she-cession' for the disproportionate impact on women — Black women have suffered the greatest job losses among women, although Black men have the highest overall unemployment rates. Because African American women are more likely than white women to be breadwinners in their families, income loss for Black women is particularly devastating for Black families."
During the pandemic recession, Banks says racial disparities in income and wealth showed effects on hunger, home evictions and health.
In her day, Alexander called for race-conscious, compensatory policies in education, housing and employment to address historical wrongs against the African American community, according to Banks.
"Reparations for the descendants of people who were enslaved in the U.S. is a necessary policy to achieve restitution and close the racial wealth gap, which captures the cumulative effects of racial disparities for African Americans," she says. "Additionally, to address a fundamental structural problem with our economy, a federal job guarantee program — advocated by Alexander — would ensure that all workers have access to jobs that pay living wages and would insulate them against involuntary unemployment due to the vagaries of the market."
In February, Congresswoman Ayanna Pressley (D-Mass.) introduced a resolution calling for such a federal job guarantee program, and invited Banks to participate in its unveiling via Zoom.
Banks, who also in February was the subject of a New York Times profile, is also working on a future biography of Alexander that will be published by Yale University Press.