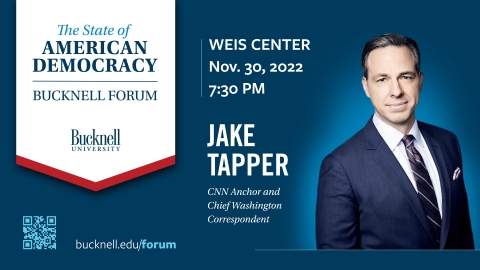 Bucknell Forum to Present CNN's Jake Tapper Nov. 30
November 11, 2022
CNN anchor and chief Washington correspondent Jake Tapper will be the next guest in the Bucknell Forum speaker series, appearing in person with moderator and University President John Bravman to discuss the theme "The State of American Democracy" Wednesday, Nov. 30, at 7:30 p.m. in the Weis Center for the Performing Arts.
"Following one of the most closely watched midterm elections in our nation's history, Jake Tapper will provide a deeply informed perspective to our discussion on the state of American democracy, having reported on some of the most historic elections of our lifetime from our nation's capital," Bravman says. "He has had a front row seat from which to view American democracy in action."
Tapper is the second of five nationally renowned speakers participating in this year's Bucknell Forum — a speaker series that since 2007 has featured national leaders, scholars and commentators who have examined various issues from multidisciplinary and diverse viewpoints. Condoleezza Rice — the first female African American secretary of state and first woman to serve as national security adviser — appeared via Zoom to kick off the series Sept. 13.
About Jake Tapper
Tapper joined CNN in January 2013 and currently anchors a two-hour weekday program, The Lead with Jake Tapper, which debuted in March 2013. He has hosted CNN's Sunday morning show, State of the Union, since June 2015. In April 2021, he became the lead anchor for CNN for Washington, D.C., events. He lent his political expertise to CNN's 2020 election coverage and 2022 midterm election coverage, playing a pivotal role in the network's extended coverage of those races.
Tapper has been a widely respected reporter in the nation's capital for more than 20 years. His reporting on the 2016 election has been recognized with a number of awards, including a 2017 Walter Cronkite Award for Excellence in Television Political Journalism, the Los Angeles Press Club's Presidents Award for Impact on Media, the John F. Hogan Distinguished Service Award from the Radio Television Digital News Association and the Canadian Journalism Foundation's Tribute to Exemplary Journalism.
Tapper joined CNN from ABC News, where he most recently served as senior White House correspondent, a position he was named to immediately following the 2008 presidential election and where he was awarded the Merriman Smith Memorial Award for outstanding reporting on deadline an unprecedented three times in a row. He also played a key role in ABC News' Emmy award-winning coverage of the 2009 inauguration of President Barack Obama and its Murrow Award-winning coverage of the death of Osama bin Laden. In 2008, he served as a lead political reporter for the coverage of the presidential election.
Prior to joining ABC News, Tapper served as Washington correspondent, then national correspondent, for Salon.com. He began his journalism career at the Washington City Paper and his reporting has been published in The New Yorker, The New York Times Magazine, The Washington Post, The Los Angeles Times and The Weekly Standard, among others. He has drawn caricatures and illustrations for The Washington Post and the Los Angeles Times, and his comic strip, "Capitol Hell," appeared in Roll Call from 1994 to 2003. In 2001, he hosted the CNN show Take 5, a weekend program that featured young journalists talking about politics and pop culture.
In addition to his reporting, Tapper has also authored five books, including his debut novel, The Hellfire Club, published in 2018; its sequel, The Devil May Dance, published in 2021; The Outpost: An Untold Story of American Valor, published in 2012; Down and Dirty: The Plot to Steal the Presidency, which was published in 2001; and Body Slam: The Jesse Ventura Story, which was published in 1999.
Tapper has been active in bringing attention and support for veterans' issues. Since 2017 he has organized an annual celebrity eBay auction to build specially designed mortgage-free houses for severely injured veterans of the wars of Iraq and Afghanistan via the top-rated charity Homes for Our Troops, a group for which he serves as an ambassador. In 2018, he was awarded a People's Choice Vetty during the 3rd Annual Vetty Awards, an annual award ceremony presented by the Academy of United States Veterans. In 2014, Tapper's book and his reporting on the veterans and troops were cited when the Congressional Medal of Honor Society awarded him the "Tex" McCrary Award for Excellence in Journalism.
He graduated Phi Beta Kappa, Magna Cum Laude from Dartmouth College in 1991.

Event Information
All Bucknell Forum events are free and open to the public, although tickets are required.
Current Bucknell students and employees may receive up to two free tickets at any Campus Box Office location, or online, between 10 a.m. and 4 p.m. on Nov. 29, a day prior to the event. A valid Bucknell University ID is required to receive advance tickets. Use of multiple Bucknell IDs to pick up additional sets of tickets is prohibited.
Remaining tickets will be available for the general public at the Weis Center box office beginning at 6 p.m. on the day of the event. All individuals may receive up to two free tickets, depending on availability.
An ASL interpreter will be signing at the event for the hearing-impaired community. Attendees who need this service should contact sebright@bucknell.edu for seating arrangements.
Questions regarding this event may be directed to the Division of Communications at 570-577-3260 or theforum@bucknell.edu.
This event will be recorded and broadcast on WVIA-TV, the local PBS network affiliate, on these dates and times:
Tuesday, Dec. 13, 7 p.m.
Wednesday, Dec. 14, 4 p.m.
Thursday, Dec. 15, 9 p.m.
Friday, Dec. 16, 2 p.m.
Sunday, Dec. 18, 11 a.m.
Tuesday, Dec. 20, 3 p.m.
Remaining Bucknell Forum Speakers
All remaining speakers in this year's Bucknell Forum will appear in person at 7:30 p.m. They include:
John Kasich, former Republican governor of Ohio, and David Axelrod, former senior adviser to President Barack Obama, both of whom serve as senior political commentators at CNN, who will appear together Tuesday, Feb. 28, in the Weis Center.
Barbara F. Walter '86, a leading scholar of civil wars and the author of New York Times best-seller How Civil Wars Start (and How to Stop Them), who will speak Tuesday, April 4, in Trout Auditorium.