Bucknell Forum to Return with Theme 'The State of American Democracy'
August 15, 2022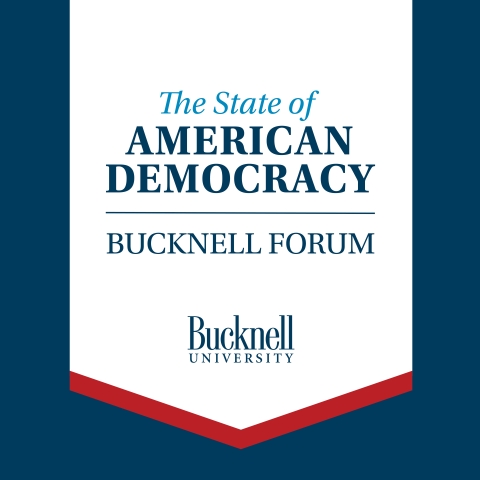 Condoleezza Rice, the first female African American secretary of state and first woman to serve as national security adviser, will kick off the return of the Bucknell Forum speaker series, appearing via Zoom for a virtual exchange hosted by University President John Bravman on Tuesday, Sept. 13, at 7 p.m. in the Weis Center for the Performing Arts.
Rice will be one of five nationally renowned speakers who will discuss the theme "The State of American Democracy" in this year's Bucknell Forum — a speaker series that since 2007 has featured national leaders, scholars and commentators who have examined various issues from multidisciplinary and diverse viewpoints. Past Forum speakers have included famed primatologist Jane Goodall, award-winning documentary filmmaker Ken Burns, and CNN broadcast journalist and political commentator Anderson Cooper, among others.
All remaining speakers in this year's Bucknell Forum will appear in person for events beginning at 7:30 p.m. They include:
Jake Tapper, journalist, author, cartoonist and lead Washington anchor for CNN, will speak on Wednesday, Nov. 30, in the Weis Center.
John Kasich, former Republican governor of Ohio, and David Axelrod, former senior adviser to President Barack Obama, both of whom serve as senior political commentators at CNN, will appear together on Tuesday, Feb. 28, in the Weis Center.
Barbara F. Walter '86, a leading scholar of civil wars and the author of New York Times bestseller How Civil Wars Start (and How to Stop Them), will speak on Tuesday, April 4, in Trout Auditorium.
"The Bucknell Forum underscores the University's long-held commitment to welcoming many voices and ideas," Bravman says. "This speaker series was founded in 2007 with the purpose of encouraging thoughtful conversation featuring different perspectives on some of the most pressing issues facing society. That will certainly be the case during this midterm election year."
Condoleezza Rice
Rice is the Tad and Dianne Taube Director of the Hoover Institution, the Denning Professor in Global Business and the Economy at the Stanford Graduate School of Business, and a professor of political science at Stanford University. She is also a founding partner of RiceHadleyGates, LLC, an international strategic consulting firm based in Silicon Valley and Washington, D.C.
From January 2005 through 2009, Rice served as the 66th secretary of state of the United States, the second woman and first African American woman to hold the post.
From 1989 through March 1991, Rice served on President George H.W. Bush's National Security Council staff. She served as director, senior director of Soviet and East European Affairs, and special assistant to the president for national security affairs. In 1986, while an international affairs fellow of the Council on Foreign Relations, Rice also served as special assistant to the director of the joint chiefs of staff.
Rice has authored and co-authored numerous books, including two bestsellers, No Higher Honor: A Memoir of My Years in Washington (2011) and Extraordinary, Ordinary People: A Memoir of Family (2010).
In 1991, Rice co-founded the Center for a New Generation, an after-school academic enrichment program for students in East Palo Alto and East Menlo Park, Calif.
Rice was appointed to the College Football Playoff Committee, formerly the Bowl Championship Series, in 2013. In August 2022, she became part of the new ownership group of the Denver Broncos.

Event Information
All Bucknell Forum events are free and open to the public, although tickets are required.
Current Bucknell students and employees may receive up to two free tickets at any Campus Box Office location, or online, between 10 a.m. and 4 p.m. two days prior to the event. A valid Bucknell University ID is required to receive advance tickets. Use of multiple Bucknell IDs to pick up additional sets of tickets is prohibited.
Remaining tickets will be available for the general public at the Weis Center box office beginning at 6 p.m. on the day of the event. All individuals may receive up to two free tickets, depending on availability.

An ASL interpreter will be signing at the event for the hearing-impaired community. Attendees who need this service should contact sebright@bucknell.edu for seating arrangements.

Questions regarding this event may be directed to the Division of Communications at 570-577-3260 or theforum@bucknell.edu.