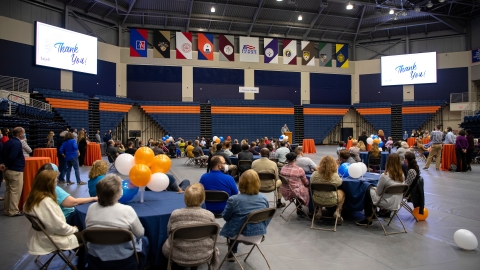 Bucknell Gives Employees Thanksgiving Week Off
October 28, 2022
In his August University Address, Bucknell President John Bravman stated that it is a top priority for Bucknell to become a premier employer in the region. To advance that goal, Bravman announced to employees Tuesday that the University Thanksgiving break this year will include Monday, Nov. 21, and Tuesday, Nov. 22, in addition to the traditional closing of University offices on Wednesday, Thursday and Friday, Nov. 23-25 — giving all employees a full week off.
"This pilot program, recommended in collaboration with the Office of Human Resources, recognizes the importance of mental health and wellness, allowing us to enjoy more time with family and return to our campus duties refreshed and recharged," Bravman wrote in his email to employees.
Bravman had previously announced in his University Address that Bucknell offices will annually close for two weeks for the holiday break during the final two weeks of December through New Year's Day.
"The permanent addition of a two-week winter break, announced in that speech, was so well received that I wanted to expand it — because you deserve it," he wrote Tuesday. "We will continue to strengthen our benefits package to further distinguish Bucknell from other area employers and to help us attract and retain the most talented professionals in an increasingly competitive market."
Bucknell provides time off for eight national holidays: Martin Luther King Jr. Day, Memorial Day, Juneteenth, Independence Day and Labor Day, in addition to Thanksgiving, Christmas and New Year's Day. Staff members also receive a floating holiday on Jan. 1 of each year to take on the day of their choosing.
Regular vacation time for exempt, full-time employees is accrued at a rate of 1.83 days per month, beginning the first day of the month following hire — or 22 paid vacation days over the course of 12 months. Non-exempt staff accrue vacation time based on years of service and hours scheduled per day, equaling about 10 days for one year of service during the first 5 years of employment.
The University is also piloting flexible work schedules and virtual work options when possible to assist employees in maintaining work-life balance and fulfilling family obligations.
"We know mental health and wellness is critically important to both our employees and within the workplace today," says Nicole Whitehead, vice president of human resources. "We're going to continue looking for other creative ways in which we can aid our employees in their work-life balance."
Holiday Compensation
Bravman also announced changes to holiday pay. Traditionally, non-exempt employees who are required to work over a break have received premium pay (1.5 x regular rate) for work on a non-national holiday, and "premium pay plus" (2 x regular rate) for work on a national holiday. During this pilot Thanksgiving break, these employees will receive their normal premium pay rate as well as alternate "flexible holiday" time or equivalent floating hours for actual time worked, including on Thanksgiving Day.
For the benefit of exempt employees who report to work on holidays to ensure that students who remain on campus are fully supported, all exempt staff will receive alternative time off for holiday hours worked during this Thanksgiving break. Additionally, exempt employees working extended hours during this break (defined as working more than 10 hours in a day), may be eligible for a lump sum payment with approval from their division leader.
Tuition Benefit to Children of Employees
Bucknell remains committed to its most attractive benefit — tuition programs for children of full-time faculty and staff members. The University offers tuition grants equal to 60% of Bucknell tuition, or tuition at the admitting institution, whichever is less, to employees with 10 or more years of full-time University service. Previous full-time employment at other institutions of higher learning is counted toward meeting the service requirement.
Children of full-time faculty and staff who have five years of University service are also eligible to participate in the tuition exchange program. That program is available for four years of undergraduate study per child, and is administered in coordination with Tuition Exchange Inc. Each participating institution in the consortium sets its own program administration rules within the Tuition Exchange guidelines.
The University also offers tuition remission — or the waiver of tuition for courses taken at Bucknell (with the exception of independent study, studio work, or private lessons in music or art) — to:
Regular full-time and regular part-time faculty and staff
Full-time casual employees with limited benefits
Spouse/spousal equivalents of regular full-time faculty and staff
Children of regular full-time faculty and staff
"To ensure our future, we must ensure that Bucknell is a place where talented, dedicated people want to work," Bravman says. "We believe that expanding upon benefits that employees truly value is a strategic investment that will pay off for generations of students to come."