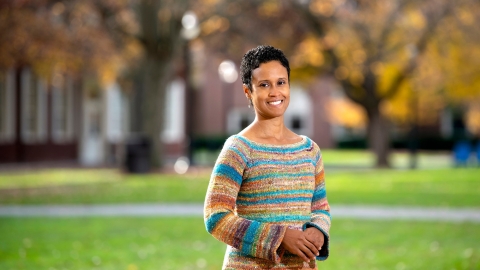 Bucknell Study: College Counseling Website LGBTQ+ 'Friendliness' Relates to State's Hate Crime, Nondiscrimination Protections
December 6, 2021
A new national study by a Bucknell University student and professor has found that college counseling center website "friendliness" to students who identify as lesbian, gay, bisexual, transgender, queer or another identity (LGBTQ+) was significantly higher at institutions in states that offered hate crime and employment nondiscrimination protections to LGBTQ+ individuals.
Carolyn Campbell '22, a psychology, mathematics, and women's & gender studies major; and Professor Jasmine Mena, psychology, analyzed the "friendliness" of 212 college counseling center websites from a random sample of U.S. colleges and universities and cross-referenced that analysis with hate crime and employment nondiscrimination protections for LGBTQ+ individuals in the institution's home state. Their study, "LGBTQ+ Structural Stigma and College Counseling Center Website Friendliness," was published in the October issue of the Journal of College Counseling.
"The college counseling center website friendliness to LGBTQ+ students was much higher in states with hate crime and employment nondiscrimination protections," says Mena, who directs Bucknell's Multicultural Health Psychology Lab. "We need to address these findings on multiple levels. All institutions of higher education need to be conducting a self assessment and know how they're presenting themselves to current and future LGBTQ+ students. That's an important first step."
"Although we might want to see our schools as independent units, these results show that institutions of higher education and state-level policies are actually interconnected. Let's advocate for policies at the state level that make for safe environments for all students," she says. "We have knowledge and expertise and we should be sharing that with our lawmakers because we're all part of this complicated machinery that can provide greater safety to all people."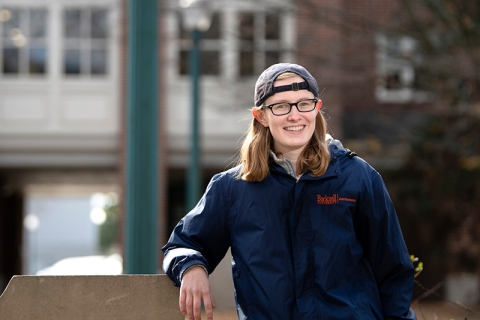 When coding the political friendliness of an institution's home state, Campbell and Mena looked at both state hate crime protection and employment nondiscrimination policy to categorize the state in one of three ways: protection for sexual orientation alone, protection for both sexual orientation and gender identity, or protection for neither. 
The researchers scored the college counseling websites on LGBTQ+ friendliness based on 11 criteria. They analyzed whether the site addressed LGBTQ+ specific resources in individual counseling, group counseling and couples counseling settings, and whether it referred to any LGBTQ+ peer groups. They assessed whether any counseling center staff listed their preferred pronouns (such as she/her/hers or they/them/theirs) in their biographies; whether the site's support statement indicated that the counseling center would willingly provide services regardless of a student's sexual orientation and/or gender identity; and whether the site provided a source for students to gain information, help or support outside of the university. They reviewed how counseling center staff were trained on LGBTQ+ related concerns and sensitivity and whether the counseling centers stated specifically how LGBTQ+ students could get help outside of normal working hours. They also assessed whether the site provided any policy information about the subject.
The friendliness means for randomly-selected schools in states with LGBTQ hate crime and employment nondiscrimination protections included 5.17 for California, 3.50 for Massachusetts and 2.88 for New York. By contrast, the friendliness means for randomly-selected schools in states without LGBTQ hate crime and employment nondiscrimination protections included 1.88 for Ohio, 1.83 for Pennsylvania and 1.67 for Michigan.
"As expected, counseling center websites in states with hate crime protections had significantly more LGBTQ+ communication on their websites related to the level of protection," Campbell says. "That is, the LGBTQ+ friendliness mean in states with full protections was significantly higher than the mean for partial protections, which in turn was higher than states with no protections."
Public schools were found to have significantly more LGBTQ+ friendly content compared to private schools in their sample, which the authors speculate may be a function of state mandates and financial incentives. Overall, the findings show that LGBTQ+ friendliness on counseling center websites remains low and that little has changed in the frequency of such content in recent years. 
"Given these findings, it appears that structural stigma and the way that college counseling centers present themselves online are linked," Mena says. "An alternative explanation is that the donor base or local cultural norms may be responsible for the difference in LGBTQ+ counseling center website communication."
No relationship was observed between religious exemption and counseling center websites, which countered the authors' expectation.