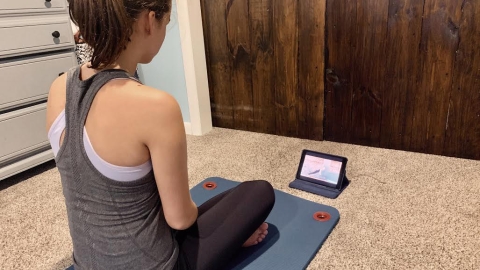 Fitness, Fun and Fellowship: Bucknell Helping Students Keep Active Even While Keeping Their Distance
April 2, 2020
The exercise studio is dark, and the spin bikes are motionless.
But Karen Landis, a Bucknell spin instructor and the University's associate director of athletics for recreation services, isn't sitting still.
While Bucknell's faculty members have been devising creative teaching solutions, Landis and her recreation services colleagues are doing a different kind of heavy lifting. They're finding ways to encourage Bucknell students to have some calorie-burning, endorphin-boosting fun.
"We are a student-centered program that emphasizes a healthy lifestyle," Landis says. "That overarching goal is the same — just the location of our students has changed. Hitting the gym after class or after a long day of work is not an option right now."
Bucknell has closed its athletics and recreation facilities in accordance with state guidelines, but through its channels on Facebook, Twitter and Instagram, Landis and her team are sharing daily workout routines anyone can do from home. They're also informing followers about fitness apps that offer extended free trials of their premium fitness content.
"There are many ways to stay active during this time," Landis says. "The key is making it a priority every day."
Powering Up
Solo exercise is essential — it's one of many ways Bucknell students can reduce stress during these uncertain times — but it lacks the friendly competitiveness that's part of Bucknell's usually packed intramural sports calendar.
That's where Scott Lotze, Bucknell's intramural coordinator, comes in. During a typical semester, Lotze organizes one-night esports tournaments held inside Bucknell's Gerhard Fieldhouse. So it was no problem for him to move those competitions online, allowing students to compete against one another in popular sports video games like MLB: The Show 20, NHL 20, NBA 2K20, FIFA 20 and Rocket League.
Lotze, who says the fast-paced nature of hockey video games make them his personal favorite, says these games are a healthy way for students to blow off steam as they stay connected to fellow students using the games' voice chat features. More than two dozen students have already signed up, with registration for some of the leagues still ongoing.
"We are trying our absolute best to provide as many programming opportunities to our students as possible," he says. "I truly hope students feel a sense of belonging. I want them to feel like they are a part of something."
That's a welcome sight, says Matt Thorsheim '21, an accounting & financial management major from Manalapan, N.J., and previous FIFA tournament champion.
"Having the opportunity to stay engaged in the Bucknell community through esports is a really cool opportunity," he says. "Obviously, circumstances aren't great and this is a tough time for everyone, so having this as an outlet and a way to still meet people from Bucknell that have similar interests is amazing."
Knowing that not all students will be interested in shooting 3-pointers as a digital version of Steph Curry, Lotze also plans to host online trivia nights and other fun activities throughout the semester.
Pausing for Mental, Spiritual Well-being
Offering enjoyable, heart-pumping recreation services is just one way Bucknell supports its students during this semester's unexpected challenges.
Counseling: The Bucknell Counseling & Student Development Center has launched drop-in support groups via Zoom as a way for students to connect. "Acknowledging and giving voice to our feelings is especially important right now," says Kelly Kettlewell, the center's director. "We're hopeful the drop-in groups are an opportunity to honor our feelings and connect with each other."
Spirituality: As houses of worship across the country temporarily close their doors, Bucknell's Office of Religious & Spiritual Life has been moving worship groups to digital spaces, checking in with individuals and small groups, and offering ways for Bucknellians to share their practices with others via Zoom and Facebook. "I think we have a deep longing for connection to something outside ourselves," says Kurt Nelson, Bucknell's chaplain. "We can, in the midst of this, explore and develop the sorts of practices and digital connections that keep us grounded, hopeful and safe: breathing, quiet, prayer, text study and this new form of communal worship we're trying our best to build and sustain."
Tutoring and mentoring: Bucknell's Teaching & Learning Center has moved its study groups, peer tutoring and mentoring to Zoom, Slack and online discussion boards. The Bucknell Writing Center has added remote consulting via Zoom or email for any student, faculty member or staff member who wants feedback about their writing. And at the Office of Multicultural Student Services, the T.E.A.M. Mentoring Program continues to connect first-year students to their peer mentors. "Besides our regular one-on-ones with our students in the T.E.A.M. program, we are also hosting an open chat on Zoom three times a week," says Rosalie Rodriguez, director of Multicultural Student Services. "In these 'Heart & Soul' sessions, we open with a short activity or workshop to bring everyone in and then open up for discussion as long as people want to hang around."
Moments like this underscore how Bucknell's commitment to its students goes far deeper than delivering a quality education. The University cares about the whole student — wherever they are.