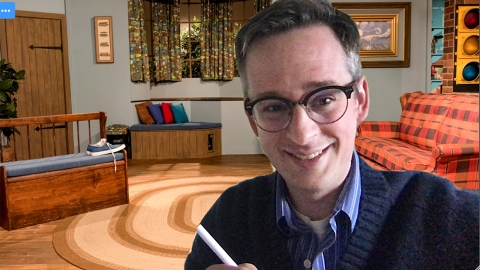 Bucknell Faculty Get Creative as Remote Learning Begins
March 25, 2020
Professor Evan Peck, computer science, held his first remote office hours on the set of Mr. Rogers' Neighborhood. His TA, Jean Leong '20, joined the Zoom video conference from a tropical beach. Later, when class moves over to the course Discord channel (the gaming chat app the class uses to communicate between meetings), a student reacts to one of Peck's posts with a Photoshopped image of the professor in a pirate hat.
Moments like these help lighten the mood in what's become a challenging environment to live in, let alone teach and learn, says Peck, who plans to open an upcoming class meeting by putting on a cardigan.
Since Bucknell transitioned to remote instruction on March 19, Peck and his fellow professors have made it their priority to use technology in creative ways as they interact with students and continue with their coursework. That interaction is particularly critical for students in introductory courses in his discipline, he says.
"When you write a paper and you get a little bit stuck, you might be able to skip ahead and write other parts of the paper. With programming, when you get a little bit stuck it's like hitting a wall," Peck says. "The biggest challenge is figuring out how to provide live or even asynchronous support."
Peck and Professor Sue Baish, computer science, together are teaching three classes and five lab sections of Computer Science 203: Introduction to Computer Science. For each class they'll record a short video to explain concepts and give assignments, but the rest of their regularly scheduled class time will be spent in video conferences and chat channels, where students can pop in anytime to ask questions and ask for help. TAs fill the in-between hours — and together with their professors are offering live help approximately 40 hours a week. That's important, Peck says, because one-to-one interactions like these are what separate the remote teaching that's now happening at Bucknell from YouTube.
"One of the reasons that we teach at Bucknell is because we see our students as real living breathing people and we care about them," Peck says. "I don't want this to supersede their commitments to their families and their communities, but also I want to give them an opportunity to engage with their education as much as feel able to — to enjoy it."
Going remote
Remote teaching began at Bucknell March 19 and will continue through the end of the spring semester. Across departments, Bucknell's faculty are finding creative ways to connect with their students, support them through the transition and find the best way to deliver their courses remotely.
For Professor Gary Steiner, philosophy, there's no replacement for face time in his discussion-based courses, where he can "get a sense of the puzzlement on [his students'] faces and try to read their body language." Normally, that means maintaining a strict attendance policy. In the transition to remote learning, it meant asking his students if they could continue to meet as usual, only by video conference.
"I've only got one student in another time zone, and it doesn't seem to be posing any difficulties at all," Steiner says. "It's a more genuine way to do things, and the students really stepped up, not just being there but actually having thought about the material and having really sharp questions and ideas."
Steiner is sensitive to the challenges posed for students who, for a variety of reasons, are unable to join his class meetings in real time. He encourages them to have individual Zoom meetings with him frequently, and for all his students to arrange individual Zoom meetings with him at least once every two weeks in order to make the learning experience resemble traditional in-person classes and office hours as much as possible.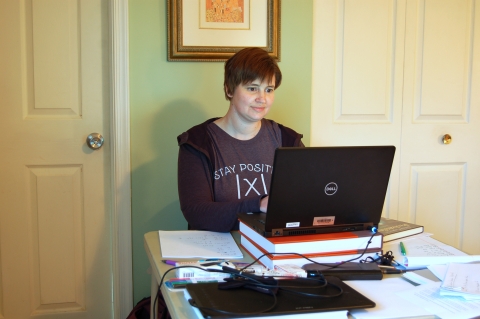 For others, scheduling live virtual classes is off the table altogether. More than half of the students in Professor Sharon Garthwaite's Math 280: Logic, Sets and Proofs course are international. A 1 p.m. class in Lewisburg would begin at 1 a.m. in Beijing. So Garthwaite, mathematics, has devised an asynchronous plan that both accommodates and challenges students regardless of location or internet reliability.
"The idea is to create ways for students to do self-guided study that can afford flexibility in timing but also create opportunities to check in with them on their progress," she says.
Garthwaite uses Slack to provide encouragement and answer questions, asks students to upload photos of their handwritten work to Moodle, and holds video office hours via Zoom at a variety of times convenient to students around the globe. Garthwaite doesn't just offer a trained eye to help students explore statistical distributions. She also offers an ear to listen.
"Sometimes what they need is to learn mathematics," she says. "Sometimes what they need is understanding and compassion."
Most professors in the Freeman College of Management have adopted a similar approach of replacing classes with short videos and using class time to hold open office hours, says Mihai Banciu, the college's associate dean of faculty.
"I'm seeing lots of compassion," Banciu says. "They're trying to be generous with their time and understanding of the whole problems our students are dealing with right now."
There's no playbook for teaching in an environment quite like this one, and faculty have had to devise creative solutions to meet their students' needs, Banciu adds. Some of their most innovative solutions surround teaching material that's the hardest to teach remotely.
Hands-on learning in a hands-off environment
There's a lot in organic chemistry that's "literally hands-on," says Erica Merriett, one of three lab directors for Bucknell's chemistry department. "There is certain glassware that's used and you have to know how to hold it in your hand to use it properly. So there would be no real way to have students experience that in this situation."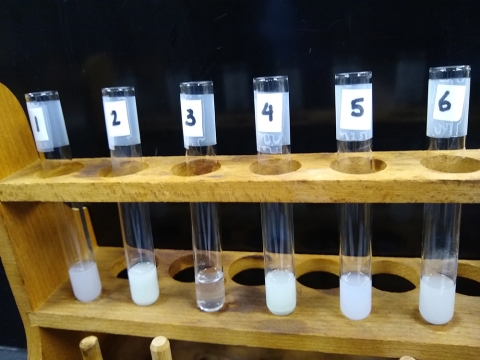 Fortunately, most of those critical lab skills were covered earlier in the semester, says Merriett, who is leading lab activities for 10 sections of organic chemistry while chemistry faculty handle other aspects of instruction. For the remaining labs, Merriett has taken photos of herself performing experiments students would typically do themselves. Students predict what will happen in a pre-lab activity, then watch Merriett perform the experiment and make their own notes about the results.
Professor Margot Vigeant, chemical engineering, has studied this approach to teaching a lab course in her own scholarship. While doing a virtual lab isn't the same as doing it in person, it leads to better educational outcomes than just hearing a lecture about the material, Vigeant says.
"It is still educationally beneficial — we saw a statistically significant improvement," Vigeant says.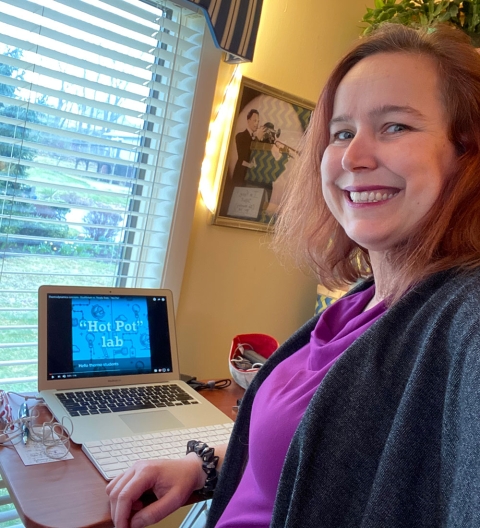 For her own courses, Vigeant has devised a number of adaptations, including creating experiment videos like Merriett's. Even the interdisciplinary senior design groups she advises — who are working together to develop engineering solutions for corporate and nonprofit clients — are continuing their work remotely, Vigeant says.
"Some students were making designs for prototypes — well, maybe they can't make the actual prototype anymore, but they can iterate and improve on a CAD drawing,'' Vigeant says. "We can still engage in open, creative problem-solving, and maybe find some different problems and solutions that we weren't thinking about before."
Virtual field trips
Other professors are finding ways to bring the outside world to their students. Bucknell's geology & environmental geosciences department typically helps students experience Central Pennsylvania's natural wonders through frequent field trips. Now that those trips can't be held in person, the department has begun shooting drone footage to create virtual field trips and labs.
"We all do different sorts of things with our students from basic measurements to detailed mapping of geologic structures, units and features," says Professor Ellen Herman, who's leading the effort. "On Tuesday we did a flyover of Winfield quarry, which is a famous (among geologists) local site because of the fossils found there."
Soon, the department plans a thermal camera flyover of Centralia, where a mine fire still smolders underground, and other aspects of the Coal Region about 45 minutes from campus, Herman says.
Professor Christiane Andersson usually asks students in her art history course to organize an exhibition in the Samek Art Museum's campus gallery. While classes have gone remote, Andersson says experiential learning opportunities like these don't have to stop.
Rather than organizing a live exhibition on campus, her students will produce an online showcase of the artwork they've been studying — engravings, woodcuts and silkscreens that belong to the Samek. The online exhibition, which will be featured on the museum's website, will include images of the art alongside informational "labels" students have written about the history of the works.
"In this course, I'm trying to demonstrate what you do in the field of art history. To continue to deliver quality education, all of the faculty are having to do some new things, and that includes me," Andersson says.
She's also recorded one interview with an art gallery owner from New York City to bring the art world to her students, and give them a detailed look inside the careers of curators, museum directors and art handlers. Andersson aims to maintain this crucial part of the course through virtual interviews, including one with a Bucknell graduate who's scheduled to speak to the class later this semester.
Learning from a crisis
Some professors are even seeking ways to learn from the present situation. In her course, SciComm: Communicating Science to Non-Scientists, Professor Reggie Gazes, psychology and animal behavior, and eight students devise ways to convey complex subjects to nonexperts.
When COVID-19 began dominating headlines and eventually forced universities around the world to move to online teaching, Gazes asked her students for input on what they'd like to discuss over the semester's remaining months.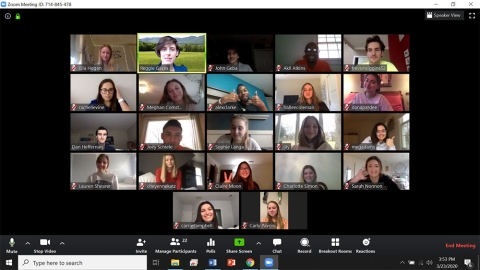 "We had an opportunity to rework the second half of the course," Gazes says. "A lot of them said, this is a science communication class, and we're living in a time where science is being communicated way more than it ever has before."
Gazes asked her students to collect examples — both good and bad — of how the media is telling the story of COVID-19 through maps, charts and infographics. Are these outlets accurately explaining a complicated epidemiological story in ways that everyone can understand?
But they're doing more than dissecting what others have done. Gazes split the group into four pairs and asked them to develop their own COVID-19 communication materials. This time, the audience is their peers — people their age who might not be following the advice of health officials to stay home.
"They can use whatever media they want, whatever format they want, to create effective communication that might cause people to actually make a behavioral change," she says. "I'm really interested to see what they come up with."
Supporting educators
One problem Bucknell's professors haven't faced in the transition online is a lack of technology or tech support. Despite having never offered online courses, Bucknell was technologically well prepared for the switch to remote education, says Param Bedi, vice president for Library & Information Technology (L&IT). Many faculty have already been using technologies like Zoom video-conferencing and Google Meet to bring guest lecturers and alumni to speak to their classes remotely, he says.
"We're using what Bucknell already had," Bedi says. "It's not that we went out and bought lots of new tools that we were not using already. We didn't throw new stuff at them all at once."
Past technology investments have eased the transition and enabled remote learning to work in ways that wouldn't have been possible five years ago, Bedi says. A new remote labs tool, which allows students to connect with and use math, science and engineering software installed on campus computers, came online just last semester.
L&IT also hosted technology training sessions last week that were attended by 190 faculty, either in-person or online, Bedi says, and will be supporting faculty throughout the semester technical support, remote research assistance and continuing education.
Bucknell's Teaching & Learning Center also held workshops to help faculty prepare for the transition and continues offering its educational series, one-to-one advising and student tutoring services remotely. The center's director, Professor Joe Tranquillo, electrical and biomedical engineering, was on sabbatical when the transition to remote learning was announced, but decided very quickly he'd need to return to work to help prepare. Tranquillo says he's been blown away by the creativity Bucknell's faculty have shown in adapting their classes, and how quickly they've moved beyond technical questions to address higher-level challenges like ensuring inclusivity in their remote teaching.
"If you can turn on a dime and still deliver a great course with all the disruptions that are happening, that's the sign of an expert," Tranquillo says. "You'd never want to do it on purpose, but when it does happen, it reveals the really great teachers."
Brooke Thames and Bryan Wendell contributed to this story.