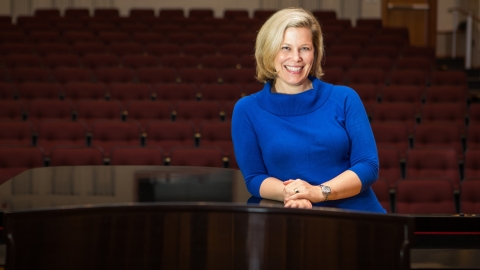 Professor Emily Martin Sings on One of Year's Best Classical Recordings
December 16, 2020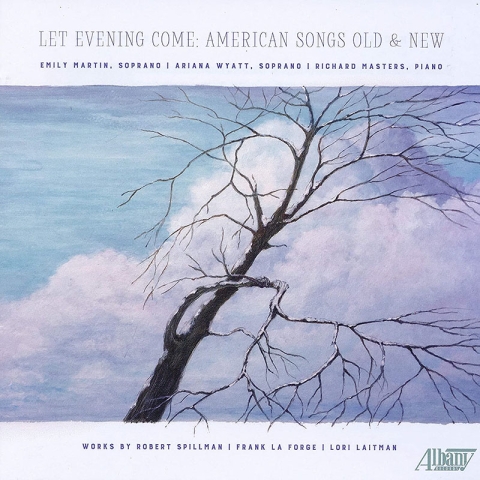 A classical music album recorded in Bucknell University's Rooke Recital Hall and featuring lyric soprano and Professor Emily Martin, music, was named one of "The Best Classical Recordings of 2020" by The Chicago Tribune. Recorded last fall and released in February, Let Evening Come: American Songs Old & New (Albany Records) features vocal performances by Martin and fellow soprano Ariana Wyatt with piano accompaniment by Richard Masters.
"Even in a country as comparatively young as the United States, the art song tradition runs deep," writes Howard Reich, the Tribune's arts critic. "Let Evening Come spans 20th and 21st century repertoire, with sterling and emotionally charged performances of music by Frank La Forge (dating from 1906 to 1925), Robert Spillman (2015, 2016 and 2018) and Lori Laitman (2014). Sopranos Emily Martin and Ariana Wyatt make the most of every phrase, with Richard Masters summoning practically orchestral color at the piano."
Partially funded by a Bucknell Publication Subvention Grant, Martin says the album was largely recorded to pay tribute to Spillman, who taught both her and Masters as a professor and music director of the opera program at the University of Colorado Boulder. His compositions have never previously been recorded.
"He's quite well known in the voice field as one of the premier coaches of both opera and song," Martin says. "He worked in Germany for a long time and has a huge reputation as a coach. But he had composed for brass mostly in his 20s and then had not composed anything until his 70s, when he started writing for voice because he knew it so well. He did it from a love of the music, the voice and the poetry, rather than trying to compose to be famous."
The album also received a positive review from Fanfare Magazine in August. "Emily Martin lives each word, her soprano strong and pure," the review says. "This is a fabulous disc."
An accomplished lyric soprano performer, Martin sees the album as an extension of her scholarship.
"My scholarship is mainly about performance, making those collaborations out in the performing world between different artists and celebrating new composers' works — really helping the field to grow and expand," she says. "I have the support from both the subvention grant and the [Bucknell] administration to do these types of things here, and do them well."
Martin says that work in the real world of composition and performance also informs her teaching of Bucknell students.
"Most students who come to Bucknell want to have a professor who is actively working within the field," she says. "Someone who has the contacts, knows what's going on and can help them make those connections."
Masters is a professor in the School of Performing Arts at Virginia Tech who had previously visited Bucknell to musically direct operas and musicals.
Paul Smith — the husband of Bonnie Smith, an academic assistant in Bucknell's music department — was the recording engineer on the album.