Community Initiatives
The Stadler Center conceives of community in a number of ways, from the residents of the central Susquehanna Valley in our immediate proximity to the wider assemblage of readers and writers that forms the American literary community.
Recent Initiatives
SCI-Coal Township
In spring 2022 the Stadler Center partnered with SCI-Coal Township, a state correctional facility near Shamokin, Pa., for a poetry-writing program led by 2021-22 Stadler Fellow in Literary Arts Administration Joshua Garcia. Garcia met with a group of incarcerated poets at SCI-Coal Township once per month during the spring semester. Participants learned about poetic traditions, devices and forms (specifically free verse, ekphrasis, the ode and the sonnet). Each participant responded to prompts with original poetry in the selected forms, shared their work in a supportive atmosphere, and received constructive feedback on their writing. 
Linntown Intermediate School
In April 2022 the Stadler Center helped to launch the Linntown Poetry Path at Linntown Intermediate School in Lewisburg. Based on the Stadler Center's Poetry Path in downtown Lewisburg, the Linntown Poetry Path connects six stops around the school campus, each featuring a poem selected by Linntown students. The path, which aims to tie classroom learning with an experiential, outdoor component, will be periodically updated. We are grateful to the Pennsylvania Council for the Arts for the funding that made this project possible.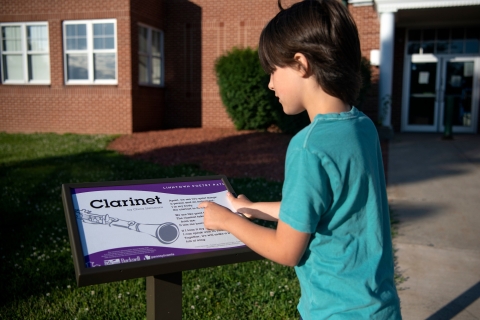 Lewisburg Children's Museum
In celebration of National Poetry Month and in partnership with the Lewisburg Children's Museum, the Stadler Center offered a Saturday nature-writing workshop for children ages six to nine. Under the direction of acting Stadler Center Director K.A. Hays, Bucknell undergraduates paired with young writers to explore the flora and fauna of the center's grounds. Each child participating received a keepsake blank hardcover book where they reflected on their discoveries as they chose — often through illustrations, collage, stories and poetry. The Stadler Center looks forward to partnering with Lewisburg Children's Museum again in the future.