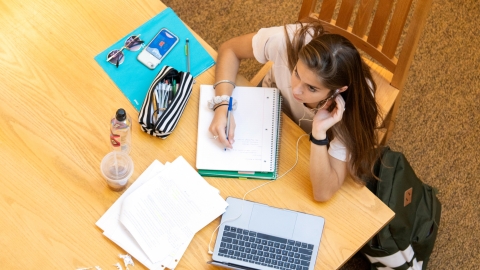 To Declare or Not Declare on Your College Applications? Honestly, It Depends
June 11, 2020
Looking at a long list of college majors can be overwhelming. When you're not quite sure which area of study is right for you, declaring a major on an application is even more daunting. You might be asking yourself questions like:
Do I need to declare a major when applying to college?

Will applying without a major hurt my chances of getting in?

Is it okay to start college not knowing what to major in? 
Rest assured that choosing a major right away is not mandatory. Most universities give students the option to start off as an "undecided major." 
Applying undecided (also known as "undeclared") simply means you haven't chosen an area of study and are therefore not following a particular academic track. To some, this might seem aimless or noncommittal. After all, the goal of college is to major in something, right? Yes, eventually. 
For a significant number of first-year college students, discovering their interests, passions and ambitions takes time. At some schools, up to half of all incoming students enter college as undecided majors, and even more end up changing their major at least once during their four years.
Although listing an intended major on an application can communicate several things to an admissions board — like your excitement about an area of study or enthusiasm for a certain university program — checking the "undecided" box doesn't negatively affect your chances of admission, at least not at Bucknell. In some cases, it can indicate your willingness to explore and take advantage of the wide range of opportunities that await you.
As you're considering whether to apply undecided, here are some things to keep in mind:
Explore Your Interests
College is more than a one-way street to a lifelong career — it's also a place of discovery. If you're not 100% certain of the field you eventually want to work in, then applying undecided can give you the freedom to dive deeper into your varying interests and learn what you're truly passionate about.
At liberal arts universities, students are often encouraged to indulge in their curiosity by taking courses across disciplines. By sampling different subjects, you'll figure out what inspires you, meet professors and peers across campus, and even uncover a love for an area of study you didn't engage with in high school.
That's why most classes at Bucknell are open to students of all majors, including those who are still undecided. Co-curricular opportunities like research, internships and residential learning experiences also don't require students to have a chosen major. Bucknell students in the College of Arts & Sciences formally declare a major during the second semester of their second year. Students in the College of Engineering declare at the end of the first semester of their first year. Either way, you'll have plenty of time to explore multiple opportunities to discover the path that's right for you.
Focus on Your Passion, Then Your Profession
Thinking about the kind of job you want after college is useful in deciding what to major in. But concentrating on job prospects too early can cause tunnel vision, closing students off to all the possible ways they might be able to transform their interests into a future career. Even if you know the topic you want to study, not choosing a major right away could help you avoid getting locked into one academic path too soon.
Within a single academic department, there may be numerous majors to choose from that emphasize different concepts and require specific courses. Bucknell's Department of Mathematics, for example, offers four undergraduate degree tracks, ranging from applied mathematical science to statistics. Coming in as an undecided major not only buys students time to confirm that their interest in a certain field is truly what they want to pursue, but it also gives them room to explore which degree options most closely align with their aspirations.
And don't worry — taking this time at Bucknell won't negatively impact your ability to graduate on the ideal timeline. Ninety percent of recent graduates completed their degrees in six years (compared to 58.3% nationally), and 95% were employed, in graduate school, applying/preparing for graduate school, volunteering or engaged in another activity within nine months of graduating.
Investigate Admissions Policies
Despite being undecided about a major, you still might be required to apply to a "college" or "school" within a university. These schools or colleges may have different requirements for admission and guidelines for declaring and switching majors.
Bucknell, for instance, offers 65 majors across three distinct colleges: the College of Arts & Sciences, the College of Engineering and the Freeman College of Management. Prospective students must apply to one of our three colleges via the Coalition Application or Common Application. Those admitted to the College of Engineering may later declare a major in the College of Arts & Sciences —  and vice versa. But majors in the Freeman College of Management are only open to students who choose that college on their application. In any case, knowing which college's majors most appeal to you is important when applying undecided.
Keep in mind that some programs within a school or college may be highly competitive. If you're interested in studying within that particular program, it could be better to choose that major on your application, even if you're not absolutely positive that's what you'll eventually declare. Some degree tracks may also require a heavier, less flexible course load, making it harder to complete your degree on time if you wait to take the major's core classes.
So while you don't necessarily need to declare a major when applying, it's important that you are familiar with the admissions policies for each university you're interested in. Take a close look at the admissions pages on university websites. Reach out to admissions counselors with questions about degree options and expectations for the programs you're considering. Knowing as much as you can about these guidelines is not only essential in deciding whether or not to claim a major on an application, but also in choosing which universities are the right fit for you.
When applying, look for a supplemental question that might allow you to explain why you're applying undecided. At Bucknell, we require all applicants to share the reason they chose their intended major or opted to apply undecided.
Pros and Cons of Applying Undecided
Remember, when it comes to choosing a major, it's OK to take your time. But the more you know about what that might mean for your college journey, the better equipped you'll be to make the best decision.
Cons:
You could be admitted into a school or college within the university that you're not able to transfer out of later

You might unintentionally undersell your interest in a particular degree program, especially if it's competitive

You may lengthen your time to graduation by waiting to take a major's core classes
Pros:
You'll have room to explore your interests across subject areas, helping you discover what you're most passionate about

You'll meet a range of professors, peers and other mentors across the university who share your interests

In exploring, you might stumble upon a love for an area of study you didn't know you had
Ultimately, whether or not to apply undecided comes down to what you need. No matter which path you choose, we're here to lend guidance, encouragement and support.