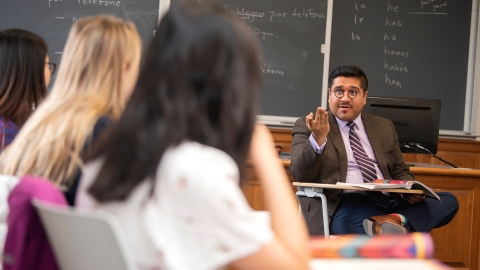 Five Advantages of Attending a Liberal Arts University Like Bucknell
April 15, 2020
In your college search, you may have heard about liberal arts colleges and universities and how they're different from other types of schools. You might be asking yourself a few questions:
What is a liberal arts college? 

What are some advantages of attending a liberal arts school? 

Is a liberal arts college or university right for me?
This post will outline five advantages of going to a liberal arts college or university, and discuss some of the reasons you should consider attending one. 
Liberal arts universities like Bucknell offer a well-rounded education, which allows you to choose from a wide range of classes and majors. It's an approach based on the medieval concept of the seven liberal arts and sciences, which an individual needed to master to become a well-rounded person: grammar, logic, rhetoric, arithmetic, geometry, astronomy and music. More generally, a liberal arts education is about being broadly educated in a variety of subjects, making you a versatile thinker and preparing you for a number of potential careers. 
If you want to study subjects that interest you (even if they aren't part of your major), pursue a passion like music or the arts alongside your major, prepare for a diverse set of careers, or customize your major with a specific career goal in mind, a liberal arts university could be an excellent choice for you. At Bucknell, we offer more than 60 majors and 70 minors across our three colleges: the College of Arts & Sciences, the College of Engineering and the Freeman College of Management. 
Five Advantages of Attending a Liberal Arts University
1. Small Size
Liberal arts colleges and universities are usually smaller than state universities or large private colleges. Bucknell is larger than most liberal arts universities and also has professional schools for engineering and management (which gives our students a wider range of options) but we're still small enough that you'll know your professors and classmates.

While your first year of classes at a state university might be spent in lecture halls with hundreds of students, at Bucknell, most of your first-year classes will have around 20 students, some even less, and all or nearly all the classes you take over your four years here will be taught by faculty members. That means you'll always be able to raise your hand and ask a question, and your professors will devote their time and attention to your education (our student-to-faculty ratio is 9:1).

Our size also gives Bucknell's campus a community feel where it's easy to get to know your classmates and make friends. If you're looking for the quintessential small college experience, a liberal arts school might be a good choice for you.
2. A Residential College Experience
Studying the liberal arts is about exploring the connections between disciplines and the epiphanies that happen when you look at a question from a different angle. At Bucknell, that means your residential experience and the things you do outside the classroom are part of your education too, and we provide every opportunity to help you take your education beyond the classroom.

You'll be guaranteed housing all four years, and as a first-year student you'll be able to join one of our Residential Colleges — our signature themed living-learning communities where you dive into a subject like the arts, sustainable food production or social justice inside and outside of class. 

You can continue that experience by joining one of our affinity houses for sophomores, juniors and seniors, attending an event or listening to a high-profile speaker. There's something exciting happening every day on campus. And because we're bigger than most liberal arts schools, you'll also be able to take part in close to 200 clubs and organizations as well as NCAA Division I athletics, club sports and intramurals. If you're looking to make college a 24/7 experience, a liberal arts school like Bucknell might be right for you. 
3. Access to Professors
The smaller size of a liberal arts college or university means you'll have more access to your professors. At Bucknell, that means more than just the ability to ask questions and meet for office hours. All of our faculty are researchers and scholars, giving students opportunities to pursue big breakthroughs and innovations alongside them — sometimes leading to important discoveries and publication in the world's leading academic journals. 

You might think research only happens at "research universities" or large state schools, but that's not true. In fact, our students get the sort of research experiences you typically wouldn't have until grad school at a larger college or "research university." If you don't want to wait to start pursuing big breakthroughs, a liberal arts university like Bucknell could be right for you.
 
4. Graduate and Professional School Preparation
The experiences doing research and scholarship you'll have at a school like Bucknell are a great way to test out whether you want to continue doing research in grad school — and a great preparation if you do. If you think you might be interested in getting a Ph.D. or going to law or medical school, a liberal arts university could be a good choice for you. At Bucknell, you'll find support in pursuing your path from the dedicated pre-health, pre-law and graduate school advising we offer. 
 
5. Career Readiness
Year after year, nearly all of our graduates (more than 19 in 20 students) tell us they're employed, in grad school or pursuing other successful outcomes within nine months of graduation, and that they felt well prepared for their first careers. 

That's because liberal arts students build more than just knowledge in their major. The variety of subjects they study help them build solid communication and critical-thinking skills and prepares them not just for their first job, but to be versatile throughout their careers. That prepares graduates not just for the jobs of today but for careers that don't yet exist. They also gain strong interpersonal skills by working collaboratively with their professors and with one another on research and small group projects. Employers value those attributes just as much as the outstanding technical knowledge our students also build.

At Bucknell, we also offer more than just liberal arts — we're also home to two top professional colleges: the College of Engineering and the Freeman College of Management. Students in those colleges can take the classes that interest them from across the nearly 50 majors offered in the College of Arts & Sciences and can even earn a minor or double major. Study civil engineering and environmental science, accounting and music, business analytics and math — by attending Bucknell, you'll have more choices than you might have at a typical engineering or business school.
Why Should I Consider a Liberal Arts University? 
Choosing a college is about finding the place that fits you best and where you'll have room to grow the way you want to. Liberal arts colleges and universities have a lot of advantages for many different types of students. In deciding if one might be right for you, ask yourself:
Are you the type of person who likes to do it all? 

Do you have interests that you want to study outside your major? 

When you're curious about something, do you like having the freedom to follow that interest where it leads you? 

Is getting to know your professors and having your education be a personal experience important to you? 

Are you looking for a college where you can get to know people easily, and will feel part of a community? 
If any of those sounds like you, a liberal arts college could be a good choice. If you're interested in learning more about Bucknell, we invite you to check out the Meet Bucknell page, explore our majors and minors, watch our video preview session, or fill out our request for information form to get our latest viewbook.