Renewable Energy Scholars
Bucknell's Renewable Energy Scholars (RES) are a group of students, staff and faculty who seek to educate the University community and the public about the theories, principles and benefits of renewable energy technologies. RES presents a speaker series through the academic year. Since 2015, faculty, students, staff and consultants associated with RES have collaborated to plan and design a living-learning laboratory for experimentation with renewable energy and complementary sustainable design features.
Faculty Advisers
To get involved in RES, please contact one of our faculty advisers.
Professor Alan Marchiori, computer science
268 Breakiron Engineering Building
570-577-1751
amm042@bucknell.edu
Professor Nate Siegel, mechanical engineering
224 Dana Engineering Building
570-577-3827
nps004@bucknell.edu
Professor Peter Jansson, electrical & computer engineering
173 Breakiron Engineering Building
570-577-3398
pmj005@bucknell.edu
Living Greenhouse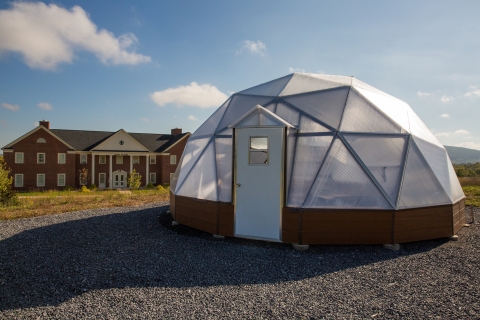 The Living Greenhouse, a geodesic dome structure located near the Bucknell Farm, functions as a teaching and research tool for the integration of sustainable and renewable energy technologies such as wind, solar photovoltaic, solar thermal and anaerobic digestion with sustainable design strategies like rainwater collection, sustainable food production and composting. The Living Building Challenge, one of the most rigorous standards in green building design and construction, has served as a set of guiding principles for the design of the building and site.
Past RES projects also include:
The installation of several solar arrays, which now serve as a power source for buildings on campus.
The installation of a solar thermal unit at the Bucknell West residence complex.
The installation of a 900-watt wind turbine near the Bucknell Center for Sustainability & the Environment.
Renewable Energy Scholars Speaker Series
The Renewable Energy Scholars Speaker Series seeks to educate the campus community on the benefits and challenges of the many alternatives to conventional fossil fuels. Over the years our collaborative group of faculty, staff, students and outside consultants have presented to the Bucknell community on solar photovoltaic power, concentrating solar power, solar thermal power, wind power, biofuels, anaerobic digestion, tidal power, energy conservation, energy monitoring and energy efficiency.
Bucknell Center for Sustainability & the Environment
Location
Administrative Offices
Olin Science Building, 4th Floor

BCSE Field Station
835 Fraternity Road