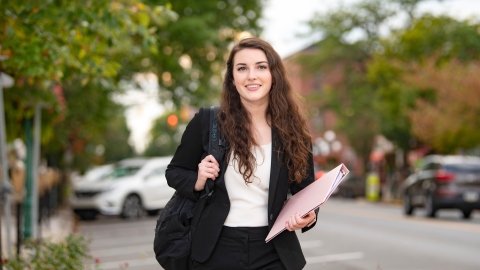 Helen Fish '21, Finance and Economics
October 10, 2019
Whether I'm thinking about joining an extracurricular here on campus or about what I want to pursue with my degree, I'll ask myself, 'How is this going to impact other people?' I think that's really important for everybody to think about.
Helen Fish '21 wants her work to make a difference, and she isn't waiting until she graduates to get started. 
"It's something that's pretty common across my generation — we don't just want to clock in and clock out; we want to actually make a change and help people," says Fish, a double major in finance and economics from Somerset, Pa. "A big piece of why I came to Bucknell was that I could be really involved in campus life, take on leadership roles and really make an impact on campus. I could see that students at Bucknell are super involved."
Fish has embraced her drive for involvement as president of the Alpha Lambda Delta honor society and a member of the Women in Finance student group and club volleyball team. Her desire to transform her world also inspired her major in finance in Bucknell's Freeman College of Management — a field she believes "impacts the lives of every single person, every day."
"The more I've explored the financial field, the more I've realized that nothing can exist without it," Fish says. "If companies like Amazon didn't have people to invest in them from the beginning, you wouldn't be ordering stuff from them today. I've realized the global impact it has."
Fish is already becoming an agent of change within her industry, which has a long history of domination by men. In summer 2019, she was chosen to take part in Girls Who Invest, a selective educational and work experience for undergraduates aiming to bring more women into financial management. She learned about the program through Bucknell's Center for Career Advancement. 
Surrounded by "brilliant young women who I could just tell are going to change the world," Fish took four weeks of investment courses paired with a six-week internship at Glenmede Investment Management in Philadelphia, culminating in a presentation before the firm's board. No mere simulation, the experience saw Fish cracking open the firm's books and offering real advice to guide its investments — an experience she calls transformative. 
"Being a 20-year-old and presenting to the CEO of a firm — that was really awesome," she sums up. "I think that sort of experience is really important when you are figuring out if something is what you want to do. Sitting in a classroom and learning about something is very different than the application of it in the real world."
Fish has found similar opportunities to make a real and lasting impact here on campus. As a member of Bucknell's Executive Intern Program, she's working with the University's Endowment Office to guide decisions to help maintain the affordability of a Bucknell education for decades to come.
Experiences like these have not only solidified Fish's choice to major in finance, but helped her discover that she'd like to apply that major to a career in investment banking. She's also supporting other Bucknell women seeking to break into the industry as a mentor to younger students in the Women in Finance club, and by speaking on panels for Bucknell's Center for Career Advancement. She hopes her efforts will contribute to meeting Girls Who Invest's goal of having 30% of investable capital managed by women by 2030. 
"It's definitely an ambitious goal — the finance industry still has a lot of work to do," she says. "But I'm hoping that by stepping into that I can bring more women into the industry, to encourage them that they can do it if they want to, even if it seems really scary and really competitive."