Joe Roffer '22, Electrical Engineering
June 11, 2021
Joe Roffer '22 suffered a shoulder injury, ended a relationship, moved out of his hometown when his mom remarried and lost his grandmother all in the span of a few painful months. 
And then he decided to transfer from a small STEM school in upstate New York to Bucknell, swinging open the doors of change during an already tumultuous time. 
"I was looking for an upbeat school — something with more resources and better academics," he says. "That's how I ended up here. It's really legitimately the opposite of my old school."
When he transferred to Bucknell, the electrical engineering major worried that he'd missed out on the first-year custom of meeting new people. 
"I was concerned that friend groups were already somewhat established," he says. "I kind of expected that I would go through a tough phase. And so from the beginning, I was like, 'It's time to get to work.' "
Working with a counselor from Bucknell's Counseling & Student Development Center, Roffer developed techniques to overcome the expected anxiety that accompanies such major life changes.
"Even though I would struggle to go to parties, or go to the gym, or do homework, I would still just do it. I just kind of knew I had to keep going," he says. "Whenever a problem would come along, I would start looking for solutions and ways to fix it." 
He began meditating, reaching out to friends and family by phone, and writing down his thoughts in a journal. He also looked for ways to increase his involvement on campus.
One day, Roffer was scrolling through a list of Bucknell's student organizations and writing down ones that interested him. He found a listing for Bucknell's chapter of Active Minds, a national nonprofit that promotes mental health awareness among college students.
"So I emailed the president and asked them when their meetings are," Roffer says. "And he said, 'Actually, the club is inactive.' And I said, 'OK, can I restart it?' "
Roffer became president, and he and his friends rebuilt the Active Minds chapter, bringing together Bucknell students for open conversations in a safe, supportive space.
"We got a lot of people that are super passionate about mental health," he says. "And it just took off. Our roster grows every week." 
While club members are careful to leave the therapy sessions to trained professionals, they find plenty of ways to make an impact. They've raised $2,000 for on-campus initiatives like educational events, a speaker series, study breaks, and stress-relieving activities like tie-dye parties and some quality time with therapy dogs. 
"Dogs are just so fun to be around," Roffer says. "If you're petting a cute dog, you're not thinking about your Circuits class or whatever it may be. You're in the moment, petting a dog."
Besides, those brain breaks help Roffer and his fellow Active Minds members function even better in class.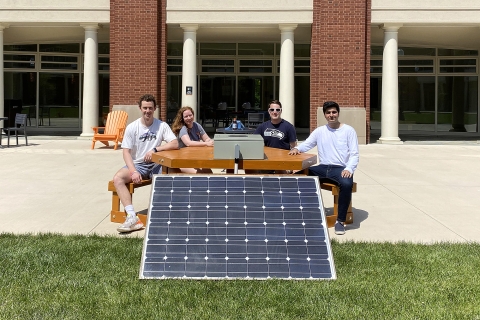 Roffer is a member of another club, the Renewable Energy Scholars, where he uses his electrical engineering skills to help create a solar-powered bench where students can work outside while charging their devices using the sun.
The quest for renewable sources of power has been on Roffer's mind since his sophomore year of high school, when he wrote a research paper on the environment. He studied the six mass-extinction events in our planet's history — the sixth of which is happening now.
"Just do a little bit of deeper digging, and you can find some terrifying things," he says. "And so I knew I wanted to do something with the environment. I feel like I can make an impact doing engineering." 
As he prepares to make an impact in the world of renewable energy, Roffer is also making an impact on the mental health of the many friends he's made at Bucknell. 
"As I developed the club, a lot of my peers and friends started opening up to me about their own mental health matters," he says. "I quickly realized a lot of the people I care deeply about struggle with their mental health and are usually unaware about the different practices or resources available to them."