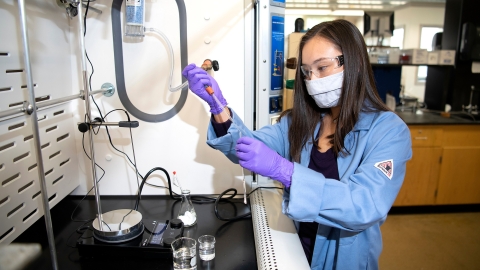 Mikayla Horvath '23, Chemistry
November 28, 2020
Whether on the track or in the lab, Mikayla Horvath '23 likes to go fast.
But the complex calculations required in computational chemistry can't be completed in the time it takes Horvath to run 400 meters. She draws a chemical compound on the screen, makes sure the geometry matches her specifications and tells a software program called Gaussian which calculations to run.
Then she clicks "go," and …
"And then you wait anywhere from a couple of hours to over a week — it just depends on how many atoms are in whatever job you're running," says the chemistry major from Doylestown, Pa. "It comes back with the results, and it gives you a visualization of the 3D structure that you can't really see in the lab. It's actually pretty eye-opening."
Computational chemistry is one of the few areas in Horvath's burgeoning science career that requires such patience. Because most of the time, Horvath — like most Bucknell students — is far ahead of the competition.
In high school, Horvath was a self-professed "science nerd." For a science fair project in her sophomore year, Horvath needed glassware to perform steam distillation. But there was a problem: her high school's chemistry lab didn't have the equipment she needed.
Horvath reached out to a nearby university to see if a chemistry professor there would be willing to lend her some supplies. 
"He actually said, 'why don't you just come in, use the lab, and I'll teach you,'" Horvath says. 
Her first experience in a real college lab inspired Horvath to enroll in college-level chemistry classes during her senior year of high school. She was hooked.
When it was time to research colleges, Horvath faced an important decision. After such a significant head start, she didn't want to return to the starting blocks in college.
She knew that some schools would make her wait for lab time and access to the best equipment until after seniors and grad students had their turn.
"At a lot of larger schools, it may be that the undergraduate students are doing work for the graduate student, working on their project," Horvath says. "At Bucknell, I'd actually have my own project and make decisions about it with my own mentor."
Horvath chose Bucknell, earned a Presidential Fellowship and began working with Professor Hasan Arslan, chemistry, before she even moved into her first-year residence hall. 
Horvath's research — funded through a grant from the National Science Foundation — aligns nicely with her innate curiosity. She's studying host-guest chemistry to better understand how organic compounds interact and bind. 
To explain those concepts to friends and family who aren't "science nerds," Horvath uses the example of a common household product.
"It's like Febreze," she says. "The compounds in Febreze trap the odor and enclose it. It's like that, where the host is this big molecule and it's able to trap the guest inside it."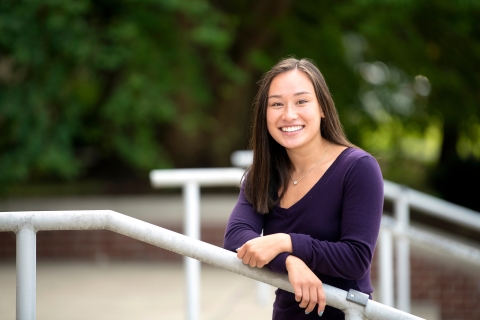 In addition to working alongside her professors, Horvath learns from her classmates in an environment that's collaborative — not competitive.
"I'm learning not just about what I'm doing but about Andrew's project and Gavin's project and Brittany's project," she says. "We've been able to ask questions and bounce ideas off each other. We're all willing to help each other."
She's also found her people outside of the chemistry department. One benefit of a liberal arts education is that it prepares students for the vast range of subjects they'll encounter in life.
"It can be easy to say, 'Oh, I'm a chem major. I only want to take STEM classes,' " she says. "But with the requirements to take humanities and social sciences and other courses — it's been eye-opening. It's a good break to exercise your mind in a different way."
Speaking of exercise, Horvath's packed schedule also includes training with the Bucknell track and field team, where she's a hurdler. Between coursework, athletics and spending time with friends, Horvath's schedule has few open spaces. 
"But I actually thrive off being busy," she says. "In high school, I had a job, I did track, I had school. Having things to do is motivating for me, even if it's sometimes overwhelming."
And when that feeling hits, Horvath knows exactly where to go.
"Track has helped me," she says. "Some days when I'm stressed, the one thing I need to do is go fast."