Ryan Bremer '22, Film/Media Studies and History
September 11, 2020
I wanted to find a major or minor to supplement my film studies degree. It's great that at Bucknell, there are so many opportunities to discover and blend interests.
When watching images flash across the film screen, Ryan Bremer '22 sees much more than a series of frames arranged to tell a story. He sees a wide-open window into the thoughts, beliefs and values of a creator and the world that has shaped them.
It's this keen, analytical eye that called Bremer to a major in film/media studies at Bucknell, where he's using the skills he's honed to bridge his fascinations with media and history.
"I really liked that at Bucknell, you have the opportunity to explore different disciplines, but connect them in the integrative spirit that liberal arts education is based on," says the New Jersey native, whose penchant for examining visuals extends beyond film to the photographs and advertisements he studies in history courses.
Now, in partnership with Professor Claire Campbell, history, Bremer is taking the lead on creating an online catalog for a collection of 35 historical maps recently donated to the University. The catalog, which will be hosted through Bucknell's Ellen Clarke Bertrand Library website, will group the maps by period, region and the atlases from which they originated, and also provide links to digitized versions. Once complete, the resource will be available to students and professors for coursework and research.
"As someone who loves to study images, I've always been interested in maps as ways to depict information," says Bremer, who's also pursuing a second major in history. "There's so much value in being able to touch and feel artifacts like this, and use them firsthand as resources. So for me, this project is a really cool opportunity to study various time periods in a unique way."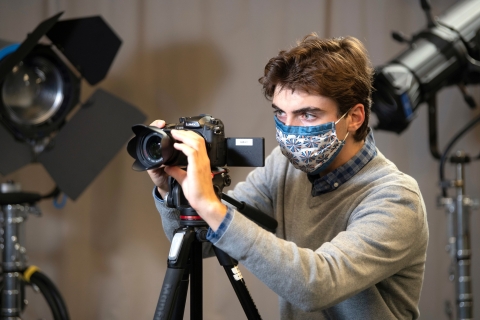 A Closer Look
The new collection consists of maps produced between the late 1500s and mid-1760s. Nearly a third of them are bird's-eye views of cities across the globe, from Tunis, the capital of Tunisia, to Avignon in the South of France. Bremer says these maps — several of which originated from an atlas published in 1572 — not only provide a glimpse at how major cities once looked, but also an understanding of what past civilizations valued most.
A 1570s depiction of Cusco, Peru, for example, shows the emperor being carried past the city in an ornately decorated throne-like chair, flanked by spear-wielding guards. Another 16th-century illustration of a Dutch city emphasizes the abbey, which is scaled several times larger than the surrounding homes and other official buildings.
"They're really more than maps when you look closely — they're a lot more like art pieces," says Bremer, an Arts Merit Scholar. "The symbols, colors and other depictions communicate how the world was seen and interpreted."
When writing descriptions for the catalog, he tends to look at each map like a frame in a film that the cartographer has crafted as the director. Every illustration that's included in the frame, such as biblical figures or mythological creatures, "says something about both the creator and audience," he says.
Whether he's zooming in on a 1600s roadmap to London or shooting his own short film for Bucknell's biannual collegiate film festival, every opportunity to see the bigger picture offers an invaluable lesson for Bremer.
"Even more than a chance to merge my interests, this maps project is a huge opportunity to learn," he says. "I'm amazed that there are so many ways for students to make the most of their education here."