Bucknell Students Produce Short Film and Collegiate Film Festival From Afar
April 24, 2020
Theatres across the country may be closed, but COVID-19 won't stop Bucknellians from making movie magic — not if students like Camillo Lazarczyk '21 have anything to say about it.
Lazarczyk is one of 19 students continuing production on a short film from home as part of a collaborative film and theatre course. The course — which bridges two classes taught by Professor Anjalee Hutchinson, theatre & dance, and Professor Eric Faden, film/media studies — brings students from each department together to create a professional short film in just 12 weeks.
In the days leading up to spring break, the group attended cinematography workshops, cast actors, booked on-campus locations and organized a production schedule. Filming had barely begun when Bucknell transitioned to remote education in response to the coronavirus.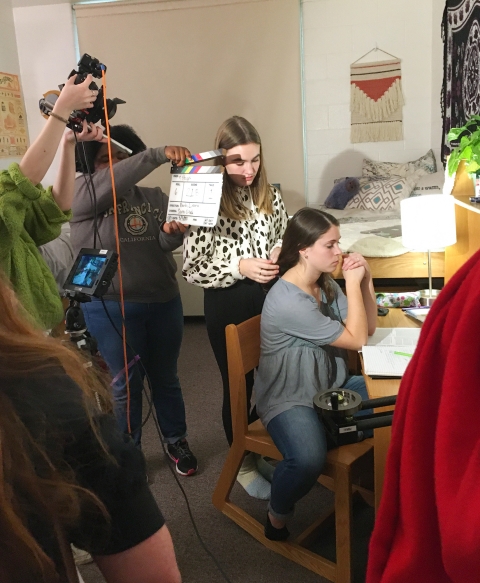 "We were all really excited about the work we'd put into it up to that point," says Lazarczyk, a markets, innovation & design and theatre double major who plays one of the film's protagonists. "In the beginning, we were holding out hope that we'd be able to come back to campus and finish telling the story the way we intended."
The screenplay (co-written by a Bucknell alum) follows three college students on a journey to discover why their electronic devices have mysteriously stopped working. It's an ironic storyline for student filmmakers who are now relying on technology more than ever.
Since going remote, the class has swapped professional cameras for cell phones, which the cast is using to film their lines as well as behind-the-scenes footage of the remote filmmaking process. The result will be a hybrid film that combines the class's on-campus shots, homemade scenes and documentary-style clips.
"It's a different kind of project that's posing some interesting challenges, like showing two people playing cards together or shooting a scene where there's supposed to be a full classroom," Hutchinson says. "But the students are coming up with these super inventive solutions to make it work from a distance."
In some cases, making shots look cohesive means using a split-screen effect. Other times, it's a matter of pretending to interact with someone who's not in the frame, like in a scene where Lazarczyk passes a piece of paper offscreen. Students who are supposed to be acting side-by-side have even worked to make their backgrounds look similar despite being in separate locations. For a scene that takes place in an antique shop, actors went rummaging for vintage items in their garages and basements to use as set dressing.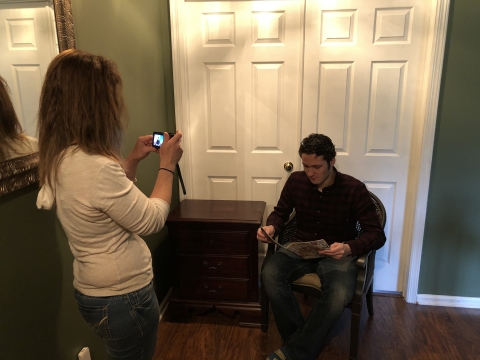 "It's been cool to see footage from all over the country come together thanks to the skills and expertise that each person brings," Lazarczyk says. "Now that there's a documentary aspect to it, the film feels like it has an additional purpose too. We get to use it as an artistic outlet to process what we're going through right now in addition to achieving what we set out to do at the start of the semester."
Keeping It Rolling
Watching students forge ahead with large-scale projects has been nothing short of amazing for Professor Rebecca Meyers, film/media studies, whose class produces the biannual Bucknell Intercollegiate Film Festival. The festival, typically held at the historic Campus Theatre in Lewisburg, invites the Bucknell community to see films created by college students throughout the state.
When the University announced that courses would be moving online, Meyers says following through with the project seemed unimaginable.
"It was an overwhelming shock and disappointment that has since transitioned into something that is finding success in a new form," says Meyers, whose class is using live streaming to reimagine the event.
Now, the festival will screen its 14 films via Vimeo on April 25. This year's lineup includes submissions from the Pennsylvania College of Art & Design and Carnegie Mellon, as well as a Bucknell student film created by Ryan Bremer '22, a film/media studies and history double major. Following the screening, the filmmakers will make a virtual appearance for a Q&A session where viewers can submit questions through Vimeo's chat function.
"Even though we're not going to be together in person, we're still finding ways to create a community experience online, where our festival can expand beyond the traditional Lewisburg audience," says Sara Wilkerson '20, a film/media studies major who helped generate publicity for the festival. "The flexibility and ingenuity of everyone involved has made me appreciate this learning experience even more."
If there's one thing Bucknellians are learning in this moment, it's flexibility, Hutchinson says. That's a skill she believes will be crucial for students as they continue to face the unknown.
"With how quickly the world is changing day-to-day, students' ability to adapt will be their strength," Hutchinson says. "The fact that they are powering through this and continuing to produce work that has merit shows that they can rise to the occasion. They can rise together to meet tomorrow's challenges."