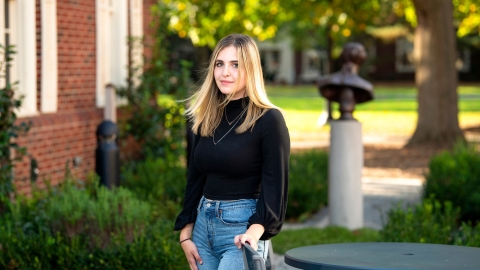 Sarah Haber '22, French and Comparative & Digital Humanities
November 19, 2021
In comparative & digital humanities, you get to choose your path and curate it closer to your interests. Everyone's experience is so different.
When Sarah Haber walked in to the college fair, she knew which schools she wanted to visit but hadn't yet chosen a major.
"I knew I liked history," she says, "and was way more of a humanities person than science."
The native of Mahwah, N.J., kept an open mind as she strolled from table to table to chat with college admissions counselors.
"I think I went to all the tables, and then I remember being at the Bucknell booth," she says. "The admissions counselor asked me about my interests. I said, 'I like history and languages, and I've always been pretty tech-savvy.' "
The Bucknell counselor introduced Haber to "this really small major" that might be a good fit.
"She wrote it down for me, and then I went home and looked it up," Haber says. "I was like, 'Oh, this sounds perfect.' "
The major was comparative & digital humanities, which promised to blend Haber's love of languages — both natural and artificial — with an opportunity for undergraduate research and hands-on experiences.
"It combines my history side with my tech-savvy side," she says. "And it helps me learn computer programs that would make me more employable."
For Haber, the major's appeal is twofold.
One, its small size means she can form close relationships with her professors.
"It turned out to be the best thing. We'll meet for coffee, and I've gone to their houses," she says. "If I had gone into a large major, I wouldn't have had those same connections."
And two, the major is highly customizable to her interests.
"There are some majors where you're on a track and have to take this and this and this," she says. "In comparative & digital humanities, you get to choose your path and curate it closer to your interests. Everyone's experience is so different."
Haber admits that this no-two-are-alike approach makes it tough to define her major to friends.
"I usually say it's a mix between computer science and studying cultures and the history of humanity," she says.
Haber finds it's often helpful to describe actual projects she has enjoyed during her time at Bucknell. Beginning in her sophomore year, Haber embarked on a fascinating journey inside an 1889 French textbook for young women called Suzette: Livre de Lecture Courant à L'usage des Jeunes Filles, or "Common Reading Book for Young Women."
Along with fellow students and her professors, Haber began scanning the pages of the book into a computer and imported them into a program called Oxygen. After that, she started what's called structural encoding, which means she trained the program to identify the basic elements of the textbook: things like page numbers, headers and footers.
Once that was done, she moved to semantic encoding, identifying people, places and other key topics within the text — all with an eye toward bringing the educational system of this time period to life.
"It's creating a giant index so that when we eventually create an interactive website, you could easily find what you want," Haber says. "If you wanted to learn about a certain city in France, you could look it up, and it would take you to all the passages that mention that city."
Haber says semantic encoding is especially fascinating because it challenges her to use her creativity and critical thinking skills.
While she could tag every word — including mundane ones like "chair" — she instead must consider which elements of the book might be most interesting to fellow scholars. Scholars like Professor John Westbrook, French.
"He's really interested in French cooking," she says, "and so any time we see recipes or ingredients, we'll do more specific, detailed coding on that."
The work isn't easy, though Haber says her professors have been "super helpful in teaching me programs I had never been exposed to." But there's an added challenge: everything in the textbook is in French.
Haber has taken French since high school and is also majoring in French at Bucknell, but coding the textbook takes longer because it's not in her first language.
"It has helped me a lot in my French classes because I'm reading French every day," she says. "A lot of times there's words or phrases that I need to look up because I'm still learning the language."
She's also learning what it was like to be a young woman living in France in the late 19th century. Instead of a modern textbook full of facts, Suzette is structured as a storybook with lessons woven into the tale. It covers topics like science by telling of a trip to the zoo to visit mammals and reptiles.
In another chapter, a girl's mother dies, and the girl has to take over household responsibilities that, in the book, were characterized as "women's work."
"There's a lot about, 'here's how you cook things, here's how you manage the household, here's how you deal with siblings,' " Haber says. "It's interesting because now you would never learn that in school. And the boys' textbook didn't have any of that. It just shows how much we've progressed."
The ultimate goal for the project is an interactive website that will allow scholars and students to learn more about how women were educated during this time period in France. By using digital tools, Haber and her fellow students will bring history to life, helping people understand a moment in time in a more immersive way.
"Before Bucknell, when I heard about research, I pictured someone in a lab — goggles on, that type of thing," she says. "And I always considered humanities research would be the professor doing it on their own. Once I got to Bucknell, I saw all my friends doing projects in the humanities space, and I was like, 'Wow, I never even realized these were opportunities I would have.' "
After Bucknell, Haber plans to pursue a master's degree in digital humanities — deepening a passion that was first sparked at that college fair back in high school. She dreams of one day working for a museum, helping turn flat documents into immersive interactive displays.
"I've always enjoyed going to museums — on vacation or any time," she says. "It's really important to create projects that make it accessible to everyone."