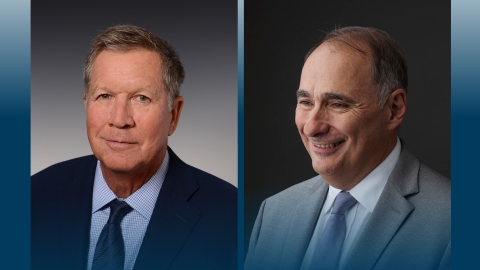 Bucknell Forum to Present John Kasich, David Axelrod
February 14, 2023
John Kasich, former Republican governor of Ohio; and David Axelrod, former Democratic chief strategist and senior adviser to President Barack Obama will appear together as the next guests in The Bucknell Forum, Tuesday, Feb. 28, at 7:30 p.m. in the Weis Center for the Performing Arts. They'll join moderator and University President John Bravman to discuss their parties' contrasting views on the series theme, "The State of American Democracy."
"We restored The Bucknell Forum this year to underscore the University's long-held commitment to welcoming many voices and ideas," Bravman says. "This event, in particular, showcases that commitment, featuring two prominent and respected political figures from the nation's most powerful political parties to offer potentially contrasting views on the state of American democracy."
About John Kasich
As the 69th Governor of Ohio (2011-19), Kasich restored Ohio's fiscal stability, diversifying the state's economy with more than 500,000 new private-sector jobs, expanding health care coverage for low-income Ohioans, protecting vulnerable residents, and championing a number of reforms to protect the environment.
Kasich ran for president during the 2016 GOP primary. He was the last candidate to leave the race and finished third in the total delegate count. His message focused on unifying Americans rather than dividing them.
When he served in Congress from 1982 to 2000, Kasich was chairman of the House Budget Committee and worked across party lines to pass the first federally balanced budget since 1969. It hasn't been done again since he left Congress.
Kasich also served for 18 years on the House Armed Services Committee, where he played a role in every major national security effort that helped end the Cold War.
Kasich is the author of four New York Times bestsellers: Courage is Contagious; Stand for Something: The Battle for America's Soul; Every Other Monday; and Two Paths: America Divided or United, which reflects on his 2016 presidential run and hopes for America's future. His latest book, It's Up To Us: Ten Little Ways We Can Bring About Big Change, was released in 2019.
About David Axelrod
Axelrod is a preeminent American political strategist and commentator who is best known for being the chief strategist for Barack Obama's presidential campaigns. After Obama's election, Axelrod was appointed as senior adviser to the president. He left the position in early 2011 and became the senior strategist for Obama's successful reelection campaign in 2012.
Axelrod currently serves as the founding director of the University of Chicago's non-partisan Institute of Politics and as a senior political commentator for CNN. He is the host of The Axe Files, a top-rated podcast featuring in-depth conversations with public figures across the political spectrum. A televised version of the show airs monthly on CNN.
A former political writer for the Chicago Tribune, Axelrod produced media strategy and advertising for 150 campaigns across the U.S., culminating in President Obama's historic elections. Axelrod is also the author of The New York Times bestselling memoir Believer: My Forty Years in Politics.
Event Information
All Bucknell Forum events are free and open to the public, although tickets are required.
Current Bucknell students and employees may receive up to two free tickets at any Campus Box Office location, or online, between 10 a.m. and 4 p.m. on Feb. 27, a day prior to the event. A valid Bucknell University ID is required to receive advance tickets. Use of multiple Bucknell IDs to pick up additional sets of tickets is prohibited.
Remaining tickets will be available for the general public at the Weis Center box office beginning at 6 p.m. on the day of the event. All individuals may receive up to two free tickets, depending on availability.
An ASL interpreter will be signing at the event for the hearing-impaired community. Attendees who need this service should contact sebright@bucknell.edu for seating arrangements.
Questions regarding this event may be directed to the Division of Communications at 570-577-3260 or theforum@bucknell.edu.
This event will be recorded and broadcast on WVIA-TV, the local PBS network affiliate, on these dates and times:
Monday, March 20, 9 p.m.
Tuesday, March 21, 2 p.m.
Thursday, March 23, 7 p.m.
Friday, March 24, 4 p.m.
Thursday, March 30, 9 p.m.
Friday, March 31, 2 p.m.
About The Bucknell Forum:
Kasich and Axelrod represent the third and fourth nationally renowned speakers participating in this year's Bucknell Forum — a speaker series that since 2007 has featured national leaders, scholars and commentators who have examined various issues from multidisciplinary and diverse viewpoints. Condoleezza Rice — the first female African American secretary of state and first woman to serve as national security adviser — appeared via Zoom to kick off the series on Sept. 13; and Jake Tapper, lead Washington anchor for CNN, spoke in person on Wednesday, Nov. 30.
The final speaker of the academic year will be Barbara F. Walter '86, a leading scholar of civil wars and the author of New York Times bestseller How Civil Wars Start (and How to Stop Them), who will speak on Tuesday, April 4, in Trout Auditorium.