Bucknell Honors Class of 2023 Graduates
May 14, 2023
The Bucknell community gathered together on Malesardi Quadrangle Sunday, May 14, to celebrate the academic achievements of the Class of 2023, a group of graduates whose educational journey was marked by tenacity, grit and grace.
"Your very presence here today demonstrates your ability to meet unexpected difficulties head-on," University President John C. Bravman said in his address to the Class of 2023. "As a group, you faced perhaps the biggest hurdle of all: Most of your undergraduate experience has taken place in the context of a global pandemic.
"Some of you experienced the loss of loved ones. Yet your resolve remained constant. […] I am extraordinarily proud of your commitment to your education, and to each other. As you leave campus today as a Bucknell graduate, do so with the confidence that you can handle anything."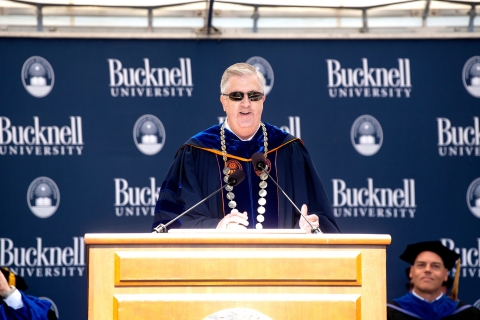 Bucknell's 173rd Commencement ceremony awarded 894 degrees — 884 bachelor's degrees and 10 master's degrees — to students from 37 states and 20 countries. The College of Arts & Sciences conferred 552 undergraduate degrees, the College of Engineering conferred 177, and the Freeman College of Management conferred 155.
University leaders, faculty, family members and friends — including Doris Malesardi — gathered at the heart of campus to celebrate the graduates. Doris and her late husband, Bob '45 P'75, P'79, P'87, G'08 — for whom Malesardi Quadrangle is named — expanded access at Bucknell by generously supporting need-based financial aid, which has transformed the lives of generations of Bucknellians.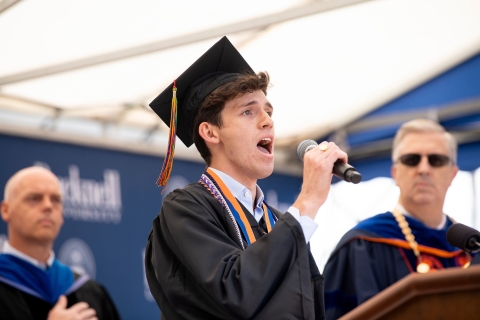 Under a cloudless blue and sunny sky, Tom McKillop '23, a music and history double-major from Scarsdale, N.Y., opened the ceremony by singing the national anthem. Following the presentation of degrees, senior speaker Kaia Rendo '23, an English — creative writing, political science and Spanish triple-major from Elmwood Park, N.J., provided remarks.
"The Bucknell Spirit is Forever"
In her speech to her classmates, Rendo spoke of the Bucknell spirit — a sense of community that transcends the physical boundaries of campus. She recalled hearing heartfelt shouts of " 'ray Bucknell!" while walking in New York City, hiking in the Appalachians, and even while traveling abroad in Iceland. It's a reminder, she said, that even when you are miles away from Lewisburg, Bucknell is with you. "The Bucknell spirit is forever," she said. "Our community is not — and cannot — be tied down to a set of buildings."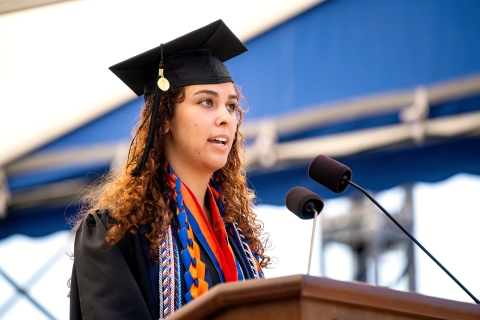 Rendo acknowledged that challenging situations and discourse can disrupt connections and put relationships to the test. But her experience has proved the Bucknellian spirit to be consistent and resilient.
"It wasn't always easy to be so connected," she said. "The COVID-19 pandemic had us all experiencing Bucknell in different ways, from dining room tables, hotel beds, and the confines of our dorms. […] Global issues pulled members of society further apart. As the anonymity of the internet made hate all too easy, finding pockets of peace and joy was a necessity. You, my fellow Bucknell classmates, gave me that."
As graduates prepared to disperse and begin the next chapter in their lives, Rendo encouraged them to embrace the uncertainty ahead. "Almost none of us will stay in the first job we get or the first city we move to," she said. "Our favorite places, people and pieces of ourselves — or who we think we are — will surely change. As scary as each transition may be, keeping kindness in your heart — the Bucknell way — will make it all that much easier. […] I'll call out a ' 'ray Bucknell' to you wherever we end up."
"Dare to Be Different"
Keynote speaker and legendary coach Jay Wright '83 brought energy and verve to the podium, providing an inspirational pep talk to his "team" of nearly 900 graduates before sending them off to storm the court and take on the world. Wright, a CBS Sports college basketball analyst, retired in April 2022 as a highly successful men's basketball coach at Villanova University, where he guided the program to two NCAA championships and four Final Fours.
Even though Wright is celebrated for a successful career filled with wins, he shared that his educational and professional journeys have included challenges, doubts, insecurities and failures.
"So if some of you feel you don't have the answers, the confidence, the plan — you have it, because you finished," Wright told graduates. "Trust me, you learned it here. It's in your challenges, your successes, your failures, and most importantly, your relationships. It will become clear to each of you at different times in your life. It is the beauty of the Bucknell experience."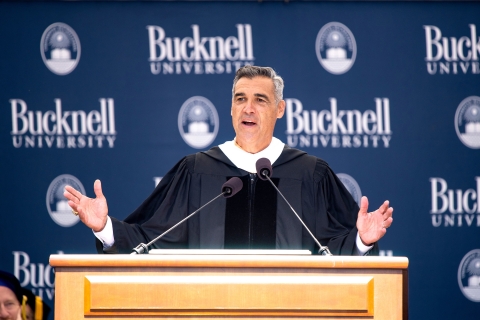 He encouraged the audience to avoid being defined by the world's version of success. "Our challenge, team, is to create our own basic core values," he said. "It's time for you to define your own success and failure. […] Incorporate your Bucknell education and experience, trust your instincts and your family values. Dare to be different, and create your own path and core values that are uniquely yours."
Wright, who majored in economics and sociology, said he came to Bucknell for the wrong reasons — prioritizing basketball and a good time more than academics. But Bucknell became the best decision of his life for the right reasons: He was challenged and humbled — and mentored and supported.
His holistic Bucknell experience informed the four-point coaching philosophy that has defined his career: "Hard: Work hard every day, bring enthusiasm and your best effort in everything you do. Together: Live your life for others. Be kind and selfless. Smart: Be a lifetime learner. Never stop growing. Always be open to new ideas. Pride: Take pride in being part of something bigger than yourself rather than focusing on personal glory."
While the future is uncertain, Wright told graduates that one thing will always remain in their control. "Your attitude is your greatest characteristic," he said. "We can all have a positive attitude. It's a choice we have every day. It gives us the courage to never fear failure. If we do fail, we have an opportunity to display and express our positive attitude and inspire others. Class of 2023, you have already exhibited the attitude necessary for attacking the journey of life."
With their degrees now conferred, the Class of 2023 joins Wright as part of the more than 50,000-strong Bucknell alumni network, a worldwide community that's ready to support its newest members as they step out into the world.