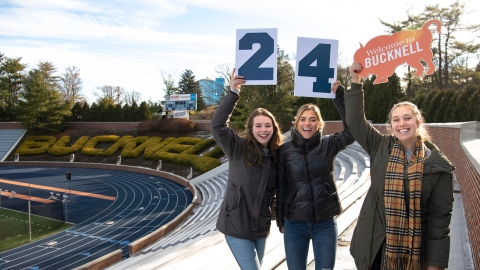 Bucknell Launches Bison to Bison, an Online Community for Admitted Students
March 30, 2020
In a typical spring, Bucknell's admissions team hosts large on-campus events for admitted students and their families — occasions that require months of careful planning and coordination. 
In a typical spring, high school seniors and their families visit universities a final time before making their college decision. 
But this spring is anything but typical. The outbreak of the coronavirus (COVID-19) has caused universities to cancel in-person events and forced high school seniors to complete part of their final semester at home.
Casey Friend '20 knows the feeling. The Bucknell computer science & engineering major from Yonkers, N.Y., isn't having the senior year she expected, either. But she's helping pioneer a new way for future Bucknellians to connect, engage and explore.
She's doing this through B2B: Bison to Bison, a digital network where admitted students and their families can interact with one another, ask questions and determine whether Bucknell is the right choice for them. 
"I'm hoping admitted students use this network to get every single question they have about Bucknell answered," Friend says. "They may not be able to gather on campus, but they still get to hear from and talk to the people who know Bucknell best."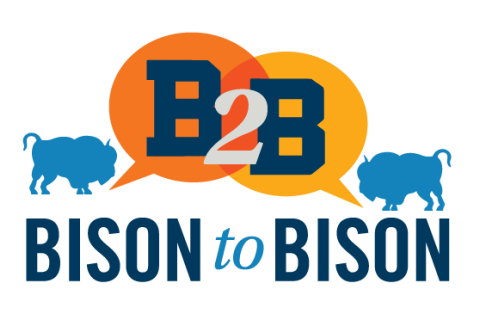 Fourteen Communities, Limitless Connections
Dean of Admissions Kevin Mathes '07 and his team launched Bison to Bison on March 30 — less than three weeks after Bucknell, in accordance with state and federal guidelines, announced the cancellation of its in-person admitted student events.
Launching a robust digital network that quickly wasn't easy, but Mathes says doing so was essential to helping seniors make an informed decision. 
"The core of what we want to provide to admitted students and their families stays the same: the ability to connect with our incredible community of students, faculty and staff," he says. "We want families to ask questions and explore."
Those connections will flourish in Bison to Bison's 14 communities, ranging from Ask an Admissions Counselor to Housing & Dining to Student Support. 
Bison to Bison merely provides a virtual venue for conversation; it's the members that bring the network to life. That starts with the most important constituents: students admitted into the Class of 2024. 
They'll quickly discover that Bison to Bison is more than a message board. When they first log in using the unique link sent by email, admitted students and their families can select specific areas of Bucknell that they'd like to examine in greater detail. 
Let's say a student is curious about living on campus, academic research and financial aid. The site will use its matching algorithm to pair that admitted student with the best current students, staff members and/or faculty members to answer their specific questions. 
Straight From the Source
Current students play an important role on Bison to Bison because they know from recent experience what it's like to weigh their college options.
This time last year, Gabe Gross '23, an undeclared management major from Avon, Conn., was making his college decision. Talking to current students helped him choose Bucknell. 
Now he wants to return the favor. Gross says Bison to Bison offers a chance for an even deeper connection than is possible during campus visits. 
"Ordinarily, most of our communication with future Bucknellians takes place on a single day when they visit for their tour," he says. "Now we have a system that fosters more consistent communication. We'll not only be able to answer questions but also introduce them to all of the people, experiences and resources they wouldn't otherwise know about."
Close to Home
Bison to Bison also uses a student's location to power connections. Each incoming Bucknell class is geographically diverse; students in the Class of 2023, for example, represent 31 states and 42 countries. 
Bison to Bison allows admitted students to find and connect with others from their geographic region. An admitted student from San Francisco, for example, could ask a current student from California why they chose Bucknell.  
Easy-to-use privacy controls are embedded throughout Bison to Bison, giving everyone full control over when and how they engage with other users. Admitted students who would rather browse than post their own questions are welcome, too.
"Not all students engage in the same way," Mathes says. "Some may be on Bison to Bison every day making connections, while others may jump in less frequently but be very observant. I feel both types of students can really benefit from the platform and find success at Bucknell."
Parents and Alumni
Most Bison to Bison communities are designed for admitted students, but one — Class of 2024 Parents — connects parents of admitted students with parents of current students. 
"We're asking a family to entrust their student to us for the next four years," Mathes says. "In this community, parents of current and former Bucknellians can share their interactions with the University as well as how they've seen their student grow." 
Mathes expects that, in addition to answering questions about Bucknell, parents of current students will use the community to share personal, illustrative stories.
"I find that parents love to tell me stories of their student doing research with a faculty member, how they've become involved in organizations and made great friends as well as how Bucknell has prepared their student for an internship or job after graduation," he says. 
Speaking of those internships and jobs, the Life After Bucknell community will invite Bucknell alumni to engage with admitted students — further proof that Bucknell's alumni support doesn't begin at graduation; it begins before Orientation.
"Current high school students and their families are very interested to know what will happen five, 10, 25 years after graduation," Mathes says. "My fellow alumni can provide stories about how the Bucknell experience has shaped their future and prepared them to take on the world."