Welcome to Bucknell University, Class of 2024! We're excited to have you join our community of explorers, artists and innovators who, like you, are driven to reshape the world.
Our students, faculty and staff look forward to supporting you as you engage inside and outside of the classroom, challenge long-standing assumptions and take bold steps in learning.
Below, you can explore some of the information you'll need as you begin your journey to Bucknell in the fall.
 
Orientation Dates
Our on-campus Orientation programs, held in August, focus on academic and social expectations, learning University traditions and providing opportunities for students to meet their new classmates.
Orientation begins Wednesday, Aug. 19, 2020.
Pre-orientation
"Pre-O" is a great way to settle into the University community, connect with classmates and enhance your leadership skills in a program of activities designed to jump-start your Bucknell experience. Whether you explore the arts, the outdoors or any of our other themes, you'll expand your mind, discover valuable Bucknell resources and have a lot of fun as you settle into college life. 
Final dates for pre-O programs will be announced soon. 
Explore Pre-orientation programs
Other Key Dates 
Aug. 23, 2020: Convocation and Candlelighting
Aug. 24, 2020: Classes begin
Curious about future semesters? Explore the Academic & Planning Calendar
Visit Options for Admitted Students
We offer special visit options designed exclusively for admitted students. Tour campus, experience a classroom environment, meet faculty and students, and get a sneak peek at student life.
March 21, 2020: Enrolled Student Open House for students who have accepted admission into the Class of 2024 and paid their enrollment deposit. 
April 18, 2020: Admitted Student Open House for any students admitted into the Class of 2024.
Check your acceptance packet to learn how to register for one of these special events.
 
Class of 2024 Facebook Group
Social Media
This is the place to get to know your fellow classmates, ask questions and become a part of the Bucknell Community.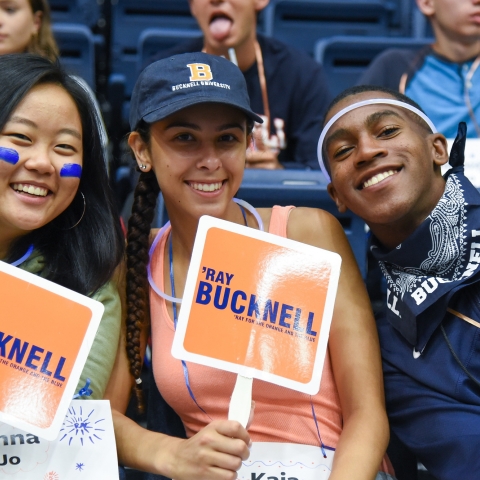 Get Your Free Bucknell Printables
Whether you're celebrating a graduation, the next Bison win or just want to show your Bucknell spirit, we have the decorations to make your next party say 'ray Bucknell!