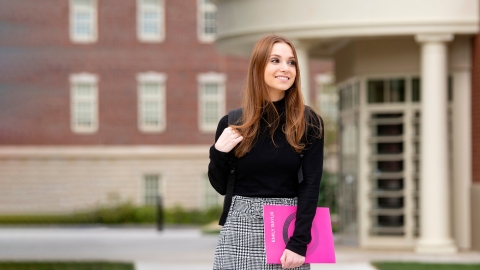 Bucknell Student's Book Series Lights the Way for Young Women in Engineering
October 3, 2019
Growing up, Emily Bayuk '21 was fascinated with the way electricity whizzes around a circuit at lightning speed. She remembers getting a talking doll as a present and being much more interested in how its circuitry played a recording when she pushed a button than in anything the doll had to say. 
Bayuk wanted to learn more about circuitry and exactly how it worked, but she didn't find many books in her hometown library or bookstores that spoke to her particular interest beyond dry texts — until, that is, she decided to create her own.
Over many months in her senior year of high school, Bayuk broke down the lessons she was learning in physics class to a level that middle-grade readers could understand. She then lovingly illustrated each page of the work she titled The Fundamentals of Circuits Made Easy.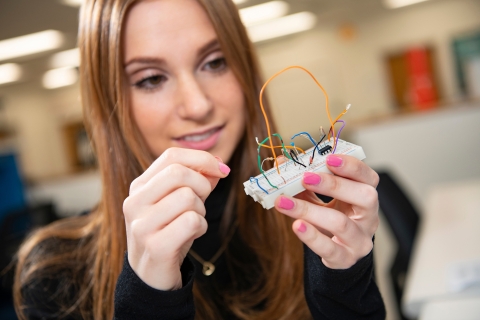 Now an electrical engineering major with a Russian studies minor at Bucknell, Bayuk is hoping to help a new generation of girls discover the same scientific miracles that magnetized her interest when she was a kid and open doors for women in the still male-dominated world of engineering. 
This semester, with encouragement from her electrical engineering professor Philip Asare, Bayuk decided to self-publish her bullet-journal-style book through Amazon.com, and to expand the work into a series she calls Inside Electronics. Now, as she's taking more classes in her major, Bayuk is authoring accompanying books that explicate the classes' core concepts for younger readers. She's currently at work on two new entries: one about electronic signals and another about optoelectronics, and is writing each with the assistance and enthusiastic support of her professors. It's a challenge for sure, especially as Bayuk progresses to more advanced engineering courses, but it's also an effort she passionately believes in.
"A lot of what I'm learning about now I didn't even hear about when I was growing up," says Bayuk, who grew up in Bedford, N.Y. "And I feel like if I knew about it, it would have made me that much more interested in engineering. I want as many kids as possible to be introduced to it at a younger age — especially girls."
A Personal Mission
Bayuk's mission is a personal one that reflects her own story. She loved math from the second grade, when her grandfather, a computer engineer from the industry's fledgling years, began teaching her the basics of algebra. But by the time she reached high school, Bayuk began to realize that as her math and science classes became more advanced, the field's gender gap became more pronounced. By the time she took an AP physics course her senior year of high school, she was one of only three women left.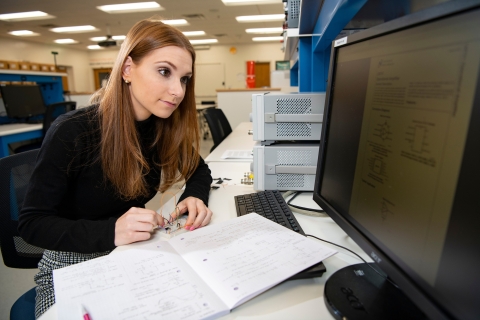 Bayuk doesn't want young women who share her interests to feel that isolation, but she notes in her introduction to Circuits that statistics show her experience is far from unique. Less than 20% of bachelor's degrees in engineering and computer science are awarded to women, according to the National Science Board.
"Why are women underrepresented if they are equally qualified? Perhaps it is a lack of interest. I want to change that," she writes. "If they are intrigued at a young age, perhaps we can change the trajectory of women in engineering."
Her books have provided Bayuk a direct method of doing just that: Later this semester she'll be leading an activity based on her book at the Lewisburg Children's Museum, where she'll introduce elementary school students to the wonders that once captivated her interest. She's also been interviewed by a local public radio station about her work and saw Circuits featured in Bucknell Magazine. She's hoping the momentum she's building will eventually lead to a publishing contract, and with it, the opportunity to reach a much larger audience. 
"It's all about inspiring girls," she says.