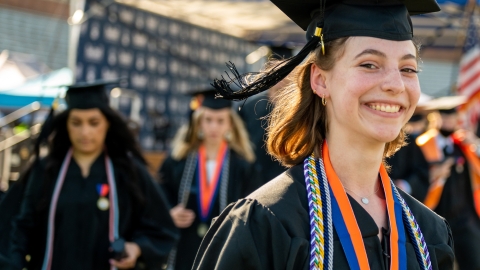 Bucknell's 171st Commencement Sends Class of 2021 Off With Empathy, Courage and Lessons Learned
May 23, 2021
Go forward with empathy. Go forward with courage. Go forward with the lessons learned from adversity, conflict and missteps, and use that knowledge to make the world a better place. These were the final messages that proud administrators, an esteemed alumna and a passionate fellow graduate imparted to the Class of 2021 on Sunday, May 23, at the bookend of the class' journey at Bucknell University.
The University's 171st Commencement took place across three ceremonies spread throughout the day in Christy Mathewson-Memorial Stadium, allowing for proper social distancing amid the ongoing COVID-19 pandemic. Each ceremony honored graduates from Bucknell's three colleges, with Arts & Sciences graduates at the first two ceremonies and Engineering, Freeman College of Management and master's students recognized at the third. Dispersed seating on the football field was arranged for the graduates, as well as physically distanced pod seating for family and friends in the stands.
Across all three celebrations, Bucknell's newest cohort of leaders, innovators and change-makers were recognized for their growth through a journey that not only shaped them intellectually but also personally — in both moments of insight and miscalculation.
Maturing Through Missteps
The need to learn from mistakes was a key theme for Commencement speaker Audra Wilson '94, who reminded the graduating class of the weight their actions hold in the Bucknell community and beyond.
As a career-long lawyer, policy shaper and social justice advocate, Wilson has dedicated the past 20 years to amplifying the voices of those most impacted by injustice.
After graduating from Bucknell with degrees in international relations and Spanish, she launched a trailblazing path in law and political advocacy, which included a stint as the press and policy director for former President Barack Obama's U.S. Senate campaign in 2004, and several years as the deputy chief of staff for U.S. Congresswoman Robin Kelly in Illinois' second congressional district.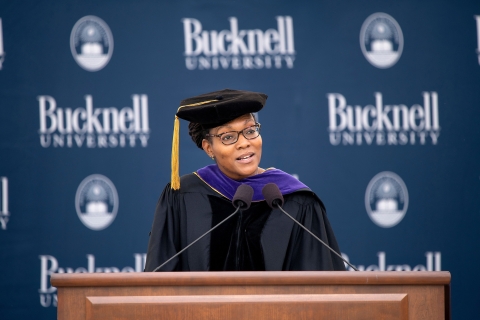 In her current work as president and chief executive officer of Chicago's Shriver Center on Poverty Law, Wilson often draws upon the undergraduate experiences that inspired her to invest in civic engagement. While college has been a place for the graduates to explore and discover their views and passions, Wilson noted that the "Bucknell bubble" is also a place where they've matured through trial and error.
"This is the place where you've been allowed to make many mistakes and missteps from which you can learn," said Wilson, who was recently elected to join Bucknell's Board of Trustees. "The Bucknell bubble is not impenetrable, nor should it be. But, in many ways, it has enabled you to grow and develop in unique ways.
"It is the place where you've learned to find your voice ... It's the place where you've encountered viewpoints and perspectives to which you may never have been exposed; life experiences that you've never encountered; and met people who, under different circumstances, you might never have interacted with otherwise. Even within this bubble, you've learned that there is much life outside of it."
The Power of Being Vulnerable
As they prepare to carve their own paths in a world grappling with crises in health, justice and the environment, student speaker Ruby Lee '21 urged her peers to harness the power of vulnerability.
"Unlike all the messages telling us to protect ourselves, counterintuitively, we cannot have thick skin," said Lee, a managing for sustainability major from Los Angeles. "What they don't tell you is that your thick skin will keep everything from getting out, too. Love, intimacy [and] vulnerability."
As a member of the Asian Pacific Islander Desi American (APIDA) community, Lee "felt the urge to turn [her] skin to steel" when discrimination and violence against APIDA individuals spiked in spring 2021. But leaning on openness helped her tap into empathetic connection and the courage to stand up for her beliefs — values that were instilled in Lee by her Korean parents but blossomed while at Bucknell.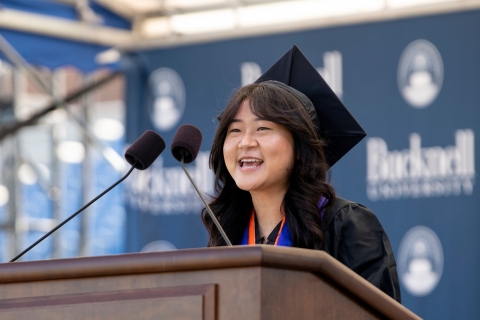 From jumping into a management position at the 7th Street Studio & Makerspace to working as an executive intern in the provost's office, Lee made the most of every opportunity to take bold initiative while seeking partnerships. It's what motivated her to build lasting bonds with her peers as a lead residential adviser and to create an affirming space for students of Asian heritage as co-founder of the APIDA Student Association.
Inspired by all she's learned in her four years, Lee encouraged her fellow graduates to choose vulnerability in the decisions they'll make, the causes they'll champion and the relationships they'll build in their lives post-Bucknell.
"And remember that leaning on this openness paves the way for empathy and courage to follow through on your convictions," she said. "Because this is how we will change the world."
Nearly 900 Graduates
This year's Commencement recognized the achievements of nearly 900 graduates, whose degrees will be conferred in June.
Bachelor's degrees will be awarded to 875 students, with 17 students receiving master's degrees. The graduates represent 35 states and 20 nations. Among undergraduates, 577 received degrees from the College of Arts & Sciences, 166 received degrees from the College of Engineering and 132 received degrees from the Freeman College of Management.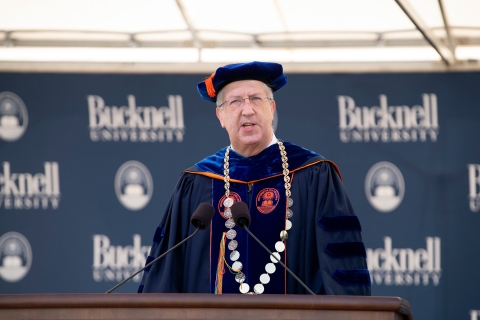 Before each group of graduates recessed through the Christy Mathewson-Memorial Gateway — retracing steps they tread, in the opposite direction, after their first-year Matriculation ceremony — President John Bravman harkened back to the words he spoke at the Class of 2021's Convocation: "You will acquire more than an education and more than a diploma … You will acquire ideas and interests. You will acquire memories. You will acquire the friendships of a lifetime. And, I assure you, you will acquire not only new ways of seeing each other but also new ways of seeing yourself."
"I think that mission has been accomplished," Bravman said, addressing the graduates at Commencement. "Go forward knowing that you will always be Bucknellians and will carry the lessons of the last four years, and the ties to this community, with you forever."