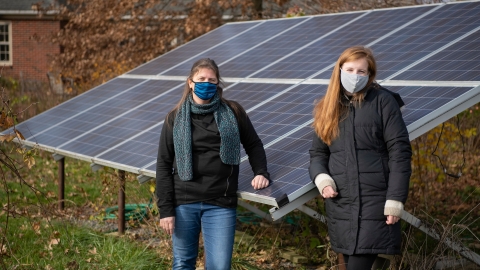 Curbing Climate Change: Bucknell Student Team Creates Action Plans to Limit Local Greenhouse Gas Emissions
January 22, 2021
In the increasingly complex and arduous fight against global climate change, Maggie Barton '21 believes in the power of bringing the battle back home. As an environmental studies major, she's centered her Bucknell experience on it, from projects analyzing flood patterns of the Neuse River in her home state of North Carolina to reports on how runoff from industrial pig farms contaminates rural drinking water. Now, Barton is one of two passionate Bucknellians working to improve how Pennsylvania communities manage greenhouse gas emissions.
Under the guidance of Shaunna Barnhart, a director within Bucknell's Center for Sustainability & the Environment (BCSE), Barton and political science major  Emily Turner '22 are partnering with governments in nearby Shamokin and Montgomery County to develop comprehensive climate action plans. The collaboration is sponsored by the Pennsylvania Department of Environmental Protection's Local Climate Action Program, which pairs municipalities with college students for assistance in curbing climate change throughout the state.
"For someone like me who's always been interested in environmental policy, this is such an interesting chance to get hands-on experience creating real solutions," says Turner, whose plan will focus on a consortium of more than 50 communities in Montgomery County. "But it's also a big responsibility, especially now when a lot of smaller governments are challenged to address environmental issues on their own."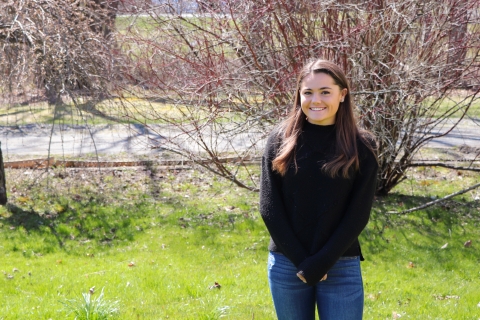 To begin, Turner and Barton collected greenhouse gas emissions data from both locations in sectors ranging from transportation and energy to agriculture and waste management. They then spent the fall 2020 semester learning how to parse that data using ClearPath, an advanced climate data managing software used by hundreds of municipal governments across the U.S. Once analyzed, emergent trends in the numbers will help inform strategies, metrics and timelines the students will build their respective plans upon in the spring.
Securing grant funding for green energy generators like solar panels is top-of-mind for Barton, who's already gained an on-the-ground glimpse at Shamokin's environmental and financial needs through her past Bucknell courses. Conducting door-to-door surveys on development plans for the area's brownfields and sitting in on civically active church groups are just some of the ways she's gotten to know the city and its residents.
"It's been exciting to connect with local leaders and lend support in organizing events like street cleanups or voter registration drives," says Barton, who aspires to enter the nonprofit space after graduating. "By working with them now on climate measures, I get to continue supporting community development while also helping the area set goals for energy efficiency and, hopefully, become more energy independent."
For both students, the project has also been an eye-opener to the stifling lack of resources that some of Pennsylvania's areas face. As one of the state's economically distressed Act 47 cities, Shamokin has gone without a paid consultancy team to assess its environmental impacts. So while Montgomery County maintains a neat set of emissions data collected by the Delaware Valley Regional Planning Commission, creating an inventory for Shamokin required contacting city services, institutions and officials individually. As she dives into those figures, Barton hopes to craft an action plan that works in combination with current revitalization efforts supported by Bucknell's Coal Region Field Station.
"When it comes to something that can be so difficult to envision as climate policy, bringing community stakeholders and institutions like Bucknell together is a powerful way we can begin tackling confounding problems regarding the environment," says Barnhart, who directs the field station through the BSCE. "It's the kind of real-world experiential learning that not only gives our students a valuable understanding of how policy is made but also gets them engaged in actively building a sustainable future."