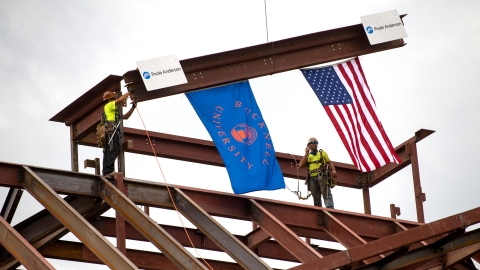 Management and Art & Art History Building Passes Significant Milestone
July 31, 2020
Earlier this summer crews installed the final beam atop the new management and art & art history building on the Bucknell University campus — a significant milestone that brings the future of management and liberal arts education one step closer at Bucknell.
The building will be a new home for the Kenneth W. Freeman College of Management and Department of Art & Art History in the College of Arts & Sciences, and will offer state-of-the-art resources for hands-on learning and collaboration to all Bucknellians. The building's innovative offerings include:
A classroom, library and workroom dedicated to Management 101, a signature experiential course, taken by approximately one-quarter of all Bucknell students, where undergraduates start their own companies to raise funds for a service project.
Studio spaces enhanced by large windows and skylights for students studying drawing, photography and digital arts as well as students in the Freeman College's markets, innovation & design major.
A state-of-the art Moriarty Investment Center providing students in-depth experience with leading technology and software used by professionals, including 12 Bloomberg Terminals.
A cutting-edge digital lab to support the college's new business analytics major, which prepares students for a world that increasingly makes decisions and tells its stories with data.
Ample, flexible multipurpose spaces to foster collaborations large and small, for students of all majors.
Areas dedicated to displaying student and faculty artwork.
"This building will be another of many spaces at Bucknell where left- and right-brained thinkers can commingle, excite their curiosity and advance new intellectual and artistic pursuits together," says Karl Voss, dean of the College of Arts & Sciences.

The building's interdisciplinary focus may be most apparent in its 216-seat auditorium. Besides playing host to speakers and events for the entire Bucknell community, the space will be adorned with panels designed by recent graduate Aaron Li '20 that depict topographic maps of the Susquehanna River and Central Susquehanna Valley in perforated steel. Li, a markets, innovation & design major from Concord, Mass., designed the panels in a graphic design course with Professor Eddy Lopez, art.
"I had the opportunity to collaborate with the manufacturers of the panels to realize my concept, which was a fun challenge — this type of experience is invaluable for an aspiring designer, and I'm grateful to have this project in my portfolio," says Li. "I'm honored to be a part of such a meaningful project and leave my mark on the new building. I can't wait to come back and see it for the first time."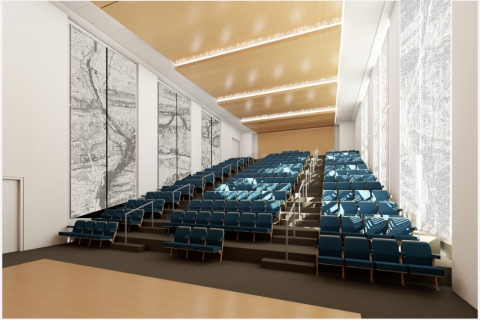 Bucknell broke ground on the facility in summer 2019, following approval from the University Board of Trustees. Originally scheduled to open in spring 2021, the building is now anticipated to be complete in time for the start of the Fall 2021 semester. The delay was caused in part by the COVID-19 pandemic.
Raquel Alexander, Kenneth W. Freeman Professor and Dean of the Freeman College of Management, says Bucknell's community is eager for the grand opening in 2021, and that it's crucial that the University continues to invest in strategic, high-impact projects that will improve student experiences and outcomes well into the future.
"We continue to build on the incredible momentum we've achieved in just the past few years and appreciate the loyal alumni who are investing not only in the students of today, but those in the next century and beyond," says Alexander. "As our nation and world face unprecedented challenges, the leadership skills our students develop here are more important than ever."
Alexander adds that well over half the building's construction costs have already been funded through private philanthropy, including an eight-figure naming gift from a donor, who has requested temporary anonymity. The building is being designed to meet the standards for Leadership in Energy and Environmental Design (LEED) Gold certification
Like other recent construction projects at Bucknell, the building's design will blend contemporary elements with the University's traditional architectural style. Its gently arcing form will also offer a visual link to the recently developed southern end of campus, which includes the South Campus Apartments residential complex and MacDonald Commons.