Management & Organizations
Bachelor of Science in Business Administration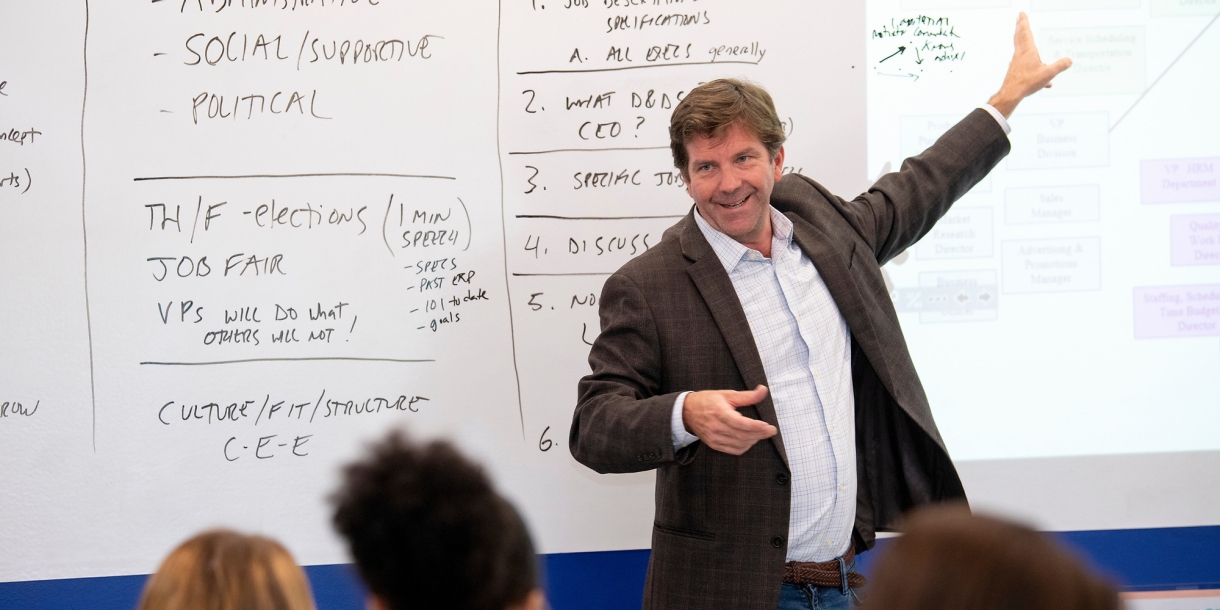 The Department of Management & Organizations prepares students to understand and lead organizations with a wide range of missions and purposes. You can choose to focus your major in one or four concentrations — entrepreneurship, global management, human resource management or managing for sustainability — or carve your own way by choosing management courses that prepare you to achieve your goals and aspirations. Whichever path you choose, you'll learn organizational strategies and gain the cultural awareness needed to succeed in today's interconnected world.
Choose Your Own Path
The management & organizations major gives you freedom to build your own scholarly identity in management by taking courses in other management majors and from disciplines across Bucknell's three colleges. For example, an identity in management might include a focus on data analytics and social justice, marketing and psychology, or finance and international relations — the precise path you pursue is up to you to define.
You also have the option to choose one of four predefined courses of study and add a concentration to your degree:
Entrepreneurship: Develop an entrepreneurial mindset along with the knowledge, skills and abilities to implement entrepreneurial ideas in any type of organization.
Global Management: Learn organizational strategies and gain the cultural awareness needed to succeed in today's interconnected world.
Human Resource Management: Learn the science of people to help organizations recruit, retain and develop talent.
Managing for Sustainability: Gain the skills, knowledge and passion needed to achieve all three pillars of sustainability: environmental, sociocultural and economic.
The Center for Entrepreneurship & Innovation
Entrepreneurial Excellence
Bucknell's Center for Entrepreneurship & Innovation helps students from all three of Bucknell's colleges develop entrepreneurial skills through a rich entrepreneurial ecosystem. Taking the concept beyond the classroom, students engage in hands-on opportunities that allow them to create products, imagine innovative new businesses and consider solutions to global problems in any discipline.
Start a Real Organization, Serving a Real Nonprofit, in Your First or Second Year
In Management 101 — a groundbreaking experiential course pioneered at Bucknell — students form real social enterprises, partnering with local non-profit organizations to create and implement meaningful community service projects. You'll develop crucial skills in delegation, communication, collaboration and supervision as you design and sell a product to fund your service project. Management majors typically take Management 101 in their first or second year, giving you real-world experience in responsible management from the very beginning.
Internships that Make a Difference
At Bucknell's Freeman College of Management, we don't just bring the real world into the classroom, we help our students gain experience in the real world. Students in our department have secured internships with firms including Mount Sinai Medical Center, CRBE, Save the Children, Deloitte Consulting and the Harlem Children's Zone. These experiences and the skills they gain in the classroom are what prepare our graduates to thrive in careers at the Make-a-Wish Foundation, Accenture, the U.S. Fish & Wildlife Service, Newman's Own Foundation, Amazon, Yelp and other organizations.
Explore internship opportunities
Create Change in Your Community
Our students put their organizational management skills to work in service of local governments, charities and community organizations, including through Bucknell's Coal Region Field Station in nearby Mt. Carmel, Pa.
Explore community-engaged learning opportunities
Explore management abroad
Global Studies
Our students deeply immerse themselves in the different communities and cultures where global business takes place. Many enhance their studies by spending a summer, semester or year abroad through one of Bucknell's own "Bucknell in" programs or one of hundreds of other approved programs around the world.
News from the Freeman College of Management
Contact Details
Management & Organizations