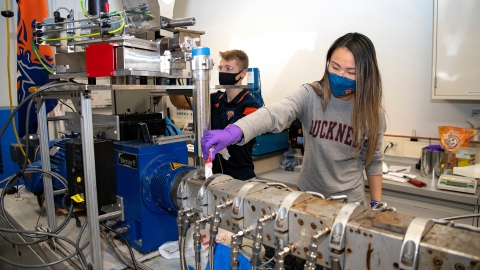 Reasons to Ray'cycle: Bucknell Student Engineers Use Cutting-edge Recycling Process to Transform Community Waste
May 28, 2021
Of the more than 36 million tons of plastic produced in the United States every year, only a stunning 9% is successfully recycled. So when Bucknell's seven on-campus eateries underwent major operations overhauls in response to the pandemic, causing an increase in single-use plastics like bags and bottles, an inventive team of student engineers launched a University-wide campaign to turn this waste into keepsakes.
Their sustainability initiative, called Ray'cycle, invited the campus community to help transform hard-to-recycle plastics into useful and fun Bucknell-themed items, produced throughout the spring. The project harnessed an innovative pelletizing and injection-molding process to create custom nameplates, bison-stamped box-cutting tools and B-shaped cookie cutters from grocery bags, single-serve coffee pods, bottle caps and air pillow packaging. 
"It's a really creative way of diverting Bucknell's waste from the local landfill while also incentivizing everyone to be more mindful about reusing and recycling," says managing for sustainability and literary studies double-major Riley DeBaecke '23, who helped kick-start the plastic collection drive for Ray'cycle in summer 2020.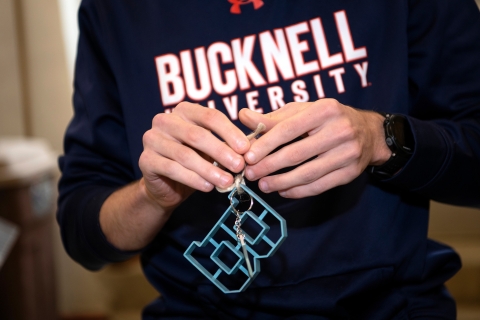 As co-president of the Environmental Club, DeBaecke rallied her fellow members to save recyclable materials they used over the summer, as well as leveraged the club's social media to get word of the project out to the broader Bucknell community. Once classes resumed on campus in the fall, club members worked to set up Ray'cycle donation bins on campus, which raked in more than 3,800 recyclables from faculty, staff and students.
"What I saw right away was an opportunity to make the Environmental Club a greater force on campus in terms of environmental advocacy," DeBaecke says. "It was awesome to contribute the marketing and organizing that the Ray'cycle team needed outside of the actual plastics engineering, which they already had the expertise for."
The next steps in the manufacturing process employed a device found almost nowhere else to convert plastics into pellets. Instead of heating up chemicals to melt and blend them as is common in plastic extrusion, the machine cools them down and pulverizes them in solid form. The resulting pellets were then melted and molded to produce the line of box-cutting tools and cookie cutters, as well as large sheets of plastic for nameplates — all of which were delivered this spring to the Bucknell community members who donated to the initiative.
The process is one that could introduce sustainable, biodegradable materials into plastics manufacturing, a possibility that chemical engineering professor Kat Wakabayashi is currently researching with students (including recent Goldwater Scholar Philip Onffroy '22).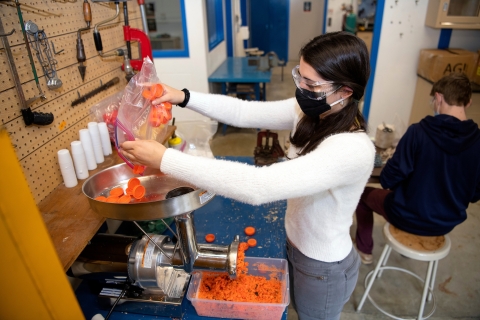 For the Ray'cycle team, which was overseen by Wakabayashi, perfecting the procedure for hard-to-recycle plastics wasn't without challenges. Achieving consistency in the malleability, durability and coloring of the plastic not only required time and patience but also the nimbleness and problem-solving skills honed in the students' engineering courses.
"Getting to spend so much time in the lab, and picking each other's brains on manufacturing and design, was great hands-on experience," says mechanical engineering major Jeffrey Gibbs '24, who helped carve out letters for custom nameplates using laser cutters in Bucknell's Mooney Innovative Design Lab. "I've been learning a lot about how to make a business more sustainable, and that's one of the goals of this project — to show that it's possible to care for the earth while also producing something of value."
For DeBaecke, the project is an extension of her strong dedication to environmental advocacy both inside and outside the classroom.
"Coming to Bucknell, I knew without a doubt that environmentalism, climate justice and activism were going to be my focuses," she says. "I want to take on a role in advocating for it on our campus because I believe that every small change is a positive one."