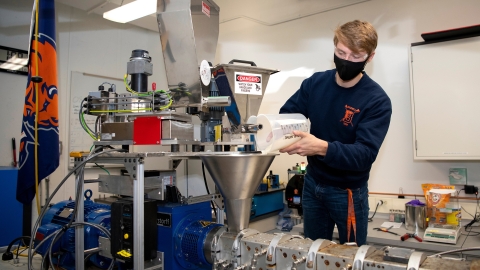 Goldwater Scholarship Fuels Chemical Engineering Major's Drive for Discovery
April 20, 2021
In his high school chemistry class, Philip Onffroy '22 learned about distillation from textbooks and table-top experiments. When he set foot in a Bucknell chemical engineering lab, he saw immediately that he'd stepped onto another level.
"It was the coolest thing being able to go to the Operations Lab, where we walk in and there's a two-story distillation column that you have to climb up a ladder to get to the top of, and when you change the parameters, you can really see the whole column of steam start moving faster or slower," says Onffroy, a chemical engineering major from Shrewsbury, Mass.
In labs like these, Onffroy was soon captivated not only by the cool things you could do by mixing and applying forces to chemicals, but also by how those activities could be scaled to unlock new, more sustainable ways of improving old products and creating new ones. He also unlocked a drive for discovery in himself — one that he wants to keep pursuing in a Ph.D. program after Bucknell.
This spring, the hands-on experience he's built in Bucknell's engineering labs brought Onffroy support for that next step in the form of one of the nation's most prestigious scholarships for math and science majors.
Onffroy is the latest Bucknellian to be named a Goldwater Scholar by the Barry Goldwater Scholarship & Excellence in Education Foundation. Established by Congress in honor of the longtime senator from Arizona, the scholarship is awarded to sophomores and juniors who intend to pursue research careers in mathematics, natural sciences or engineering. Just over 400 awards were bestowed this year from a pool of more than 1,250 nominees, making the Goldwater one of the most competitive scholarships for undergraduate STEM majors.
He becomes the fifth current Bucknell student with a Goldwater scholarship on his resume. Last spring, Goldwater scholarships were awarded to Sara Butler '21, a physics and philosophy double major from Bowie, Md.; Andrew Champlin '21, a chemistry major from Jericho, Vt.; and Gary Eberly '21, a biomedical engineering and creative writing double major from Harrisburg, Pa. William Snyder '21, a neuroscience major from Severna Park, Md., was awarded a Goldwater in 2019.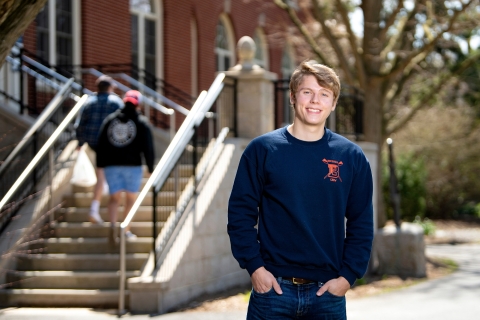 Onffroy was nominated for the award by Bucknell and received hours of help refining his application from Director of Undergraduate Fellowship Research Margaret Marr. But the evidence for his application's merit was amassed in the hands-on research Onffroy has engaged in since his first semester at Bucknell.
Supported by a Presidential Fellowship, Onffroy has worked alongside Professor Kat Wakabayashi, chemical engineering, on sustainable materials research using a device found almost nowhere else (the only equivalent is held by Northwestern University). He often considers that rarity when he fires up the device — a long metal cylinder arranged horizontally and sprouting a bouquet of tubes and screws.
"Sometimes I just stop for a second and realize, 'Whoa, this is one of only two of these machines in the world,' " he says. "It's extremely abnormal and just very humbling to think that I'm at the forefront. I smile thinking about it all the time."
The device works like an extruder that's commonly used in plastics manufacturing, but instead of heating up chemicals to melt and blend them before extrusion, the machine cools them down and pulverizes them in solid form to create the same plastic product.
The process holds several advantages over traditional plastics manufacturing; the most promising to Onffroy is that it opens up the industry to a wider array of materials that aren't petroleum-based, including sustainable, biodegradable ones derived from plants. He's currently working on a process to replace styrofoam packing peanuts with a version made from PLA, a plant-based plastic made from corn starch and sugarcane.
Through his work with Wakabayashi, Onffroy has been the lead author on a paper in the journal Polymer Engineering & Science and attended national conferences of the American Institute of Chemical Engineers in Pittsburgh and Orlando, Fla. Onffroy says those opportunities to follow his curiosity as far as it will go have set his Bucknell experience apart. They're also the ones that would have been the hardest to come by at another type of school.
"At Bucknell, there are almost no graduate students, but the professors are still very heavily involved in research," he explains, "and because of that, all the students who work in their labs are all undergraduate students. They bring us into the lab."
Onffroy balances that time in the lab with time on the Susquehanna River with the men's club varsity crew team. In both locations, he has found himself pulled along by others, as he's helped pull others along.
In the lab, he says, "I've been fortunate to be a part of multiple teams, so I've worked with a variety of students who I've learned a lot from, and I believe I've been able to mentor others later as well."
Onffroy is looking to continue his sustainable materials research in grad school, where he's excited to find ways to transform his curiosity into tangible, marketable products.
"A lot of Ph.D. students and teams get into entrepreneurship, because if they find a way to make an innovative advancement accessible to society, they can pursue it and try to make an impact right then and there."