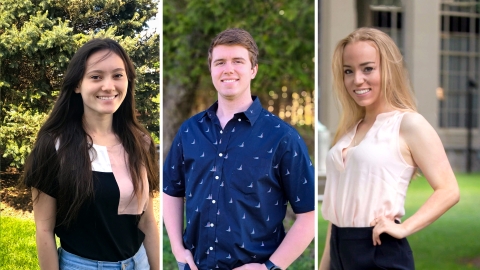 Three Bucknell Students Named 2020 Goldwater Scholars
May 14, 2020
Andrew Champlin '21 traces his love for chemistry back to his eighth grade science class. He remembers the amazement he felt while watching limewater turn cloudy as he blew into it, an experiment designed to detect carbon dioxide in the breath — an experiment that Champlin says seemed like magic.
Since then, the chemistry major from Vermont has chased down every opportunity to explore the "magic" of science, from conducting on-campus research during his first year at Bucknell to pursuing a Goldwater Scholarship.
This Spring, Champlin was one of three Bucknellians who were named 2020 Goldwater Scholars. He's joined by Gari Eberly '21, a biomedical engineering and creative writing double major from Harrisburg, Pa., and Sara Butler '21, a physics and philosophy double major from Bowie, Md.
A Bright Future
The Barry Goldwater Scholarship & Excellence in Education Foundation — established by Congress in honor of the longtime senator from Arizona — provides up to $7,500 to sophomores and juniors who intend to pursue research careers in mathematics, natural sciences or engineering. Universities may nominate no more than five students for the approximately 450 awards bestowed annually, making the Goldwater one of the most competitive and prestigious scholarships for undergraduate STEM students.
"It ensures that your name will stand out in a stack of graduate school applications, which was why I was so eager to go for it. I'm still stunned that I won," says Eberly, who plans to pursue a Ph.D. in biomedical engineering with a focus on nanotechnology. "I think having the chance to build and design early in my academic career was a huge plus for me."
Last summer, Eberly took those skills to the University of Pennsylvania for an undergraduate research program at the Singh Center for Nanotechnology. Using a new carbon-based material, she worked to construct a seizure characterization device capable of producing an image of the brain while also recording its electrical signals.
"It was such a cool experience that combined everything I love about biomedical engineering," Eberly says. "I think Bucknell is one of the only institutions that could've prepared me to do that kind of research."
The opportunity to work closely with professors in the lab is also what brought Champlin to Bucknell. Over the last few years, he's partnered with Professor Hasan Arslan, chemistry, to develop an innovative technique for creating complex molecules called macrocycles.
Because of their ability to "trap" other compounds, macrocycles are widely used in pharmaceuticals and household air fresheners. After graduating, Champlin hopes to research how similar chemistry can be applied to environmental issues like pollution and carbon dioxide concentration in the atmosphere.
A New Dream
For Butler, the path to a Goldwater Scholarship began before Bucknell.
Before transferring to the University in 2019, Butler spent two years at the U.S. Air Force Academy in Colorado Springs, Colo., where she trained to become a combat rescue officer while working toward a bachelor's degree. But that all changed when the Maryland native was diagnosed with Type 1 diabetes.
"I always loved the idea of surrendering myself to a higher calling, and I was completely ready to dedicate my entire life to the service," says Butler, who was honorably discharged because of her diagnosis. "It was soul-crushing to learn that I couldn't continue to live my dream in this community I absolutely loved."
Choosing to continue her education at Bucknell "felt like joining a family as tightly knit as the one I had at the academy," Butler says. "I felt integrated into the physics department from the first day of classes. The professors who taught me knew me by name, and even the ones who didn't have me in class were still invested in my learning."
One of those professors was Hava Turkakin, physics, who helped Butler gain the research experience she needed to become a Goldwater Scholar. It's an accomplishment that Butler hopes will help her conquer a new dream: earning a Ph.D. in high-energy physics from Princeton University.
"It was really hard to figure out who I was going to be after the Air Force because I was so sure of my future as an officer," she says. "But being at Bucknell has given me the chance to discover a new identity as a physicist — and, now, a Goldwater recipient."