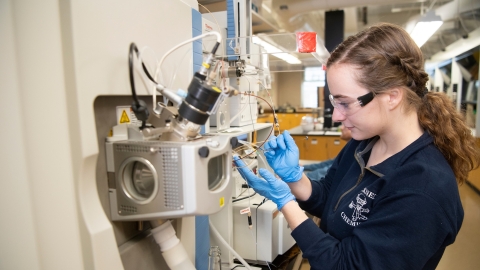 Three Bucknell Juniors Named Goldwater Scholars
April 13, 2022
Granular media, smoke residue and Australian bush tomatoes. Studying those disparate subjects has earned three Bucknell juniors a singular national honor: the 2022 Goldwater Scholarship. Receiving recognition were Michael Bolish '23 of Latrobe, Pa., April Hurlock '23 of Gilbertsville, Pa., and Claire Marino '23, of Victor, N.Y.
Having three Goldwater Scholars puts Bucknell on par with some of the top research institutions in the country. For example, Stanford had four honorees this year, while Harvard, Yale and Cornell each had three.
Established by Congress in 1986, the Goldwater Scholarship Program recognizes undergraduates who show exceptional promise of becoming America's next generation of research leaders in the natural sciences, engineering and math. That certainly describes Bolish, Hurlock and Marino, who are already making their mark both in the laboratory and the field.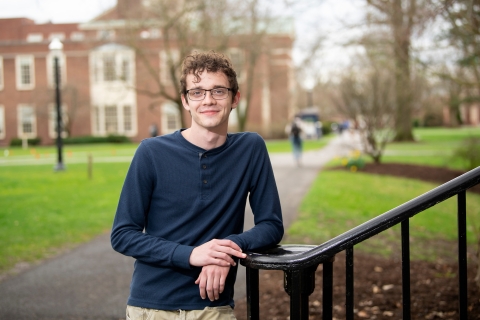 Michael Bolish
Working with Professor Katharina Vollmayr-Lee, physics, Bolish is using computational physics to study the behavior of granular media. (Think of corn in a grain silo.) "By understanding the dynamics of granular media, my research could possibly help create engineering designs that help reduce unwanted jamming events, which cause natural phenomena like avalanches, and be applied to specific equipment in industrial lines, such as helping reduce jamming events in a hopper," he says.
Bolish, a physics major, has a lifelong interest in science and counts a telescope as his favorite childhood gift. He'll be using much more sophisticated instruments soon, when he heads to the University of Hawaii for 10 weeks to study active galactic nuclei.
Bolish's career goal is to study astrophysics with a special interest in dark matter/energy. Winning a Goldwater Scholarship should help. "Overall, the application process was extremely rewarding, whether or not I won, because I had the opportunity to learn so much about planning, writing and revising applications, which will help me tremendously for future scholarship and graduate school applications," he says.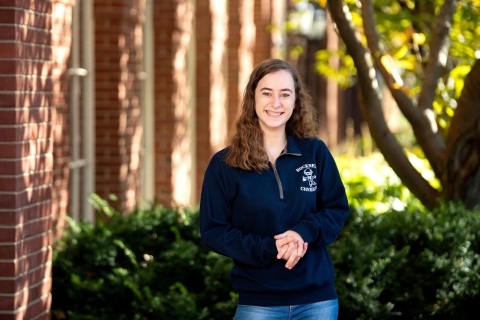 April Hurlock
Most people recognize the dangers of exposure to secondhand smoke. Working with Professor Doug Collins, chemistry, Hurlock is going a step further by studying thirdhand smoke — the deposition of chemicals from cigarette smoke on surfaces. "Cigarette smoke on surfaces also introduces other routes of exposure to environmental tobacco smoke including dermal absorption and ingestion, especially for animals and small children," she says. "Studying the behavior of thirdhand smoke can provide insight into the toxicity of indoor environments that have been exposed to cigarette smoke."
"I am honored to be named a Goldwater Scholar," she says. "It is very satisfying to see all of my hard work in the lab pay off."
Hurlock enjoys her chemistry major because of its logic and problem-solving aspects. But she's also deeply interested in medicine and the intersection between the two fields. "I have realized the power of analytical techniques to research, diagnose and treat different disorders, which is something that I hope to investigate in the future," she says.
Her career goal is to study childhood neurogenerative diseases using analytical techniques. She plans to pursue an M.D./Ph.D. in order to have both the skills and perspective to keep patients at the forefront of her research.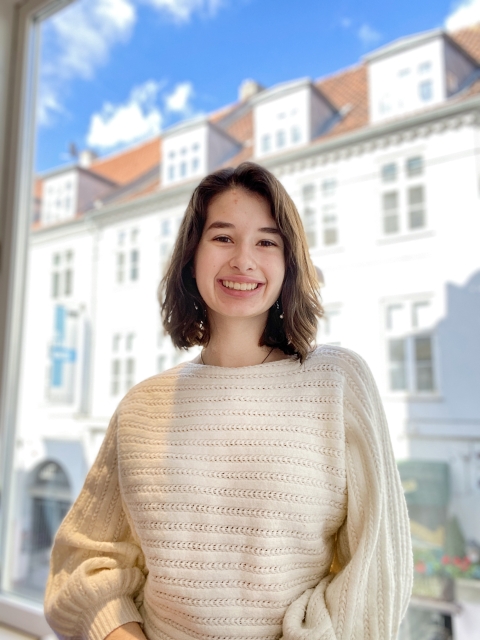 Claire Marino
Before coming to Bucknell, Marino (like many people) thought there were no species left to discover. She learned differently soon after joining the Martine Lab under Professor Chris Martine, the David Burpee Chair in Plant Genetics & Research.
In her research, Marino is studying a previously undescribed species grown from Australian bush tomato seeds. "My project has involved measuring over 30 morphological characters on the single specimen that grew from those seeds, taking corresponding measurements for its two closest relatives and then using statistical software to compare across all three species," she says.
Marino, a biology major who is co-mentored by Tanisha Williams, Burpee Post-Doctoral Fellow in Botany, became interested in botany during her first year at Bucknell. She hopes to obtain a Ph.D. in ecology and evolutionary biology in order to continue doing research concerning biodiversity and conservation.
"I am so honored and excited to be named a Goldwater Scholar," she says. "I have been set on pursuing a graduate degree and research-based career for a while now, and so I am incredibly thankful not only for being chosen as a recipient, but also for the support and guidance I received during the application process, which I feel has better prepared me for achieving my goals."
Bucknell's Office of Undergraduate Fellowships & Research assists students in identifying, preparing for and applying to research and post-graduate scholarship opportunities, including the Goldwater Scholarship.