Parents of Prospective Students
Resources and Information for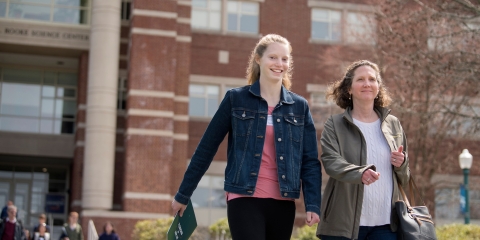 In many ways, your student's college search journey is also your journey. As you work with your student to explore college options, we're here to work with you to answer your questions about Bucknell.
Applications for Bucknell's Class of 2026 will open Aug. 1, 2021.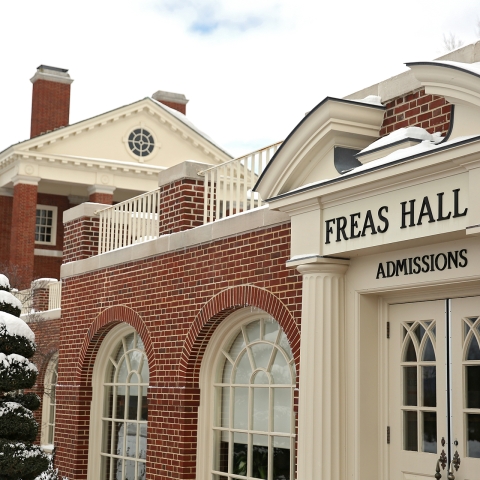 5 New Ways to Explore Bucknell
TAKE A CLOSER LOOK
Over the past year, Bucknell has introduced a suite of options designed to help prospective students and their families learn more about our unique approach to living and learning.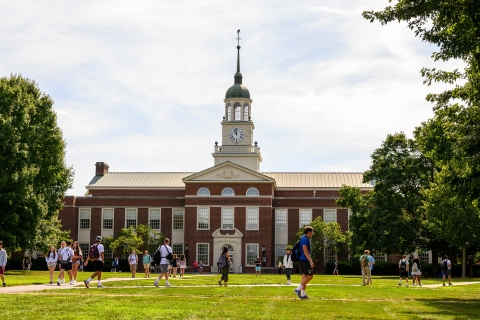 Who is Bucknell?
As one of the nation's preeminent liberal arts universities and Division I schools, we offer a world-class learning experience where your student will be mentored by outstanding, award-winning professors. With a low student-faculty ratio (9 to 1) and campus where high-tech labs far outnumber lecture halls, our priority is personalized, experiential learning.
Three colleges, endless possibilities: With more than 60 majors across three colleges — Arts & Sciences, Engineering and the Freeman College of Management — your student can explore many different interests and graduate with an array of in-demand skills. Our highly accessible academic advisers are ready to help them navigate their educational journey.
Research that matters: At Bucknell, we'll pair your student with the funding and faculty support they need to complete and publish undergraduate research. Perhaps your student will develop a way to filter carbon out of the air, slowing the spread of global warming. Or uncover a financial trend before anyone else. Or engineer a cheaper way to bring clean water to communities in need. We'll give your student the tools and guidance to make a better world.
Safe and supported: We are a safe, walkable community with strong connections to quaint downtown Lewisburg, which is just a short walk away. On-campus Public Safety and confidential health-care services provide an open door to around-the-clock support. Whatever your student's needs, we rise up to support your student's well-being and success.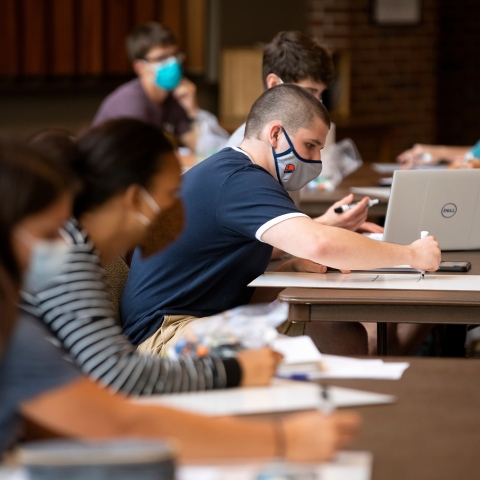 Together Again
SPRING 2021 REOPENING
After a successful fall semester on campus, Bucknell will welcome students back on Feb. 1 for our spring semester. Our commitment to the safety of our campus community will continue through a rigorous program of testing and tracing and the shared responsibility of faculty, staff and students to keep one another healthy.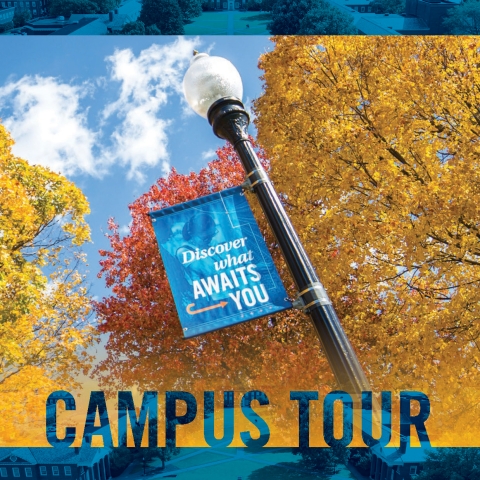 Take Our Self-guided Tour
Explore our campus at your own pace. Pick up a self-guided tour booklet at our Office of Admissions, and listen to the companion audio tracks recorded by our student tour guides.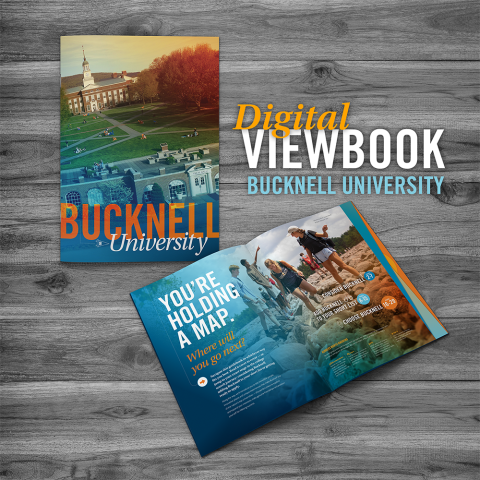 A Complete Guide to Bucknell
Our signature admissions piece — a great way to learn more about Bucknell — is available right in your browser.
Expert Admissions Advice, Now in a Podcast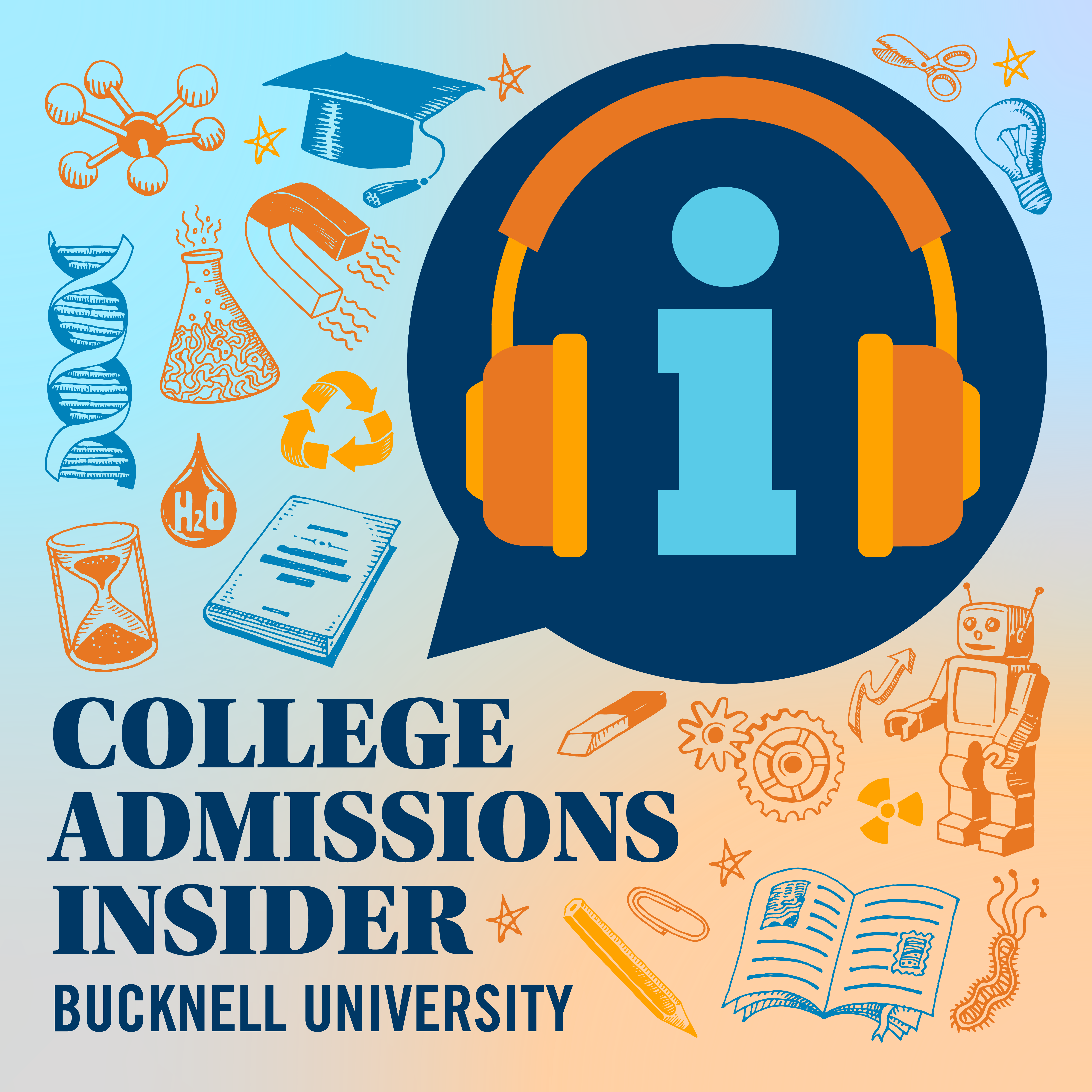 Listen to College Admissions Insider, the podcast that delivers helpful strategies for each stage of your college search. Guests include experts in Bucknell's Office of Admissions, but the advice is designed for students interested in any school. New episodes drop every two weeks. Available everywhere you listen to podcasts.
Coronavirus and Your Academic Record
Bucknell understands that a student's educational opportunities have been disrupted by COVID-19. We want prospective students to know they won't be at a disadvantage because of how their high school chose to handle the spring and fall 2020 semesters. We've adjusted our admissions policies in the following ways:
Expanding our test optional policy for the 2020-21 application cycle to include home school, international students and recruited athletes.
Accepting the Duolingo English Test for international students for whom English is not the first language or whose primary language of instruction for at least three years of secondary school was not English.
Accepting AP Scores from the spring 2020 examinations.
Understanding that high schools across the globe handled the pandemic differently. This may include various methods of instruction, grading and alterations to school calendars. The Admissions Office understands this and will continue to evaluate each student in the context of their high school. No student will be at a disadvantage for how their school decided to continue their education.
Understanding that spring extracurricular opportunities were cancelled and fall opportunities will be different. Further, we understand that summer opportunities were largely cancelled or greatly altered given how each community considered how to handle the pandemic. Students will not be penalized or disadvantaged for their extracurricular activities being different than what they were before the pandemic.
Understanding that, given all of the uncertainty surrounding the pandemic, it is okay to focus on your mental health, your family and the things that bring you joy.
Understanding that prospective students and their families are making the best decisions for their personal situation.
Financial Aid Available
More than half of Bucknell students receive financial assistance. Our Financial Aid team can help you understand your family's options and guide you through the process of applying for grants, loans and work-study opportunities. 
We're committed to helping your family explore all available aid options so you and your student can become part of the Bucknell family.
Preparing Students for the Future
Equipping students to conquer the world's greatest challenges goes far beyond the courses in their major or minor. We're also preparing these students for life.
Through free workshops like "Personal Finances in the Real World," our professors ensure that Bucknellians have all the tools they need to take on whatever comes next.
Bucknell at a Glance
Faculty:

360+

Average class size:

20

Worldwide Alumni:

54,000

Academic Majors:

65
Student-faculty ratio:
9:1
Classes taught by faculty:
100%
Where They'll Go From Here

Outcomes

You've been there since the beginning. In high school, you encouraged them to embrace their curiosity and reach for academic and extracurricular success. In college, you want them to be supported, challenged and equipped with all the tools they'll need for life.

A Bucknell education prepares students for whatever comes next. For some, that's a meaningful career in an in-demand field. For others, it's postgraduate work at the nation's leading medical schools, law schools and graduate schools. They all join a worldwide alumni network ready to help fellow Bucknellians succeed.

Explorers, Leaders, Innovators

Student Stories

Our students aren't waiting to begin improving the world around them. They're making the most of Bucknell's immersive undergraduate experiences to express their artistry, become successful entrepreneurs and make scientific breakthroughs.
Office of Admissions
Hours
Monday – Friday:
8:30 a.m. – 4:30 p.m.