Sandra & Gary Sojka Poet-in-Residence
For forty years, the Stadler Center's Poet-in-Residence program has brought poets of national and international renown to Bucknell for an extended stay during the academic year. The Poet-in-Residence meets individually with qualified students, gives a public reading, and engages in a Q&A. The program is meant to honor the achievement of a distinguished poet while providing undergraduate writers the opportunity to work with an exceptionally talented poet.
Recently redesignated to honor longtime Stadler Center benefactors Sandra and Gary Sojka, the current program represents a merger of the Sojka Visiting Poet Series (1995-2020) and the original Poet-in-Residence program, which dates back to 1981. Bucknell President Gary Sojka (1985-95) was instrumental in the founding of the Center and, with his wife Sandy, remains dedicated to its prosperity.
Among our recent Poets-in-Residence are Mark Doty, Camille Dungy, Terrance Hayes, Brenda Hillman, Claudia Rankine, and Mary Ruefle. See below for a complete list of Poets-in-Residence and Sojka Visiting Poets. 
The Sojka Poet-in-Residence is selected by invitation only; the Stadler Center does not accept applications for this position.
2020-21 Sojka Poet-in-Residence
Ross Gay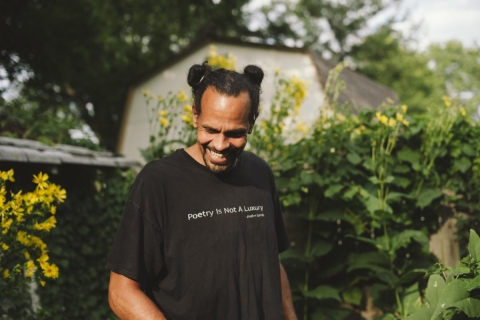 Ross Gay is the author of four books of poetry: Against Which; Bringing the Shovel Down; Be Holding; and Catalog of Unabashed Gratitude, winner of the 2015 National Book Critics Circle Award and the 2016 Kingsley Tufts Poetry Award. His new poem, Be Holding, will be released from the University of Pittsburgh Press in September of 2020. His collection of essays, The Book of Delights, was released by Algonquin Books in 2019. 
Ross is also the co-author, with Aimee Nezhukumatathil, of the chapbook "Lace and Pyrite: Letters from Two Gardens," in addition to being co-author, with Rosechard Wehrenberg, of the chapbook, "River."  He is a founding editor, with Karissa Chen and Patrick Rosal, of the online sports magazine Some Call it Ballin', in addition to being an editor with the chapbook presses Q Avenue and Ledge Mule Press.  Ross is a founding board member of the Bloomington Community Orchard, a non-profit, free-fruit-for-all food justice and joy project. He also works on The Tenderness Project with Shayla Lawson and Essence London. He has received fellowships from Cave Canem, the Bread Loaf Writer's Conference, and the Guggenheim Foundation. Ross teaches at Indiana University.
Related Events
Former Poets-in-Residence and Visiting Poets
Stadler Center for Poetry & Literary Arts