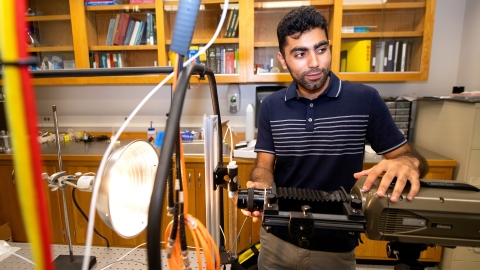 Abdullah Nabi '23, Mechanical Engineering
September 20, 2021
"I never expected myself to come in straight from high school in Pakistan and make something that was really essential to the whole world. And my professor said, 'Welcome to Bucknell.' "
Growing up in a military family, Abdullah Nabi '23 moved around a lot — Bucknell's campus is now the 10th place he's called home. When it's hard to put down roots, you look for community where you can find it. For Nabi, one of those places was a hole-in-the-wall barbeque restaurant in rural northern Pakistan. 
"Upon arriving at the restaurant, we were greeted with smiles alongside the chiming door bells, and the owner would hug my father as if we were family," he says. The hospitality and warmth he found there gave Nabi a "feeling that I craved everywhere."
Nabi got that same feeling as soon as he arrived in Lewisburg for International Student Orientation, and he continues to feel that way, even 7,000 miles from his home country. 
"It starts with the close classrooms that we have," he says. "I've always been in schools which had 12 to 15 people in a classroom, because a lot of places that I lived in were small rural areas, so it was a normal thing being in a small classroom and getting to know teachers. Having that interaction with my professors was important to me."
Nabi felt welcomed not only by his professors but also by his classmates and hallmates, and he continued making friends from around the world through Bucknell's International Affinity House. But the closeness he's found on Bucknell's campus hasn't just helped Nabi make fast connections — it's also afforded him opportunities he wouldn't find elsewhere. 
Nabi has been engaged in real-world engineering projects since his first year on campus, when his computer-aided design course with Professor Charles Kim, mechanical engineering, pivoted to take on a pressing global challenge. Students were asked to design a new type of face mask at a time when medical masks were in dire short supply due to the then-emerging COVID-19 pandemic. 
"I told my professor that I never expected myself to come in straight from high school in Pakistan and make something that was really essential to the whole world," Nabi says. "And my professor said, 'Welcome to Bucknell.' That was one of the points that I knew that I made the correct decision to come here."
Nabi's journey to Bucknell was made possible through support from even more Bucknellians. He receives funding from two alumni-endowed Bucknell scholarships, the Michael M. & Lillian A. Fremont Scholarship, which supports international students with tuition, and the unrestricted, need-based Michael M. & Lillian A. Fremont General Scholarship.
"The Fremont donors have been the reason that I have been able to attend Bucknell," he says. "They are the reason that I got here, and I would like to thank my donors for giving me this opportunity — where I can do good with my life and give back."
Nabi has continued pursuing projects with the potential for big impact. The summer before his junior year, he began a research project with Professor Jose Madero, mechanical engineering, on a process to create a new, much more efficient means of power generation.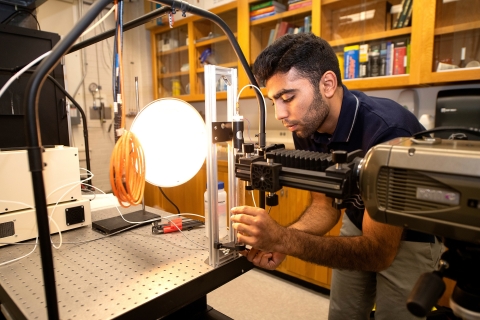 Alongside his professor, Nabi is experimenting with a method to combust a mixture of biofuel ethanol and water, producing water vapor. One attractive use for the technology is to eliminate the boiler that produces steam in a fossil-fuel power plant and create that steam directly in the combustion process, drastically reducing energy lost as heat. In short, Nabi's work has the potential to revolutionize traditional methods of generation. 
Every day in the lab, he feels the excitement of standing on the cusp of something new. "When I was searching for documentation on this, we only found five or six research papers on it — this is like an unexplored territory," he says.
He also feels privileged to be there, entrusted to do work and use equipment other colleges might only entrust to Ph.D. students or paid, professional researchers. His work with Madero, for instance, uses a fuel injector capped by a glass jet nozzle with an opening just 0.007 millimeters wide, about 10 times narrower than the width of a human hair. Nabi is careful around the nozzle because it's fragile, and replacements cost about $4,000 a piece. 
"My friends back home simply do not have the same opportunities that I have at Bucknell," he says, "and I'm really grateful for that."