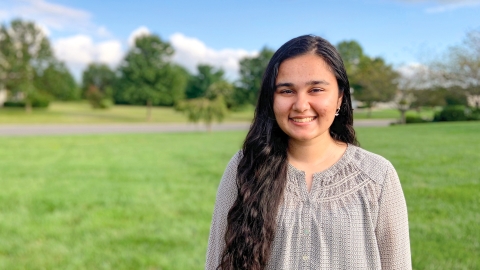 Jasmine Minhas '22, French, Political Science and History
September 14, 2020
For others, it might've felt like the perfect Hollywood ending — a rousing speech, a standing ovation, a sense of accomplishment. 
But Jasmine Minhas '22 was just getting started.
Minhas gave that momentous speech as a high school junior in March 2017. On a cool and clear Thursday morning, she stepped inside the red-brick building that houses Delaware's Senate and House of Representatives to speak in support of a resolution declaring April as Sikh Appreciation and Awareness Month. The resolution passed unanimously, and Minhas' remarks earned a standing ovation.
"I'm very proud of my culture and my religion," she says. "I'm passionate about it and also very vocal. I don't hesitate when it comes to speaking out about something."
Still, Minhas understands that a month of Sikh awareness won't cut it. Many people don't fully understand the Sikh faith, and sometimes that perceived "otherness" leads to outright racism. Minhas' younger brother wears a turban, and growing up, she saw other people misgender or stereotype him based on that part of his religious identity. 
"Seeing how that affected him, it made me want to do something to make sure that his experience is easier," she says. "So basically, everywhere I go, I try to educate people and promote awareness."
Minhas chose Bucknell because she wanted to continue her brand of action-oriented activism in college. The triple major in French, political science and history from Newark, Del., wanted classes that would open her eyes to new perspectives. She wanted opportunities to be active in student government. And she wanted guidance from her professors as she uncovered creative solutions to societal woes.
"Whenever I see a problem, it's not something I get bogged down by," she says. "I try to think of out-of-the-box solutions."
Minhas started her Bucknell experience by joining the Social Justice Residential College, a living-learning community of first-year students who share a particular passion. The group dissected the ways in which a person becomes marginalized solely based on their ability, age, class, gender, race, religion or sexuality. Students from varying backgrounds and majors brainstormed inventive new ways to educate their peers and work toward visible change.
That experience inspired Minhas to become even more active on campus. She chairs the Bucknell Student Government diversity committee, represents Sikh students on the University's multifaith council and writes for The Bucknellian student newspaper.
In 2019, Minhas helped organize Bucknell's on-campus Diwali celebration. The five-day festival celebrated by Sikhs, Hindus and people of other faiths honors historic victories of light over darkness.
Shining light on society's darkest challenges requires a team, and Minhas has found allies among her classmates and members of the faculty, including Professor John Enyeart, history. 
She has also partnered with Kurt Nelson, Bucknell's director of Religious & Spiritual Life, to create a Sikh prayer space on campus.
A personal motto — "less talk and more action" — drives Minhas to keep fighting. Her Google Calendar is a medley of meetings, classes and volunteer work. She's active with advocacy groups working to end gun violence in the U.S., including March For Our Lives and Guns Down America.
"I'm just used to being busy. I prefer it," she says. "All my work is very much focused around social justice."
In summer 2020, Minhas secured a virtual internship with Sen. Chris Coons of Delaware. As she attended briefings and wrote memos, an already simmering passion for politics reached a boiling point.
After Bucknell, Minhas wants to work on Capitol Hill for a year or two before going to law school. At each step along the way, she'll use what she's experienced at Bucknell to make real change, "so that we can create a better world for people to live in."