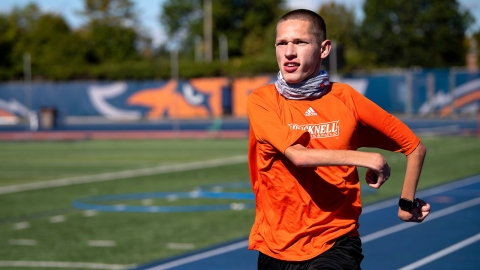 Rayven Sample '24, Psychology and Education
November 15, 2020
I told my coach that I really want to be at a school where I can do well athletically, have a great coach and have great academics. When I came to campus and saw Lewisburg, it felt a lot like home.
There must be something special happening inside the heads of the fastest humans on the planet. Something that enables them to push their bodies past the point of protest, to spend hours in the weight room, to monitor every ounce of water and food they ingest — all for a race that's over in less than a minute.
As a member of Bucknell's track and field team, Rayven Sample '24 spends hours training his body to shave fractions of seconds off his best times.
And as a psychology and education double-major, he also spends hours pondering the inner workings of athletes' minds to uncover what drives these superhumans to put themselves through the pain of an elite training regimen.
"The career that I see myself in is sports psychology — being able to work with high-level athletes," Sample says. "It's always very interesting to me to see their mental process — these people who are so willing to do the hardest thing possible."
Sample knows something about overcoming challenges to excel athletically. He was born with arthrogryposis, an incurable joint condition that leaves him with little motion in his hands.
Undeterred, Sample kept racing — and winning — throughout high school. In a 2019 article for MileSplit New York, which ranks high school track athletes in the Empire State, the writer said Sample has "one of the most incredible track and field stories" in the state, adding that it's "a tale that is simply incredible regardless of what circumstances are attached to its telling."
Sample was recruited by several schools and chose Bucknell because he wanted to do it all: compete in Division I athletics, begin his journey toward becoming a sports psychologist and pursue his dream of competing in the Tokyo Paralympics.
That last dream became a reality when Sample competed in the Tokyo Paralympics, fulfilling a promise he made to his grandmother. Kathy Sample, who raised Rayven since he was 4 months old, died on the day he arrived at Bucknell to begin his first semester.
Support From His Team
As the fall of 2020 progressed and Sample began meeting his hallmates and teammates, he opened up to some of them about losing the woman who was his biggest fan both on and off the track.
"The people I meet in my hall, my classes, my team are just fantastic people," he says. "One of the things that I really have loved about Bucknell is that the students and the staff are just truly great people. So many people, whether they knew it or not, were so instrumental in helping that healing process."
Sample knows that many young people in this world are hurting, and he wants to use the skills and connections he develops at Bucknell to help them. He saw this firsthand in high school, where some classmates were struggling with poverty that "hindered their brilliance and covered their gifts."
He wants to share his story of overcoming difficult circumstances, defying critics and winning as a team.
"Since I've had a great life, I want to give back to others and help them have a great life, through the knowledge that I've learned," he says. "I want to help as much as I can."

More Bucknellians at the Olympics and Paralympics