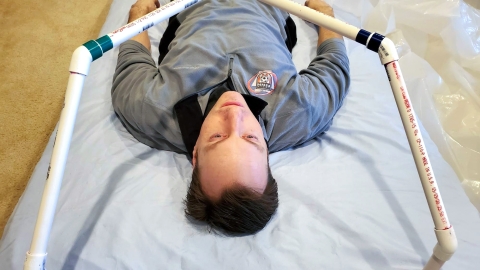 Bucknell Engineers Create PPE for Local Hospitals
April 8, 2020
Rachel Michael '20 chose her major in biomedical engineering because she wanted to design medical devices that save lives. She didn't know then that she'd be crafting those designs even before she graduated, but Michael says everyone needs to do their part in a crisis, and she's doing hers.
Today, Michael is among around 25 Bucknell University students, faculty and staff helping to devise innovative solutions to address the critical lack of personal protective equipment (PPE) for health-care workers on the front line of the coronavirus (COVID-19) crisis.
"I feel like I have a responsibility to help doctors," says Michael, who is working on the project remotely from her home in Alexandria, Va. "This is why we chose to be engineers: to solve problems. I chose biomedical engineering so that I could help doctors and come up with innovative solutions to medical problems. We have a duty to help out, and I feel like this is exactly where I can help."
The Bucknell team anticipates delivering its first devices — a face shield and a tentlike structure for performing intubations — this week to area health-care providers, including Geisinger and Evangelical Community Hospital in Lewisburg.
"Given the increase in cases of COVID-19 in our region, we're looking at innovative ways to help stop its spread while also keeping our front-line employees safe," says Dr. Aalpen Patel, chair of Geisinger's radiology department. "In addition to our internal efforts, we're fortunate to have great partners, like Bucknell University, to work with in helping to produce these much-needed supplies."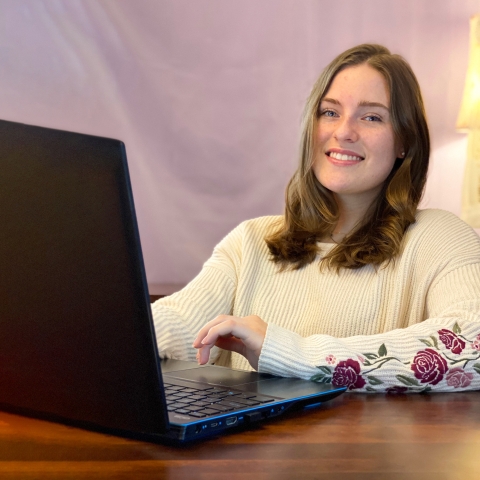 The group's face shield design builds on one that the Czech company Prusa conceived for doctors battling COVID-19 in Italy. It consists of a sheet of transparent plastic to shield the worker's face from airborne particles, which hangs from a 3D-printed forehead plate secured with an elastic band. In collaboration with engineers at Penn State University, the group is refining the design to make it easier to manufacture and more comfortable, as well as to offer greater protection from the virus.
Construction Specialties, a building products manufacturer in Muncy, Pa., that has partnered with the College of Engineering on student design projects, donated enough plastic sheets for the team to make 3,000 shields. Engineering alumnus Chuck Boldt '72 has also offered financial support for the project.
The group plans to trim those plastic sheets to the proper shape using laser cutters from Bucknell's makerspaces. The forehead plates will be 3D-printed both on campus and off, in the homes of faculty and student volunteers. To keep themselves safe, they'll maintain physical distancing during production at Bucknell's makerspaces by restricting access to one person at a time and allowing time for cleaning between shifts.
While the need for PPE is an urgent global issue, efforts like Bucknell's could be especially important for smaller local and regional health systems that don't have the supply chains or purchasing power of larger systems, says Professor Nate Siegel, mechanical engineering, one of the faculty members leading the face shield project.
"They need designs that people can make locally," Siegel says.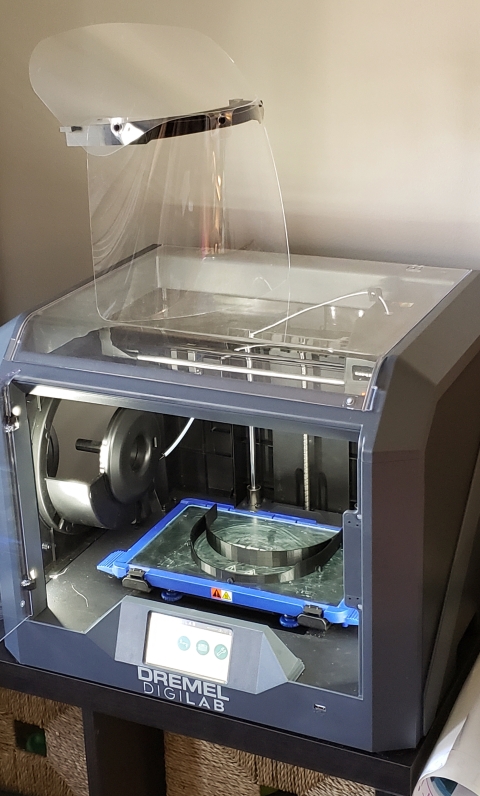 One of those smaller providers is the St. Luke's hospital in Xander Karpowicz '22's hometown of Lehighton, Pa. Karpowicz, a mechanical engineering major, plans to make forehead plates with 3D printers borrowed from a local high school and to donate them to St. Luke's, which already has a supply of shields.
"We've been working with St. Luke's to try to make maybe a few hundred masks," Karpowicz says. "It's not really on the scale of some of the other projects, but it's enough that it could make a real difference."
Even simple efforts can go a long way to protect doctors and nurses, group members say. The intubation tent that Professor Brandon Vogel, chemical engineering, is developing with input from Professor Eric Kennedy, biomedical engineering, consists of little more than a sheet draped over a frame, but it could help some of the most at-risk caregivers.
When a patient with COVID-19 is placed on a respirator, they must be intubated, meaning a tube is placed in their airway to keep it clear. To do this, the clinician must get very close to the patient, who is likely to cough or gag during the procedure and spread aerosols containing the virus. Vogel's tent will cover the patient's head during the procedure, while the provider slides their hands underneath and uses a camera to perform the intubation.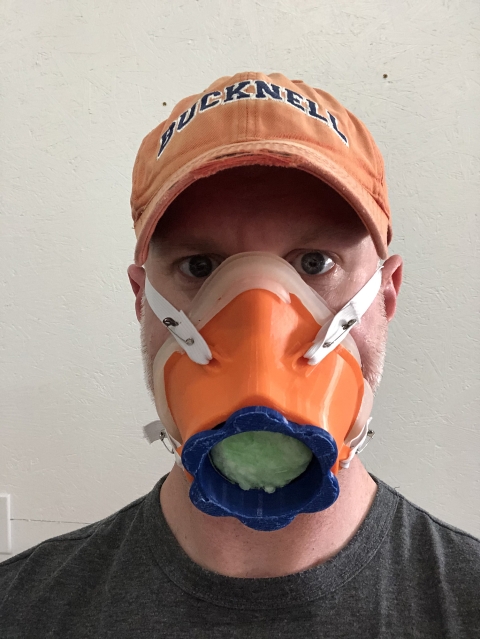 "We've got to find a way to control the aerosols that are released so that health-care workers are not affected themselves," Kennedy says. "The idea is that we don't want to rely just on the face mask and face shield to protect them. We can keep virus particles from having to be filtered out by the mask by keeping them out of the air."
A third project the group is working on intends to address the worldwide shortage of N95 face masks. Based on a design by healthcare workers in Billings, Mont., the device they're refining is a hard plastic mask that fits over the nose and mouth with a hole on the front to mount a disposable N95 filter cartridge — which may be easier to produce and use less material than a complete mask.
The reusable mask is where the expertise Michael has gained at Bucknell is vital. As part of her senior design project, also a collaboration with Geisinger, Michael created a silicone model of a heart's aorta using 3D-printed molds and poured silicone. Through the iterative process of designing, prototyping and testing, Michael gained proficiency in making molds with 3D printers that even her professors have trouble matching. When Kennedy needed to design a silicone gasket to seal the mask against the wearer's face, he "knew immediately that we needed to involve Rachel."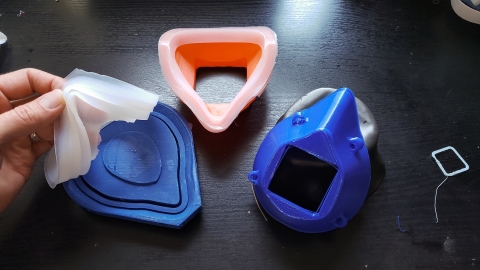 "Doing that pretty complex mold gave me enough experience to build the gasket," Michael says. "I built the first one in maybe two hours, the second one in 45 minutes and it's gotten shorter and shorter as I kind of learned the process. You just have to fail a lot of times to figure out exactly how to make it work."
Mass-produced reusable masks, the group believes, could play a critical role in addressing shortages locally and globally, although ultimately, they hope the production phase of all of their projects will be short-lived. Ideally, a local manufacturer that's better equipped for mass production will take on fabrication duties. Until then, Bucknell's engineers will be there to help.
"I don't want to have to do this at Bucknell," Siegel says, "but whatever happens, I think there's already a lot of value in the work that we've done in our designs and prototypes."