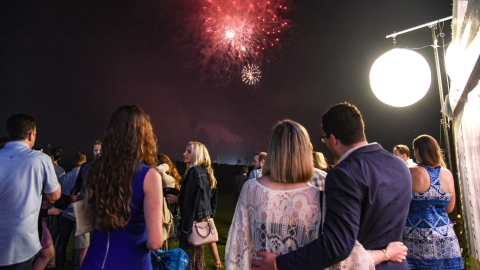 Bucknell Reunion Weekend Returns June 3-5
May 31, 2022
For the first time since 2019, Bucknell University will welcome alumni and family members to campus for its Reunion Weekend, June 3-5. The event was held virtually the last two years due to the COVID-19 pandemic.
More than 1,600 alumni and family members are expected to return for this year's Reunion Weekend, which will celebrate class years ending in 2 and 7. In addition, 50th reunions will be held for the Class of 1970, the Class of 1971 and the Class of 1972 — the first two which had their campus reunions delayed by the pandemic.
Returning Bucknellians will enjoy activities ranging from all-class celebrations and class-year events to shuttle and walking tours of campus; Bucknell 360° classroom sessions; and outdoor activities including kayak trips on the Susquehanna River, a hike at Dale's Ridge and a golf tournament.
Friday's special events include a Freeman College of Management reception in Holmes Hall to celebrate the College's fifth anniversary. On Saturday, there will be a College of Engineering reunion in Academic East; a Spratt House tour and presentation for all former cadets of the Bison Battalion ROTC program; a Department of Theatre & Dance reception in Holmes Hall; and a 25th anniversary big band performance of the Bucknell Jazz & Rock Ensemble in Harvey Powers Theatre, Coleman Hall.
Saturday morning will also feature the Bucknell University Alumni Association awards reception and ceremony in the Elaine Langone Center's Terrace Room. This year's recipients include:
The weekend's "Bison Blast" celebration — featuring music by the band UGO — will begin at 9 p.m. on Saturday in the tent near Sojka Lawn. Weather permitting, the day will wrap up with late-night fireworks beginning at 10:30 p.m. Community members should be aware that the fireworks may last until 11 p.m.
Reunion Weekend comes to a close on Sunday with a 10 a.m. service of worship, remembrance and celebration in Rooke Chapel, an interfaith service in which all alumni, faculty and staff who passed away in the past year will be remembered.
The exhibit Memento: Museums & Their Dealings with The Dead — which looks at the acquisition of objects from tombs and graves as an exploitation of death — will be on view at the Samek Art Museum's Downtown Gallery, 416 Market Street during its open hours, Friday from noon to 5 p.m. and Saturday and Sunday from 11 a.m. to 5 p.m. 
Through the Years, a collection of photographs and other materials from the University Archives collection, will also be displayed in Bertrand Library, Lower Level 1, during the library's open hours, Friday from 8 a.m. to 5 p.m. and Saturday from 9 a.m. to 5 p.m.
The Lewisburg community is invited to join several of these events during the weekend, including Bucknell 360° sessions; the exhibit at Samek Art Museum's Downtown Gallery; and Sunday's service at Rooke Chapel.
The complete schedule is available here.