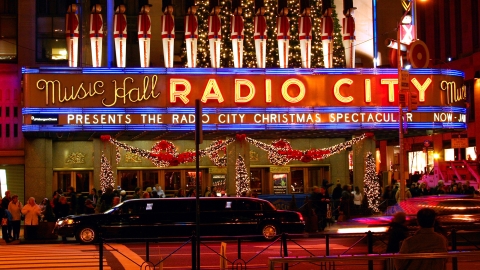 Bucknell Student Vocal Group Beyond Unison Opens Rockettes' Radio City Music Hall Christmas Spectacular
November 23, 2021
The Christmas Spectacular Starring the Radio City Rockettes in New York City's Radio City Music Hall may be the world's most famous show celebrating the holiday season. Last Saturday, Nov. 20, the first performers on stage during the 5 p.m. show were the 16 students from Bucknell University's student a cappella vocal group, Beyond Unison.
The Bucknell group was chosen to perform in the show's "Sounds of Christmas" segment, which gives a chorus a chance to perform in a five-minute a cappella performance before the curtain opens on The Christmas Spectacular. The group's student leaders made all of the arrangements, applying last summer and providing the required performance video in order to be accepted.
After nearly 10 hours of intense rehearsal over the last two weeks following their Nov. 6 fall concert, the group performed a five-minute Christmas medley arranged by Jason Brauer, a composition major at Vanderbilt University and high school friend of Kelly Karpovich '23, president and treasurer of Beyond Unison. It provided students with a once-in-a-lifetime opportunity.
"We were on stage about 10 minutes before they opened the show, and it was kind of surreal. We walked on stage from the audience, and all of our families were there cheering for us as we were walking up," says Karpovich, a mathematics major.
"Once we got up there, I know for myself and several of the other members, you almost black out for the performance itself, and it's over so quickly," she says. "In the moment, I was just trying to connect with the other people in my group and make the best memory we possibly could."
Karpovich says the 6,000-seat venue was largely full, with people sitting in all three mezzanine areas. Their performance was well-received, too.
"It was nice hearing everyone applaud at the end," she says. "There were other people cheering as well, in addition to our families."
While their performance went well, the cavernous venue presented some acoustic challenges to the performers, particularly after rehearsing in a more intimate, acoustically sound setting backstage.
"What's interesting is they gave us a little room before the show which had the best acoustics I've ever heard in my life. So we sounded amazing as we were practicing," says Tom McKillop '23, a history and music major who is the group's conductor and music director. "And then we got on the stage, the sound was empty and it was like all of the sound disappeared. So when you're singing with the group, you can't hear a single thing that's happening other than yourself and the person next to you.
"But I told them before we went on, 'You're not going to hear anyone, but just do what you've been practicing and we'll be 100% fine,'" he says. "And the videos that were taken of us and the families said it sounded OK to them, so I'm sure it went pretty well."
Since McKillop is from nearby Westchester, N.Y., group members followed him to his home after classes last Friday to spend the night. They took the train into New York City the following day and then left for the Thanksgiving break with their families following the performance.
Looking back, the group members say they left Radio City — and New York City — with memories that will last a lifetime.
"Getting to perform on stage, for myself, as I was singing and looked out into the audience, I thought, 'Holy crap, this is where so many stars have stood,'" McKillops says. "It's definitely a different feeling than when we have our regular concert in Bucknell Hall. That's a little audience, and to look out and see thousands of people, that was definitely an experience that a lot of people won't have."
Beyond Unison members include the following:
Sopranos: Elena Roe '23 (Secretary), Siena Abercrombie '25, Kelly Karpovich '23 (President and Treasurer), Kate Sieber '22
Altos: Miki DuBois '22, Serena Smith '22, Somtochi Ojiaku '25, Mia DeRoco '25
Tenors: Tom McKillop '23 (Music Director), Reid Fournier '24, Sam White '22, Nick Boyd '25
Basses: Devin Whalen '22, Nabeel Jan '23 (Vice President), Henry Qiu '23, Caiden Covell '25
The adviser for the group is Bucknell Associate Dean of Students for Living, Learning and Leadership Jane Grassadonia.