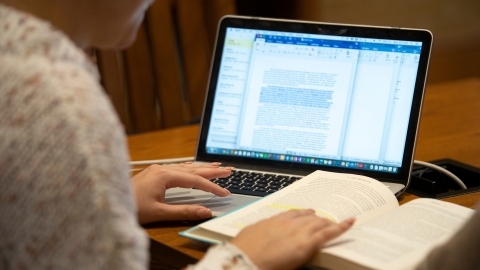 Bucknell Transitions to Remote Classes, Cancels Events to Protect From COVID-19 Novel Coronavirus
March 12, 2020
This story will be updated as new announcements are released. Last update: April 22, 2020 at 3:05 p.m.
Two students residing on Bucknell's campus who were tested for suspected cases of COVID-19 have tested negative, the University's medical director, Dr. Catherine O'Neil, announced April 1. O'Neil first said March 25 that the students had been tested within the prior 24 hours.
Bucknell Student Health identified and contacted individuals who may have had prolonged contact with the those students and followed CDC guidelines to keep them and the rest the community safe. The students are doing well, O'Neil says.
A different Bucknell student previously tested negative for a suspected case of COVID-19, President John Bravman announced March 23. That student was transported to Evangelical Community Hospital in Lewisburg March 15 and tested for the virus that causes COVID-19 illness. They were isolated in a non-residence hall location pending test results. Bravman said the student is now doing well.
Transition to Remote Education
Remote classes began March 19 for Bucknell students, following a three-day cancelation of classes and the announcement that the University would transition to remote education for the remainder of the spring semester. The University's Summer Session will also be held remotely. 
Bucknell announced the switch to remote instruction March 10 in the interest of protecting students, faculty, staff and the greater Lewisburg community from the coronavirus that causes the COVID-19 illness. Most students have since been returned to their homes, and many campus facilities and services have either been temporarily closed or moved online in response to the developing situation and government directives.
"Residential education is fundamental to the value we offer our students, and Bucknell does not make this decision lightly," Bravman said at the time the move was announced. "We are making this transition not only in the interest of our students, faculty, staff and families but also to protect the most vulnerable in our community, including those with compromised immune systems. 
"We are fully aware of the challenges this will present to traditional ways of teaching and learning," Bravman continued. "But we know this is the right decision in light of what is ultimately most important not only for our community, but also on a global scale: to protect the health of those who face the greatest risk."
Changes to campus operations in response to the coronavirus include: 
On-campus classes were canceled through March 18 to allow faculty to prepare for the transition to remote instruction, and students were directed to leave campus by 6 p.m. March 17. Other students who need to remain on campus may petition the Office of Student Affairs for approval. 
Bucknell is providing free shuttles to local airports for students who need to fly home.
Student Mail Services will be open additional hours to accommodate student mailing needs. A limited supply of boxes and tape will be available for use outside the Elaine Langone Center Post Office. The University is also providing packing and moving supplies to students during the move-out period.
On-campus housing and meal-plan charges for the spring semester will be refunded or credited on a prorated basis. As instruction will continue throughout the semester and students completing coursework will receive Bucknell academic credit, tuition will not be subject to refund. Housing and dining credits will be processed after residence hall keys have been returned to Housing Services.
In line with Pennsylvania Gov. Tom Wolf's order March 16 that non-essential businesses temporarily shut down, the Kenneth Langone Athletics & Recreation Center and other athletics facilities have temporarily closed, Bostwick Marketplace will offer to-go food pickups for students who have been approved to remain on campus, and Bertrand Library is closed until further notice. The 24-hour study space in the library will remain open by card access for students approved to remain on campus. Academic buildings will also be locked and accessible by card swipe or key only. 
Bucknell's downtown shuttle service has been suspended until further notice.
Students Abroad Recalled
The University is also requiring that all students enrolled in international programs return to the United States as soon as possible. This requirement applies to students in all countries regardless of program location, including "Bucknell In" programs and study abroad partner programs. Students requiring special consideration should immediately contact the Office of Global and Off-campus Education. Bucknell is unable to provide campus housing to students returning from abroad during the spring semester. 
All Bucknell In summer programs have also been canceled for summer 2020.
Events and Tours Canceled
In line with the Centers for Disease Control and Prevention (CDC)'s recommendation to avoid large gatherings, all speaker events, performances and organized group activities have been canceled for the remainder of the spring semester. These include spring open houses for prospective students. Enrolled Student Day (March 21), Gateway to Bucknell (March 28) and Admitted Student Day (April 18) have been canceled. Bucknell will also cancel on-campus prospective and admitted student visits, including tours and preview programs, through March 29. The University is planning other ways for prospective and admitted students and their families to experience campus, ask questions and prepare for arrival on campus this fall.
The Patriot League, in which Bucknell's NCAA Division I sports teams compete, has canceled all spring practices and competitions and the remainder of the women's basketball tournament. The Pennsylvania Interscholastic Athletic Association (PIAA)'s state swimming and diving championship, held on Bucknell's campus, conclude dearly on Thursday, March 12. Remaining PIAA swimming and diving events have been postponed.
The Weis Center for the Performing Arts announced March 12 it would postpone or cancel the remainder of its 2019-20 season, including performances by Danu, Peking Acrobats, Calefax Reed Quintet, Ukulele Orchestra of Great Britain and Vuyo Sotashe. Ticketholders of these performances may donate the value of the tickets to the Weis Center by calling or emailing the Campus Box Office by March 20, 2020. After that date a refund will automatically be issued for all previously purchased tickets. 
Bucknell-hosted summer camps for high school students, including the Bucknell Academy Summer Experience, Chemistry Camp and Engineering Camp have been canceled for 2020.
The Campus Theatre in downtown Lewisburg has closed until March 27, in line with the governor's order. The Barnes & Noble at Bucknell University bookstore also announced March 17 that it will be closed for two weeks. Web orders may still be placed on the store's website and phone calls will be accepted from 10 a.m. to 4 p.m. at 570-577-1128.
The Center for Alumni & Family Engagement announced March 25 that Reunion Weekend 2020, scheduled for the end of May, has been canceled as an in-person, on-campus event. Bucknell is exploring alternative programming, including virtual learning opportunities, remote celebrations and future in-person gatherings. Full refunds will be issued for those who have previously registered. 
Bucknell's 170th Commencement has been postponed until Sunday, July 19, conditions permitting. The event will also be live-streamed. Bucknell will continue to monitor the public health situation and make any adjustments to this new date no later than June 5. The University will still confer degrees on May 18 to all undergraduate and graduate students eligible to graduate. The University will update seniors and their families as soon as new decisions are made regarding Commencement. 
Following Best Practices
While there were no confirmed cases of COVID-19 on Bucknell's campus at the time the transition to remote education was announced, the World Health Organization has declared the virus a pandemic and Gov. Wolf has signed a disaster declaration for Pennsylvania due to the coronavirus. Bucknell's decision to transition to remote instruction and take other prevention measures follows the CDC's recommendations to practice social distancing and avoid large gatherings. 
In taking these steps, Bucknell joins more than 100 schools large and small, in rural and urban areas, who have moved to or are moving toward online instruction in response to COVID-19. This list includes American University, Amherst College, Columbia University, Cornell University, Duke University, Harvard University, Princeton University, Yale University, most of the University of California system and, in Pennsylvania, Penn State University, the University of Pennsylvania, West Chester University and Muhlenberg College. 
Health, Wellness and Student Support
Dean of Students Amy Badal announced March 13 that health and wellness resources would remain available to students during and after the transition to remote education. Bucknell Student Health will remain open to those who have been granted permission to stay on campus, and counseling resources remain available to all students through the Counseling & Student Development Center. Existing counseling center clients were directly contacted by their counselor to discuss next steps in individual treatment, Badal says. 
Bucknell's chaplains remain available for support. Email chapel@bucknell.edu to contact them.
Resources are also available for students experiencing severe financial hardship due to the cost of transportation home, Badal says. Students in need of financial assistance should contact Badal by email at deanofstudents@bucknell.edu.
Beginning Thursday, March 19, the Center for Career Advancement will offer remote career coaching and advising appointments for the remainder of the semester. Job and internship activity with employers on the Bridge will also resume on that date. The Writing Center and Teaching & Learning Center will also offer remote services for the remainder of the semester.
Continuing Updates
To stay abreast of the developing public health situation and continue to protect the Bucknell community, the University has assembled a response team consisting of faculty, administrators and the chief of Bucknell Public Safety. Bucknell will continue to update this story and directly communicate with current and prospective students, families and our community as new developments unfold. In the meantime, please see these updates and list of about COVID-19, and email coronavirus@bucknell.edu with additional questions.